Aerosmith-Classics Live! Complete (Columbia) 1998
1. "Train Kept A Rollin'"
2. "Kings And Queens"
3. "Sweet Emotion"
4. "Dream On"
5. "Mama Kin"
6. "Three Mile Smile / Reefer Head Woman"
7. "Lord Of The Thighs"
8. "Major Barbara" -studio track
9. "Back In The Saddle"
10. "Walk This Way"
11. "Movin' Out"
12. "Draw The Line"
13. "Same Old Song And Dance"
14. "Last Child"
15. "Let The Music Do The Talking"
16. "Toys In The Attic"
This CD, released in Europe in September of 1998, contains Classics Live and Classics Live II on one CD. (Columbia 487351 2) So how many copies of the same Aerosmith disc can I possibly collect? As many as they put out. What can I say, collecting Aerosmith CDs is a hobby.
1981 Hard 'n' Heavy Attic
1982 Metal On Metal Attic
1983 Forged In Fire Attic
1985 Backwaxed (compilation) Attic
1987 Strength Of Steel Metal Blade
1988 Pound For Pound Metal Blade
1989 Past And Present (live) Metal Blade
1991 Worth The Weight Maximum
1996 Plugged In Permanent Hypnotic
1997 Absolutely No Alternative Hypnotic
1998 Speed Of Sound Hypnotic
1999 Anthology Of Anvil (compilation) Hypnotic
2001 Plenty Of Power
Anvil-Strength of Steel ( ) 1987
1."Strength Of Steel"
2."Concrete Jungle"
3."9-2-5"
4."I Dreamed It Was The End Of The World"
5."Flight Of The Bumble Beast"
6."Cut Loose"
7."Mad Dog"
8."Straight Between The Eyes"
9."Wild Eyes"
10."Kiss Of Death"
11."Paper General"
http://hem2.passagen.se/homar/disco.html
Asia (Geffen) 1982
1. "Heat of the Moment" (3:50)
2. "Only Time Will Tell" (4:44)
3. "Sole Survivor" (4:48)
4. "One Step Closer" (4:16)
5. "Time Again" (4:45)
6. "Wildest Dreams" (5:10)
7. "Without You" (5:04)
8. "Cutting it Fine" (5:35)
9. "Here Comes the Feeling" (5:42)
The bands first album that sold like gangbusters. Of course with so the big name progressive rock musicians in this band, everyone was expecting something akin to King Crimson or Yes, but instead what we got was some respectable pop rock with some unforgettable hooks. I read an interesting review on another cd site that I thought was worth reprinting.
"This was the best-selling album of 1982--of course it only sold 2 million copies, since that was during the music industry's massive recession. In those days the few people buying records did so because they enjoyed the music & not because of some brainless fashion trend. What a concept." -KingGodSpace
Could not have said it better myself.f.
Brainstorm-Metus Mortis (Metal Blade) 2001
Alice Cooper-Goes to Hell (Warner Bros.) 1976
1. "Go To Hell" (5:02)
2. "You Gotta Dance" (2:44)
3. "I'm The Coolest" (3:57)
4. "Didn't We Meet" (4:15)
5. "I Never Cry" (3:45)
6. "Give The Kid A Break" (4:13)
7. "Guilty" (3:21)
8. "Wake Me Gently" (5:03]
9. "Wish You Were Here" (4:35)
10. "I'm Always Chasing Rainbows" (2:13)
11. "Going Home" (3:47)
oors (Elektra) 1967
1. "Break on Through (to the Other Side)" (2:25)
2. "Soul Kitchen" (3:30)
3. "The Crystal Ship" (2:30)
4. "Twentieth Century Fox" (2:30)
5. "Alabama Song (Whiskey Bar)" (3:15)
6. "Light My Fire" (7:05)
7. "Back Door Man" (3:30)
8. "I Looked at You" (2:18)
9. "End of the Night" (2:49)
10. "Take it as it Comes" (2:13)
11. "The End" (11:35)
One of the biggest and best rock debuts to come out of the 60's. The Doors mixed rock, blues, classical, jazz, and the poetry
of Jim Morrison to create a style of rock n roll all their own. "Light My Fire" was the cut that topped the charts and made the
band radio favorites, but it's really the more obscure songs that make this disc so cool.
Giuffria (Axe Killer)
1."Do Me Right "
2."Call to the Heart"
3."Don't Tear Me Down"
4."Dance"
5."Lonely in Love"
6."Trouble Again"
7."Turn Me On"
8."Line of Fire"
9."The Awakening"
10."Out of the Blue"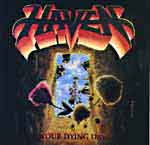 Haven-Your Dying Day/Straight From the Cutting Room Floor (M8) 2001
DISC ONE
1. "On Judgement Day" (5:22)
2. "Deliver Me" (4:47)
3. "Murder" (4:48)
4. "Below the Grave" (2:49)
5. "The Calling" (5:36)
6. "America" (4:38)
7. "Escape" (4:34)
8. "Help Me Follow" (3:23)
9. "I Found Love" (5:35)
10. "Your Dying Day" (5:37)

DISC TWO
1. "Run" (
2. "Interview" (
3. "The Battle" (
4. "Interview" (
5. "Light The Way" (
6. "Interview" (
7. "Band Talking At Practice" (
8. "Holy War" (
9. "Interview" (
10. "Don't Throw Your Life Away" (
11. "Interview" (
12. "Find Your Place" (
13. "Was Machen Wir Heute" (
14. "Hodge Podge, Pt.1" (
15. "Hodge Podge, Pt.2" (
16. "He Died For You" (
In 2001 M8 reissued the long out of print "Your Dying Day" which still today is one of my favorite power metal cds. However, as an added bonus M8 also included a bonus disc of demos and practice recordings of the band, intermixed with vocalist Kevin Ayers talking about each track. Interesting for long time fans, but not something that will probably ever get played
again as the sound quality is horrible. It's to bad some of these tracks never made it onto any of the bands albums because they certainly could have been good songs if they had been recorded properly.
Tribute to Living Sacrifice (Clenched Fist) 2001
1. Mindrage - "Haven of Blasphemy" (
2. Crutch - "Breathing Murder" (
3. Mordecai - "Not Beneath" (
4. Soul Embraced - "Truth Solution" (
5. Gnashing of Teeth - "No Longer" (
6. Kekal - "Mind Distant" (
7. Crimson Thorn - "Anorexia Spiritual" (
8. Soterios - "Distorted" (
9. Clemency - "In the Shadow" (
10. Mistral - "Threatened" (
11. Dwell Beneath - "Unseen" (
12. 26days till freedom - "Dealing With Ignorance" (
13. Dirge -" ...To Nothing" (
14. Living Sacrifice - "Desolate" (
This CD features past and present members of Living Sacrifice as well as the rare song, "Desolate" that I already own on the "Metamorphosis" compilation. I had actually been aware of this cd for some time but did not want to spend $13 on a cd I knew that I would not play very often. My copy was given to me by a friend who lives and dies by Living Sacrifice and Extol. (I guess he couldn't bear the fact that this cd was not yet on my web site) The bands represented on this cd are all up and coming in the Christian metal underground, but unfortunately are mostly of the death metal or metalcore variety, which is uninteresting to me. Favorite track is Crimson Thorn's version of "Anorexia Spiritual," a thrash metal classic. Mindrage also
perform a smoking version of "Haven of Blasphemy."
Kreator-Scenerios of Violence (
"Suicide in Swamps" (5:09)
2. "Renewal" (4:24)
3. "Extreme Aggression" -live (4:51)
4. "Brain Seed" (3:07)
5. "Lost" (3:33)
6. "Ripping Corpse" -live (4:17)
7. "Tormentor" -live (2:25)
8. "Some Pain Will Last" -live (5:35)
9. "Toxic Trace" (5:09)
10. "Isolation" (9:55)
11. "Depressive Unrest" (3:57)
12. "Agents of Brutality" (5:15)
13. "Europe After the Rain" (3:13)
14. "Limits of Liberty" (1:38)
15. "Terrible Certainty" (4:16)
16. "Karmik Wheel" (6:07)
Frank Marino-From the Hip (SPV) 1993
1. "Babylon Revisited" (5:23)
2. "I'm Ready" (3:37)
3. "How Long" (4:00)
4. "Rise Above" (11:39)
5. "Mine All Mine" (4:16)
6. "Ride My Own Wave" (5:55)
7. "Stand" (6:37)
8. "The Wall Came Down" (6:56)
Paramæcium-Repentance EP 1997
1. "Silent Carnage" (6:09)
2. "Dead to Death" (4:12)
3. "Sogno di Morte" (1:32)
4. "Silent Carnage" (5:56)
5. "Dead to Death" (4:15)
6. "Abstraction" (5:40)
This is basically the band's "Silent Carnage" demo tape, plus two re-recorded tracks (tracks 1 & 2) from that demo with 1996 line-up, that included Jayson Sherlock on drums. These two tracks are, of course, the best because they have better production and some smokin' drumming. The songs on this demo are less doomy and more straight forward death metal than everything else the bands has released. This is the only disc released by this band that is out of print and out of circulation.
RAGE DISCOGRAPHY
1986 Reign Of Fear Noise
1987 Execution Guaranteed Noise
1988 Perfect Man Noise
1989 (EP) Invisible Horizons Noise
1989 Secrets In A Wierd World Noise
1990 Reflections Of A Shadow Noise
1991 (EP) Extended Power Noise
1992 Trapped! Noise
1992 (EP) Beyond The Wall Noise
1993 The Missing Link Noise
1994 Ten Years In Rage (compilation) Noise
1994 (EP) Refuge Noise
1995 Black In Mind Gun
1996 Lingua Mortis Gun
1997 End Of All Days Gun
1997 Live From The Vault Gun
1997 (EP) Higher Than The Sky Gun
1998 XIII Gun
1998 The Best From The Noise Years (comp) Gun
1999 Ghosts Gun
The three similtaneously released Remembering bootlegs are suppose to have superior sound quality and are one of the highest
priorities on my want list.
Sinner-No More Alibis (Mausoleum) 1992
1. "When a Heart Breaks"
2. "Good Times"
3. "Where Were You"
4. "Burning Hear"
5. "Boys in Trouble"
6. "Save Me"
7. "Beds are Burning"
8. "I'm Not Over You Yet"
9. "Thrill of a Lifetime"
10. "So Excitable" (
11. "Don't Wanna Lose You"
12. "Chasing my Dreams"
sdfsdfdsf
Sinner-Respect (Koch) 1993
"Respect" (
"Things get started" (
"Billy's song" (
"Fire in the dark" (
"Modern world" (
"All for one" (
"Knife in my heart" (
"Don't let this dream die young" (
"Believer" (
"Little victory" (
"Shattered dreams" (
"What's so bad about feeling good" (
asfdsadfew gfadsfewf fa rr
Thin Lizzy-Remembering, Part 1 (Fighting REM001/Sweden)
1. Emerald
2. The Boys Are Back In Town
3. Romeo And The Lonely Girl (slow version)
4. Suicide
5. Sha-la-la
6. Jailbreak
7. Don't Believe A Word
8. Dancing In The Moonlight
9. Massacre
10. Cowboy Song
11. The Boys Are Back In Town

Live: Tracks 1-5 radio broadcast from Augora Theatre, Cleveland, May 1976 and tracks 6-11 King Biscuit radio broadcast
from Tower Theatre, Philadelphia, Oct 1977
Thin Lizzy-Remembering, Part II (Fighting REM002/Sweden)
1.Jailbreak
2.Massacre
3.Emerald
4.Still In Love With You
5.Johnny the Fox meets Jimmy the Weed
6.The Boys Are Back In Town
7.Cowboy Song
8.Warriors
9.Sha La La
10.Baby Drives Me Crazy
Recorded live, Feb 5th, 1977, Madison Square Gardens, New York City, USA.
Thin Lizzy-Remembering, Part III (Fighting REM003/Sweden)
1.Thunder And Lightning
2.Baby Please Don't Go
3.This Is The One
4.The Holy War
5.The Sun Goes Down
6.Cold Sweat
7.Emerald
8.Rosalie
9.Baby Drives Me Crazy
10.Still In Love With Me
11.Black Rose
12.Whisky In The Jar
13.The Rocker
Recorded live, March 12th, 1983 at the Hammersmith Odean, London, England.
TT Quick (Caroline) 1982
1. Go for the Throat (DiPietro/Tornillo)
2. Fortunate Son (Fogerty)
3. Child of Sin (Dipeitro/Luciani)
4. Metal Man (DiPietro/Tornillo)
5. Victims (DiPietro)
Watchtower-Control & Resistance (Noise)
1. "Instruments of Random Murder" (4:06)
2. "The Eldritch" (3:16)
3. "Mayday in Kiev" (5:47)
4. "The Fall of Reason" (8:01)
5. "Control and Resistance" (6:57)
6. "Hidden Instincts" (3:51)
7. "Life Cycles" (6:47)
8. "Dangerous Toy" (4:**)
Whiplash-Insult to Injury (Roadracer) 1989
1. Voice of sanity
2. Hiroshima
3. Insult to injury
4. Dementia thirteen
5. Essence of evil
6. Witness to the terror
7. Battle scars
8. Rape of the mind
9. Ticket to mayhem
10. 4E.S.
11. Pistolwhipped