Ted Nugent & the Amboy Dukes
The Amboys Dukes first album was released in 1967. Ted Nugent's enormous stage persona always put him out in front and the band eventually became known as Ted Nugent & the Amboy Dukes until Ted parted ways in early1975. The band is best remembered for the top-20 hit, drug anthem "Journey to the Center of the Mind." Their music is more a kin to early Rolling Stones, Yardbirds or Iron Butterfly than to the Gonzo rock of Ted.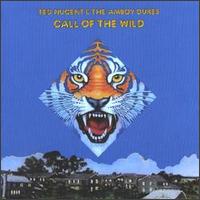 Ted Nugent & the Amboy Dukes-Call of the Wild (Discreet) 1974
1.   "Call of the Wild" (4:46)
2.   "Sweet Revenge" (4:03)
3.   "Pony Express" (5:18)
4.   "Ain't It the Truth" (4:54)
5.   "Renegade" (3:34)
6.   "Rot Gut" (2:42)
7.   "Below the Belt" (7:02)
8.   "Cannon Balls" (5:42)
Ted Nugent starting to shine on this one. I'm sure it was painfully obvious to everyone that Ted WAS the band at this point. If I am not mistaken, this was the first album Ted and the boyz recorded for Frank Zappa's record label Discreet and was also the first album to change the band's name from the Amboy Dukes to Ted Nugent and the Amboy Dukes. I found this disc in a discount bin for $2.50. Quite the deal.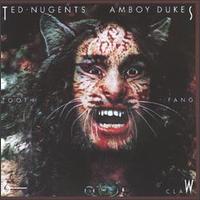 Ted Nugent & the Amboy Dukes-Tooth Fang & Claw (Discreet) 1974
1. "Lady Luck" (6:01)
2. "Living in the Woods" (4:00)
3. "Hiberation" (9:27)
4. "Free Flight" (4:09)
5. "Maybelline" (3:31)
6. "Great White Buffalo" (4:59)
7. "Sasha" (3:08)
8. "No Holds Barred" (4:53)
I believe this was the last Amboy Dukes album before Nugent split to start his solo carreer. This album has some great Nugent jams on it, ("Hibernation," "Living in the Woods," "Great White Buffalo") although it has a few typical Amboy Dukes psychadelic numbers as well. While I dig some of the Amboy Dukes material, Ted did well going on his own as his solo material is superior to any of the Amboy Dukes albums. Oh, forgot to mention that this is one of the few cd-r's that I own. A friend of mine owns the original disc and despite numerous attempts to get him to give it up, he won't, so he made me this cd-r copy. The original sells for $20+ on Ebay.
Ted Nugent & the Amboy Dukes-Loaded for Bear (Epic/Legacy) 1999
1. "Journey to the Center of the Mind" (3:35)
2. "Baby Please Don't Go" (5:39)
3. "Psalms of Aftermath" (3:25)
4. "Colors" (3:29)
5. "Down on Phillips Estalator" (3:06)
6. "Night Time" (3:18)
7. "Mississippi Murderer" (5:10)
8. "Scottish Tea" -instrumental (4:03)
9. "Dr. Slingshot" (3:04)
10. "Flight of the Bird" (2:51)
11. "Why Is a Carrot More Orange Than a Orange" (2:28)
12. "Saint Phillips Friend" (3:32)
13. "You Talk Sunshine, I Breathe Fire" (2:46)
14. "Migration" -instrumental (6:05)
15. "Prodigal Man" (8:50)
16. "Good Natured Emma" (4:39)
17. "For His Namesake" (4:28)
18. "Loaded for Bear" (3:06)
Now this should have been the first cd of a THREE cd set in the Ted Nugent "Out of Control" box set. Anyhow,"Loaded for Bear" is an excellent compilation of the formative years of the Amboy Dukes circa 1967-1968. Of course the two most well known songs are tracks one and two. "Journey to the Center of the Mind" is a drug anthem. The outspoken, anti-substance abuse Ted Nugent, however, still swears to this day he didn't know that this was a pro-drug song at the time. He even reiterates this thought in the liner notes of this disc. (I believe him. Why would he lie?) Anyhow, the entire disc is a trip. Imagine the guitar slinging maniac, Ted Nugent playing lead through an Iron Butterfly album and you get a picture of what most of this material is like. It's almost like Ted was trapped in a 60's band and was trying to break free. "Psalms of Aftermath" seriously sounds like a Yardbirds song. My favorite tracks are the aformentioned anthem "Journey to the Center of the Mind, "Baby Please Don't Go," "Dr. Slingshot," "You Talk Sunshine, I Breathe Fire," and the epic length songs "Prodigal Man" and "Migration." "Why Is a Carrot More Orange Than a Orange" is without a doubt one of my favorite song titles of all time right up there with Pink Floyd's "Several Species of Small Furry Animals Gathered Together in a Cave and Grooving with a Pict." Groovy man!!! This compilation also includes an excellent booklet with an insightful essay on this era of Ted's career by journalist Gary Graff and includes many quotes by Ted himself