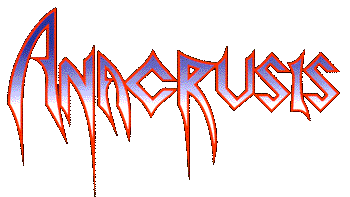 Anacrusis was formed in the late '80s in their home state of St. Louis. They were one of the more diverse metal bands of the '90s, and employed sophisticated harmonies and melodies but retained an aggressive thrash metal edge.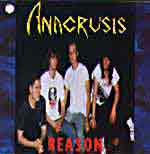 Anacrusis-Reason (Restless/Metal Blade) 1990
1. "Stop Me" (6:16)
2. "Terrified" (4:54)
3. "Not Forgotten" (5:49)
4. "Wrong" (5:38)
5. "Silent Crime" (4:49)
6. "Misshappen Intent" (4:23)
7. "Affraid to Feel" (6:25)
8. "Child Inside" (4:25)
9. "Vital" (5:07)
10. "Quick to Doubt" (4:37)
11. "Killing My Mind" (5:48)
12. "Injustice" (5:36)
This cd reminds me of Voivod! Aggressive, technical and progressive but retains a very heavy edge. Don't know much about these guys but this is a cool cd. Terrible album cover though. Bought this after reading a review of one of their other albums. Paid $8.99, a bit steep for a used cd with a hole in the cover and a water stain, but I guess it is out of print. (Big deal!)
Anacrusis-Manic Impressions (Metal Blade) 1991
1.   "Paint a Picture" (5:58)
2.   "I Love the World" (4:49)
3.   "Something Real" (5:59)
4.   "Dream Again" (3:20)
5.   "Explained Away" (6:01)
6.   "Still Black" (6:08)
7.   "What You Became" (5:10)
8.   "Our Reunion" (4:53)
9.   "Idle Hours" (4:36)
10. "Far Too Long" (5:50)
Progressive metal meets thrash once again, only a bit more mature, technical, and better produced than "Reason." Vocalist Kenn Nardi's has a unique ability to leap between growling and heavenly melodies. Reminds me of a mixture of Voivod and Believer.

Anacrusis-Screams and Whispers (Metal Blade) 1993
1."Sound the Alarm" (5:39)
2."Sense of Will" (4:52)
3."Too Many Prophets" (5:27)
4."Release" (4:19)
5."Division" (4:38)
6."Tools of Separation" (6:10)
7."Grateful" (5:13)
8."A Screaming Breath" (4:19)
9."My Soul's Affliction" (4:30)
10."Driven" (5:51)
11."Brotherhood?" (6:51)
12."Release"-remix (4:16)
EXCELLENT!!! Some of the best technical, progressive thrash ever!