A N T I T H E S I S
Anthithesis are heavy progressive metal from Ohio, USA.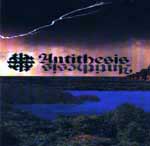 Antithesis (Voices of Wonder) 1998
1. "Neverworld" (4:40)
2. "Breading the Beast" (8:50)
3. "Limbo" (4:18)
4. "Sword of Mouth" (4:30)
5. "The Web" (5:36)
6. "Secret Fires" (3:28)
7. Plastic" (4:51)
8. "The Curse" (6:31)
9. "Descend" -instumental (7:03)
Heavy progressive metal! When I say heavy, I mean it. Unlike a lot of progressive bands who tend to sacrifice heavieness for technique or melody, Antithesis have it all. Sort of a mix of Dream Theatre and Metal Church. The lyrics are intelligent and thought provoking as well. I'm not sure if they have an American label, this copy seems to be from Denmark.
Anthithesis-Dying For Life (Nightmare Records) 2001
1. "Soul of Ice" (5:35)
2. "Consequence" (5:12)
3. "Deceived Within" (4:50)
4. "Distanced" (6:11)
5. "Times of Trial" (8:26)
6. "Mad Poet" (6:21)
7. Politicide" (7:37)
8. "Dying for Life (Limbo Pt. 2)" (9:13)
9. "Netherworld" (8:22)
Another fabulous and heavy prog-metal disc from Anthithesis. Disc #2 features improved production. Can't say enough good things about this one, except if you reading this page and you don't have it, you're missing out. Available through www.NightmareRecords.com or from www.ultimatum.net.