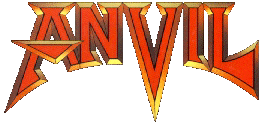 Canadian metal mongers Anvil have been around a long time. In the mid 80's Lips, Dave Allison and Co. constantly adorned the covers of magazines like Kerrang and Metal Forces. I use to own their first three studio albums ("Hard n' Heavy," "Metal on Metal," and "Forged in Fire") and the "Backwaxed" compilation on vinyl. For some reason I still have not replaced all those albums with discs. Perhaps someday. So many cd's, so little money.
Anvil-Forged in Fire (Axe Killer) 1983
1. "Forged in Fire" (4:42)
2. "Shadow Zone" (3:57)
3. "Free As The Wind" (5:31)
4. "Never Deceive Me" (3:30)
5. "Butter-Bust Jerky" (3:17)
6. "Future Wars" (3:07)
7. "Hard Times - Fast Ladies" (3:46)
8. "Make It Up To You" (3:30)
9. "Motormount" (3:41)
10. "Winged Assassins" (3:44)
There is no other album in the Anvil catalogue that is more a classic than "Forged in Fire." Anvil were at the top of their game here with an album that was slightly more technical than "Metal on Metal" yet still retaining an OTT spontaneity. "Forged in Fire" managed to take the early heavy metal sounds of Saxon, Priest and the Scorpions and make it noisier and faster, similar to Raven, bridging a gap between traditional metal and thrash metal. My particular copy is a 1998 French re-issue that contains lyrics, plenty of photos and a short essay by Martin Poppoff, author of 'the Collector's Guide to Heavy Metal.'
Anvil-Backwaxed (Attic) 1985
1."Backwaxed" (3:45)
2."Steamin'" (3:36)
3."Pussy Poison" -instrumental (2:38)
4."You're A Liar" (4:52)
5."Fryin' Cryin'" (3:04)
6."Metal On Metal" (3:54)
7."Butter-Bust Jerky" (3:17)
8."Scenery" (4:39)
9."Jackhammer" (3:30)
10."School Love" (3:15)
This album was released by Attic, apparently with no interaction, or permission for that matter, from the band. This is why the
album is not named in the usual Anvil fashion and is the only album to not have an anvil on the cover. The first 5 tracks were
previously unreleased, except for "Steamin'" which was released as a limited edition European 12" EP. (Essentually unreleased.) The other 5 are from the first 3 albums. "Steamin'", "You're A Liar" and "Fryin' Cryin'" were apparently all recorded during the "Metal on Metal" sessions, but left off the album for unknown reasons. Of the "Forged in Fire" tracks, the label picked out the worst song from this excellent classic ("Butter-Bust Jerky" ). It's not that the song is bad, just that there are far better on the album, including the the title song. Only one song from the band's impossible to find first album makes it's way too ("School Love.") 'Metal on Metal' is one of my favorite metal anthems ever. Always thought it would be a cool song for some band to cover, but I have yet to hear one. This song has some gnarly vocals laid on top of a mean metal riff. Of the unreleased material, the best is "Steamin'" with it's shred solos and the instrumental "Pussy Poison." According to the liner notes this song was left off 'Hard n Heavy' due to the song title. "Backwaxed" a totally vile sex song that was left of 'Metal on Metal' for it's lyrical content. Odd that they would exclude a song for lyrical content, as if this was the only foul song the band ever wrote. "You're A Liar" features the vocals of guitarist Dave Allison for the first (and only) time. Overall, a decent compilation that has some nice rarities. Now if I could just find a copy of 'Hard n Heavy' and 'Metal on Metal.'

Anvil-Pound for Pound (Metal Blade) 1988
1. "Blood on the Ice" (5:24)
2. "Corporate Preacher" (4:06)
3. "Toe Jam" (2:46)
4. "Safe Sex" (3:20)
5. "Where Does All the Money Go?" (4:04)
6. "Brain Burn" (3:30)
7. "Senile King" (4:05)
8. "Machine Gun" (2:55)
9. "Fire in the Night" (6:08)
10. "Cramps" (0:14)
Yet another solid heavy metal effort from Canada's Anvil. Apparently this was a return to form after a somewhat commercial, and disappointing "Strength of Steel." Upon writing this review, "Strength of Steel" is still the only Anvil disc I have yet to at least hear. This be true of not, this album is as pummeling as 'Metal on Metal' and 'Forged in Fire.' As usual for Anvil, the lyrics leave a bit to be desired, although I dig the brutal take on ice hockey in "Blood on the Ice". "Corporate Preacher" is yet another slam on TV Evangelists. Unfortunately, in '88, some of the evangelists were deserving of the chastisement they were receiving. What is unfortunate is that because of a few bad preachers, now all TV evangelists are lumped into the 'money hungry robbers' category. What would an Anvil album be without a stupid porn song? This one has two: a sexual square dance called "Toe Jam" that is just a fun romp and ditty, and "Safe Sex," yes a Spinal Tap-ish song about condom use. Yippie! This is one tradition I wish Anvil would drop. 'Pound on Pound" was their last studio album with original member Dave Allison.
Anvil-Worth The Weight (Mausoleum) 1991
1. "Infanticide" (7:41)
2. "On The Way to Hell" (6:04)
3. "Bushpig" (4:08)
4. "Embalmer" (6:54)
5. "Pow Wow" (6:00)
6. "Sins of the Flesh" (5:19)
7. "A.Z. #85" (3:12)
8. "Sadness" (2:21)
9. "Love Me When I'm Dead" (6:30)
This one was some three years in the making and certainly Lips and company did not disappoint. New guitarist Sebastian Marino, who later joined Overkill, did an outstanding job. The songs are all bone crushing, not unlike an anvil might do if it were dropped on someone's skull. Long time skin pounder Rob Reiner sounds like he may have needed a new drum set after each song, as he totally destroyed the kit. The band has added some more technical leanings as well, making the songs themselves more interesting than that of anything on 'Pound for Pound.' Tempo changes, stops and starts, and mega-riffs abound. Certainly the band was trying to make a statement musically with this disc. This was the last album for original bassist Ian Dickson.
Some other non-important information that I stole off the band's web page;
Some working titles for this album were TOOLS OF TORTURE and EVOKE THE EVIL.

Lips' real name is Steve Kudlow.

In 1989 Dave Allison left Anvil. Sebastain Marino was recruited as his replacement. Sebastian is from New York, the only non-Canadian Anvil member. He left Anvil in 1995 and joined Overkill. Sebastian was replaced by guitarist Ivan Hurd. Sebastian has also been in an underground band called Ramrod since about 1993. Sebastian left Overkill in 1999. Ian Dickson left the band early in 1993. He was replaced by bassist Mike Duncan. Mike left in 1996 and was replaced by Glenn Five. Glenn Five's real name is Glenn Gyorffy.

At this point the rest of the original Anvil members remained, including Robb Reiner (drums), Lip (vocals/guitars), and Ian Dickson (bass).
Anvil-Past & Present Live (Metal Blade) 1989
"Concrete Jungle" (5:26)
"Toe Jam" (3:19)
"Motormount" (4:14)
"Forged In Fire" (5:30)
"Blood On The Ice" (5:58)
"March Of The Crabs/drum solo/Jackhammer" (11:59)
"Metal On Metal/Winged Assassins" (10:19)
"666/Mothra" (16:03)
"Past & Present Live" was recorded in San Pedro, California, USA and was the last album to feature Dave Allison. Much of the material on this disc is from the bands second and third albums. "March Of The Crabs", "Jackhammer", Metal On Metal", "666" and "Mothra" were originally recorded on 'Metal on Metal.' "Motormount", "Forged In Fire" and "Winged Assassins" were originally recorded on 'Forged in Fire.' "March of the Crabs" features a vicious drum solo by Robb Reiner, who is absolutely one of the heaviest drummers in the world. Overall the band give a good performance and a there is a good mix of songs, although I would have also liked to hear "School Love." Still, a killer live performance from one of the originators of speed metal.

Anvil-Plugged in Permanent (Metal Blade) 1996
1. "Racial Hostility" (5:05)
2. "Doctor Kevorkian" (3:56)
3. "Smokin' Green" (4:56)
4. "Destined for Doom" (5:16)
5. "Killer Hill" (3:27)
6. "Face Pull" (3:02)
7. "I'm Trying to Sleep" (3:02)
8. "5 Knuckle Shuffle" (3:27)
9. "Truth or Consequence" (6:39)
10. "Guilty" (6:44)
I'm sorry but I'm just not interested in hearing a song about how often Lips yanks his own chain ("5 Knuckle Shuffle"), nor do I care how much of a pot-head he is ("Smokin' Green"). Unfortunately, the lyrics on this disc are all pretty stupid. The music on the other hand, is excellent power/speed metal. Lips voice sounds as good as ever and the production on this disc is some of the best they have ever had, but the lyrics really hold this disc back. Great title for a metal disc though.
Anvil-Absolutely No Alternative (Massacre) 1997
1. "Old School" (3:46)
2. "Green Jesus" (3:51)
3. "Show Me Your Tits" (2:51)
4. "No One To Follow" (4:42)
5. "Hair Pie" (3:09)
6. "Rubber Neck" (3:11)
7. "Piss Test" (4:10)
8. "Red Light" (4:53)
9. "Black Or White" (3:29)
10. "Hero By Death" (5:22)
Once again, Anvil dishes out some seriously heavy speed metal with those signature guitar solos and vocals of Lips. The lyrics on this disc, as with most Anvil discs, are a mixed bag. One the one hand we have a serious look at politics ("No One To Follow") and religious greed ("Green Jesus") sandwiched in between songs like "Show Me Your Tits" and "Hair Pie", both self explanatory. "Rubber Neck" is a song about driving by a car accident and staring at the accident rather than driving your own car, something everyone does where I live. "Piss Test" is about how current society has infringed the rights and privacy of people by forcing them to urinate in those little cups before getting a job, etc. So once again, great music, but I could do without the twisted sex songs. This album is their first album with Glenn Gyorffy. I also read on Anvil's homepage that there are two slightly different covers for this album. The difference is in the color of the lettering at the bottom of the cd.
Anvil-Speed of Sound (Massacre) 1998
1. "Speed Of Sound" (3:43)
2. "Blood In The Playground" (3:36)
3. "Deadbeat Dad" (3:52)
4. "Man Over Broad" (5:26)
5. "No Evil" (5:26)
6. "Bullshit" (3:24)
7. "Mattress Mambo" (5:21)
8. "Secret Agent" (3:52)
9. "Life To Lead" (4:04)
10. "Park That Truck" (3:30)
One thing can be said of Anvil, they are certainly consistent. Canada's favorite speed metal band has progressively taken their production up to the highest standards, but the music and lyrical themes have not changed all that much. As usual there are the politically incorrect song ('Park the Truck'), the song about how metal reigns supreme ('Speed of Sound'), and the oddball sex song ('Matress Mambo). The music is faster than most of their early classics, but still retains the speed metal label. Lips voice sounds as brutal as ever. Overall, another fine Anvil output! Crank it up!
Anvil-Massacre's Classix Shape Edition Vol. 10 (Massacre) 1999
"Blood On The Ice" (5:58)
"Doctor Kevorkian" (3:56)
"Old School" (3:46)
"Speed Of Sound" (3:43)
"Metal On Metal" -live (
A cooooool collector's disc for Anvil fans. The flying anvil of the shaped disc is from the 'Speed of Sound' cd. "Blood On The Ice" is from the album "Pound for Pound.". "Doctor Kevorkian" is from the album "Plugged in Permanent." "Old School" is from the album "Absolutely No Alternative". "Speed Of Sound" is from the album of the same name. (thanks Arttie)