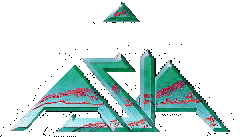 Formed by Geoff Downes (ex Buggles, Yes), Carl Palmer (ex- E.L.P.), John Wetton (ex-King Crimson) and guitarist extrodinaire Steve Howe (Yes), Asia was somwhat of a progressive rock supergroup, although their music never reached the greatness of any of the bands that they came from. Their first album was a multi-platinum success with several charting songs. After that however, their pop-rock albums began to get progressively more bland up until the time vocalist/bassist John Wetton was replaced by new vocalist John Payne and the band once again became an excellent progressive AOR band.

Asia-Astra (Geffen) 1985
1.   "Go" (4:06)
2.   "Voice of America" (4:26)
3.   "Hard on Me" (3:35)
4.   "Wishing" (4:15)
5.   "Rock and Roll Dream" (6:51)
6.   "Countdown to Zero" (4:14)
7.   "Love Now Til' Eternity" (4:10)
8.   "Too Late" (4:11)
9.   "Suspicion" (3:46)
10.  "After the War" (5:09)
Uh, this album sucks! Good thing Steve Howe decided to go back to Yes. Located in a cut-out bin near you!

Asia-Then & Now (Geffen) 1990
1.   "Only Time Will Tell" (4:46)
2.   "Heat of the Moment" (3:52)
3.   "Wildest Dreams" (5:10)
4.   "Don't Cry" (3:40)
5.   "Smile Has Left Your Eyes" (3:14)
6.   "Days Like These" (4:05)
7.   "Prayin' 4 a Miracle" (4:22)
8.   "Am I in Love?" (4:24)
9.   "Summer (Can't Last Too Long)" (4:16)
10.  "Voice of America" (4:18)
I waited forever to find a used copy of Asia's debut.(Still haven't found one.) In the meantime, I found this compilation for $3.99 and since it has a few songs off the debut, I picked it up. The new tracks are far superior to anything on "Astra" and even better than most of "Alpha." The disc includes all of their Top 40 hits ("Heat of the Moment, " "Only Time Will Tell, " "Don't Cry, " and "The Smile Has Left Your Eyes").

Asia-Live in Moscow (Rhino) 1991
1.   "Time Again" (5:36)
2.   "Sole Survivor" (6:26)
3.   "Don't Cry" (5:16)
4.   "Geoff Downs-Keyboard Solo (Ing Video Killed the Radio)" (5:15)
5.   "Only Time Will Tell" (4:58)
6.   "Rock And Roll Dream" (5:46)
7.   "Starless" (3:48)
8.   "Book of Saturday" (2:48)
9.   "Smile Has Left Your Eyes, Pt. 1-2" (4:49)
10. "Wildest Dreams" (5:09)
11. "Heat Goes On/Carl Palmer-Drum Solo" (7:21)
12. "Go" (4:50)
13. "Heat of the Moment" (5:19)
14. "Open Your Eyes" (7:28)
If I am in just the right mood, this album is excellent. For the most part, with the rest of my Asia collection, this is not a frequent player. Still, a solid live set with all the hits and more. The end of an era for this band, but I think the one coming up is actually better. "Starless" and "Book of Saturday" are King Crimson songs.

Asia-Aqua (Great Pyramid) 1993
1.   "Aqua I" -instrumental (2:25)
2.   "Who Will Stop the Rain?" (4:35)
3.   "Lay Down Your Arms" (4:10)
4.   "Heaven on Earth" (4:52)
5.   "Someday" (5:47)
6.   "Crime of the Heart" (5:55)
7.   "Far Cry" (5:28)
8.   "Back in Town" (4:07)
9.   "Don't Call Me" (4:53)
10.  "Love Under Fire" (5:13)
11.  "Voice of Reason" (5:34)
12.  "Aqua II" -instrumental (2:09)
Cool cover done by Rodney Matthews who has also done work for Veni Domine and Seventh Angel. I found this one used real cheap and decided to pick it up for three reasons: 1. the cover art, 2. Steve Howe is back and, 3. Savatage/Widowmaker guitar shredder Al Pitrelli plays lead and rhythm guitars. This is actually a pretty decent melodic AOR album. Noticeably missing is vocalist/bassist John Wetton, but to be honest, new vocalist John Payne gives this band new life. I might have to invest in 'Aria,' as John and Al play on that album as well.
Asia-Aria (Mayhem) 1994
1. "Anytime" (4:57)
2. "Are You Big Enough?" (4:07)
3. "Desire" (5:20)
4. "Summer" (4:06)
5. "Sad Situation" (3:59)
6. "Don't Cut the Wire (Brother)" (5:20)
7. "Feels Like Love" (4:49)
8. "Remembrance Day" (4:18)
9. "Enough's Enough" (4:37)
10. "Military Man" (4:10)
11. "Aria" (2:27)
12. "Reality" (4:26)
'Aria' was the band's second cd with vocalist John Payne. Back again is Al Pitelli (ex-Widowmaker) and drummer Michael Stugis (ex-21 Guns.) This disc is the second excellent progessive AOR disc in a row from Geoff Downes and his revolving door of musicians. I actually like 'Aria' and 'Aqua' better than anything the band did with John Wetton. Certainly these two platters are both less pop oriented. I guess without the big label pressure for a 'hit' song, the band is able to express themselves better.
Asia-Archiva 1 (Pavement) 1996
1. "Heart of Gold" (4:47)
2. "Tears" (4:59)
3. "Fight Against the Tide" (5:31)
4. "We Fall Apart" (4:58)
5. "The Mariner's Dream" -instrumental (1:27)
6. "Boys from Diamond City" (5:43)
7. "A.L.O." (3:40)
8. "Reality" (4:29)
9. "I Can't Wait a Lifetime" (3:25)
10. "Dusty Road" (4:30)
11. "I Believe" (3:43)
12. "Ginger" -instrumental (2:04)
A cool 'archives' collection of unreleased b-side material including a cool Steve Howe instrumental called 'Ginger.' As with most of the John Payne era material, the sound is a nice mix of pop rock and progressive rock. John's vocals are perfect for this stuff and he is obviously a decent guitarist too, since he played guitar on much of this disc. There are several other guitarists who make an appearance on this compilation as well, including Thin Lizzy's Scott Gorham (track 6), ex-Widowmaker / Savatage guitarist Al Pitrelli (tracks 1 & 8) and as mentioned Steve Howe on track 12. The material was recorded and spans a time frame from 1988 to 1996, but amazingly does not sound slapped together. Apparently the entire disc was mixed at the same time in 1996. The cover art is once again by Rodney Matthews, who also did the exceptional Aqua cover.
When my friend James contacted me regarding this album, I wasn't sure exactly what it was, so I got online and checked out AMG's reviews. It's odd that they have two reviews, one for the Resurgent Records release which received four out five stars. The other is for the Pavement release which was only given two and a half stars. What's odd about it is that they are the same releases but on different record companies. Just goes to show you, you have to listen for yourself, never trust a review. One man's garbage is another man's treasure. Certainly this disc contains a nice collection of treasures, especially the epic "Boys from Diamond City" and Steve Howe's "Ginger."