Boston were huge in the late 70's, yet for some strange reason they only put out two albums in that era. They eventually put out two more studio discs, but with many years between them. Recently a "best of" has been released with a few new songs as well.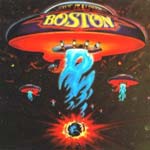 Boston (Epic) 1976
1."More Than a Feeling" (4:45)
2."Peace of Mind" (5:02)
3."Foreplay/Long Time" (7:48)
4."Rock & Roll Band" (3:00)
5."Smokin'" (4:20)
6."Hitch a Ride" (4:12)
7."Something About You" (3:48)
8."Let Me Take You Home Tonight" (4:13)
The favorite album of every classic rock station across the globe, all of whom I swear have forgotten that the band has three other releases out. In any case, you can turn on the radio on any given day and hear "Smokin'," "Rock & Roll Band," and "More than a Feeling." Despite that this is still a great listen when I am in the right mood.
Boston-Don't Look Back (Epic) 1978
1."Don't Look Back" (5:58)
2."The Journey"-instrumental (1:46)
3."It's Easy" (4:27)
4."A Man I'll Never Be" (6:38)
5."Feelin' Satisfied" (4:12)
6."Party" (4:07)
7."Used to Bad News" (2:57)
8."Don't Be Afraid" (3:50)
Another great record, and one that didn't take 10 years to record. This is probably the Boston album I listen to the most. My grandfather bought this for me as a kid. It was the first Boston album I got on cd.

Boston-Third Stage (MCA) 1986
1."Amanda" (4:16)
2."We're Ready" (3:58)
3."The Launch"-instrumental (2:55)
4."Cool the Engines" (4:24)
5."My Destination" (2:19)
6."A New World"-instrumental (0:37)
7."To Be a Man" (3:30)
8."I Think I Like It" (4:07)
9."Can'tcha Say/Still in Love" (7:14)
10."Hollyann" (5:09)
As if it were 1978, Boston comes out with another squeeky clean hard rock monster in 1986, nearly eight years since their last record. Strange thing is it doesn't really sound any different than the first two either. "Amanda" was the big hit from this record. For those who care, no synthesizers were used in the making of this record. OK! Who cares, as long as it sounds good.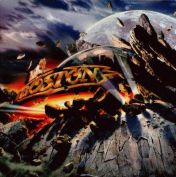 Boston-Walk On (MCA) 1994
1. "I Need Your Love" (5:33)
2. "Surrender to Me" (5:34)
3. "Livin' for You (4:58)
Walk On Medley
4. "Walkin' At Night" (2:02)
5. "Walk On" (2:58)
6. "Get Organ-ized" (4:28)
7. "Walk On (some more)" (2:55)
8. "What's You Name" (4:28)
9. "Magdalene" (5:58)
10. "We Can Make It" (5:30)
Disc #4 is more of the same. I don't know, I guess I'm just bored with it now, although this really isn't a bad album at all. I don't think this one did as well as the first three. AND if anyone still cares, this one doesn't use digital equipement either. YA!