LAST UPDATE

2/17/02 More sad news this update:
PAUL BALOFF (April 25th, 1960 - February 2nd, 2002)
Original EXODUS frontman Paul Baloff passed away just before noon on February 2nd, 2002 at the age of 41. He will be greatly missed. Rest in peace, Paul. You will live in our hearts forever. RIP.
-Small upgrade on the Sardonyx page with a couple new photos, including a picture of myself on stage with the band.
-Added some photos to the KISS CD page and added the KISS bootleg section. Also, finally added some KISS ALIVE facts. Will eventually get to the rest of their albums.
-Plenty of new cds added. As usual, all new discs marked with *NEW*
For a more detailed update list and a list of past updates, click here.
Welcome to my cd gallery, where I have listed and commented on every cd I own. None of these, unless noted in a very few instances, are CDR copies. All are originals. I am quite anal about my collection, so unless you see it on my trade page, chances are I won't part with it. This is MY collection, and is not necessarily meant to be an all exclusive discography on every band, although in some cases it may be.
OK, I know, there are some non-metal discs in this list. So-what!!!
Sometimes I dig the Blues, somtimes I enjoy some old progressive rock like Yes & Genesis and...gasp!..sometimes even some Gospel music like Keith Green. Many metal bands were inspired by these artists. Variety is the spice of life, right!? Also I realize that by today's standards bands like Thin Lizzy and Aersomith are considered hard rock rather than heavy metal, but in the 70's these bands were heavy metal and were also the inspiration for many more modern metal bands.
Also, I don't really care if you don't like so-called "poser" bands like Slaughter and Cinderella or not. If you don't like them, and you only like the heavier stuff, then so be it, this is not your page, it's mine. So, please do not waste your time sending me insipid emails about how this band "sucks" or that band is for "posers," as I really don't care.
So, I hope you enjoy checking out my collection. Feel free to comment. I'm always interested in new bands, so if you know of a disc or band that I might like, let me know about it.
Also below, find a list of my favorite bands, discs, etc. Enjoy!
Check here for a list of Frequently Asked Questions

FAVORITE EVERYTHING...

Current Playlist:
(OK, this is a new section I will try to change monthly, but I have to say that I listen to music all day every day, so this list is actually cds that get played several times in that month. I actually bring 15 different discs to work with me every day; and that does not include what I listen to in my car and at home. For a day by day playlist, click here. Man, talk about anal!)
1. Thin Lizzy-Deluxe BBC Files
2. Thin Lizzy-Out on Bail (cdr)
3. Thin Lizzy-Should Have Been in By 10 (cdr)
4. Thin Lizzy-Soldiers of Fortune (cdr)
5. Sun Red Sun-Sunset
6. Iced Earth-Dark Genesis
7. Holy Mother-Toxic Rain
8. Holy Mother-My World War
9. Kiss-Box Set
10. The Gary Moore Band-Grinding Stone

Top 30 Favorite Bands
(Actually, 50 would have been more feasable, so there are a few bands that are left out that could have been on this list on any given day. For a more complete list, see my CD list. Also, besides the top five or so being my absolute favorites, there is really no order to this list.)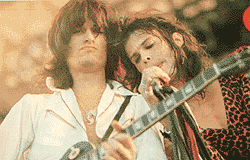 Joe Perry & Steven Tyler
Aerosmith (1977)
1. Aerosmith
2. Thin Lizzy
3. KISS
4. Nevermore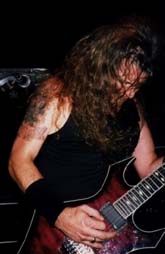 Jon Schaffer/ Iced Earth (1999)
5. Iced Earth
6. Ted Nugent
7. Hammerfall
8. Iron Maiden
9. Grave Digger
10 . Mortification
11. Judas Priest
12. Stryper
13. Tourniquet
14. Anthrax
15. Megadeth
16. Metallica
17. Vengeance Rising
18. Accept
19. Black Sabbath
20. Believer
21. Testament
22. Dio
23. Deliverance
24. Metal Church
25. Savatage
26. Sacred Warrior
27. Raven
28. Exodus
29. Alice Cooper
30. Gillan

Favorite albums (by the above artists)
(I wanted to just have a top 20 albums, but narrowing it down to only 20 was impossible. It was hard enough picking only one album by each of these incredible bands.)


1. Aerosmith-Rocks
2. Thin Lizzy-Bad Reputation
3. KISS-Creatures of the Night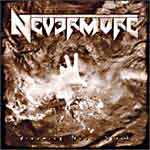 4. Nevermore-Dreaming Neon Black
5. Iced Earth-Something Wicked This Way Comes
6. Ted Nugent-Ted Nugent
7. Hammerfall-Legacy of Kings
8. Iron Maiden-Piece of Mind


9. Grave Digger-Excalibur
10. Mortification-EnVision EvAngeline
11. Judas Priest-Screaming for Vengeance
12. Stryper-Soldiers Under Command
13. Tourniquet-Psycho Surgery
14. Anthrax-Spreading the Disease
15. Megadeth-Rust in Peace
16. Metallica-Master of Puppets
17. Vengeance Rising-Once Dead
18. Accept-Restless & Wild
19. Black Sabbath-Master of Reality
20. Believer-Sanity Obscure
21. Testament-The Gathering
22. Dio-Holy Diver
23. Deliverance-Weapons of our Warfare
24. Metal Church-Hanging in the Balance
25. Savatage-Sirens
26. Sacred Warrior-Master's Command
27. Raven-All for One
28. Exodus-Fabulous Disaster
29. Alice Cooper-Welcome to My Nightmare
30.Gillan-Double Trouble

Favorite Live Albums
(Always been a fan of live albums. This was MUCH easier to do than the above favorites. Also includes some non metal favorites)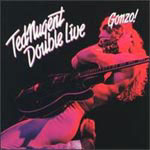 1. Ted Nugent-Double Live Gonzo
2. Judas Priest-Unleashed in the East
3. Thin Lizzy-Live & Dangerous
4. KISS-Alive
5. Yes-Yessongs
6. Aerosmith-Live! Bootleg
7. Overkill-Wreching Your Neck Live
8. Mortification-Live Planetarium
9. Iron Maiden-Live At Donnington
10. Genesis-Three Sides Live (European version)
11. Queen-Live Killers
12. Scorpions-Tokyo Tapes
13. Thin Lizzy-BBC Radio One
14. Aerosmith-King's Chronicle
15. Cinderella-Live at the Key Club
16. Motorhead-No Sleep til Hammersmith
17. UFO-Stangers in the Night
18. Angel-Live Without a Net
19. Raven-Live at the Inferno
20. Blind Guardian-Tokyo Tales
21. Deliverance-Live at Cornerstone 2001
22. Gillan-Double Trouble
23. Queensryche-Live Evolution
24. Sacred Warrior-Live at Cornerstone 2001
Worst Live Albums
1. Barren Cross- Hotter than Hell! Live
2. Nuclear Assault-Live at the Hammersmith Odeon
3. Recon-Live at Cornerstone 2001
4. Guardian-Live at Cornerstone 2001

Favorite NON-metal bands/musicians
(Yes, I do like things other than metal! I know, for shame...and I call my self a metalhead!)
1. Yes
2. Pink Floyd
3. Genesis
4. Keith Green
5. Molly Hatchet
6. Phil Keaggy
7. Nektar
8. Blackfoot
9. Lynyrd Skynyrd
10. Kansas

Favorite Singers
(Killer vox and great performers)
1. Steven Tyler (Aerosmith)
2. Warrel Dane (Nevermore)
3. Rob Halford (Priest/Fight)
4. Bruce Dickinson (Maiden)
5. Rob Rock (Impelliterri/Angelica/Driver)
6. Udo Dirkschneider (Accept/U.D.O.)

7. Dee Snider (Twisted Sister/Widowmaker)
8. Ronnie James Dio
9. Ray Alder (Fates Warning)
10. Blitz (Overkill)
11. Ian Gillan (Deep Purple/Gillan/Sabbath)
12. Jon Anderson (Yes)
13. Michael Sweet (Stryper)
14. John Cyriis (Agent Steel)
15. Ron Rinehart (Dark Angel/Oil)

Favorite Guitarists
(just for being too cool!)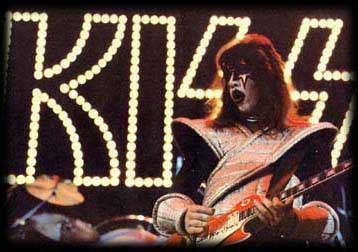 1. Ace Frehley (KISS)

2. Ted Nugent (the Motor City Madman!)
3. Joe Perry (Aerosmith)
4. Scott Gorham (Thin Lizzy)
(I wanted his hair when I was 5 years old! Got it now!)
5. Phil Keaggy
6. Gary Lenaire (Tourniquet/Echo Hollow)
7. Michael Angelo (Nitro)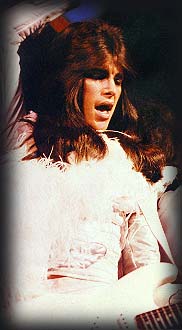 8. Punk Meadows (Angel)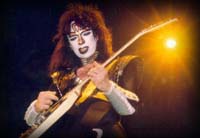 9. Vinnie Vincent (ex-KISS/V.V.Invasion)
10. Steve Howe (Yes)

Favorite Guitar Teams
(dual guitars solos rule! Most of these bands sound is dependant on the skills of both guitarists.)
1. Adrian Smith & Dave Murray (Maiden)
2. KK Downing & Glenn Tipton (Priest)
3. Scott Gorham & Brian Robertson (Thin Lizzy)
4. Steve Trujillo & Robert Gutierrez (Ultimatum)
5. Michael Sweet & Oz Fox (Stryper)
6. Joe Perry & Brad Whitford (Aerosmith)

Favorite Bassist
(those who took a boring instrument and made it RULE!)
1. Steve Harris (Maiden)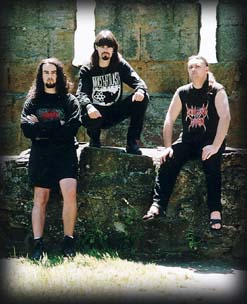 Mortification
(Blood World promo photo/1994)
2. Steve Rowe (Mortification)
3. Tom Hamilton (Aerosmith)
4. Lemmy (Motorhead)
5. Phil Lynott (Thin Lizzy)
6. D.D. Verni (Overkill)

Favorite Drummers
(those madmen who hold the songs together)
1. Brain Downey (Thin Lizzy)
2. Nicko McBrain (Maiden)
3. Ted Kirkpatrick (Tourniquet)
4. Scott Travis (Fight/Priest)
5. Jason Sherlock (Mortification/Parameacium)
6. Tommy Aldridge (Ozzy, Nugent, House of Lords, Whitesnake, Pat Travers, Thin Lizzy)
Severely Underrated Drummer
1. Brian Downey (Thin Lizzy)
2. Joey Kramer (Aerosmith)
3. Robert Sweet (Stryper)

Most Hated!
1. Paying Bills.
2. Country music (GAK!)

3. Inconsiderate moshers/stage divers who get in the way of those who actually want to watch and enjoy the show.
4. Lima Beans (YUK!)
5. MxPx. Offspring or any other "pop" punk band
(geez isn't pop punk an oxymoron?)
6. Insipid satanic lyrics
7. Paying Taxes
8. Getting up in the morning to go to work.
9. Marilyn Manson, Rob Zombie, Kid Rock, Limp Bizcrap, Korn, etc.
(In other words trendy crap made popular by MTV and big marketing.)
10. Paying Bills

Bands that I really miss...!
(not necessarily in any order here, they are all missed)
1. Stryper
2. Believer
3. Deliverance (Jimmy & George!)
4. Vengeance Rising
5. Seventh Angel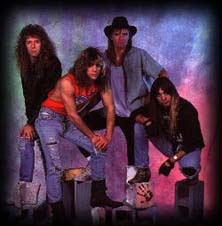 Barren Cross (1989)
6. Barren Cross
7. Anthrax w/ Joey Belladonna and Dan Spitz
8. Thin Lizzy (Phil Lynott-R.I.P.)
9. Frehley's Comet
10. Accept
11. Celtic Frost
12. Vinnie Vincent Invasion
13. Twisted Sister
14. Judas Priest w/ Halford
15. Sardonyx


WORST cd covers
1. Deuteronomium-Street Corner Queen
2. Raven-Wiped Out
3. Tourniquet-Acoustic Archives
4. Robert Sweet-Love Trash
5. Eternal Decision-self titled (Cling Records version)
6. Fates Warning-No Exit
7. Uriah Heep-Live