C R I M S O N ...G L O R Y
Crimson Glory, a progressive metal band that formed in Florida in 1982, consisted of vocalist Midnight, guitarists Jeff Drenning and Ben Jackson, bassist Jeff Lords and drummer Dana Burnell. The band went through a number of line-up changes over the years and released three albums. Shortly after 1991's "Strange & Beautiful" Midnight left and the band broke up. 1999 saw Crimson Glory reunite, but without Midnight behind the mic. They release an album called "Astronomica."

Crimson Glory (Roadrunner) 1987
1. "Valhalla" (3:46)
2. "Dragon Lady" (4:21)
3. "Heart of Steel" (6:07)
4. "Azrael" (5:42)
5. "Mayday" (2:59)
6. "Queen of the Masquerade" (5:27)
7. "Angels of War" (5:23)
8. "Lost Reflection" (4:43)
Crimson Glory's debut showcased some fine progressive metal with lots of melody and a whole lot of heavy metal attitude. The silver masks were pretty funny. Everybody has to have a gimmick.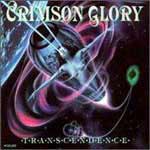 Crimson Glory-Transcendence (MCA) 1988
1. "Lady of Winter" (4:00)
2. "Red Sharks" (4:52)
3. "Painted Skies" (5:16)
4. "Masque of the Red Death" (4:15)
5. "In Dark Places" (7:03)
6. "Where Dragons Rule" (5:07)
7. "Lonely" (5:18)
8. "Burning Bridges" (6:32)
9. "Eternal World" (3:54)
10. "Transcendence" (4:34)
Killer album! "Transcendence" is one of the finest 80's progressive metal albums, ranking up with Fates Warning and early Queensryche. Midnight has a great voice with a wide range. "Lonely" is a power ballad with a monster hook. This album alone gained the band a huge cult following. They never did gain huge commercial success though.

Crimson Glory-Strange & Beautiful (Atlantic) 1991
1. "Strange & Beautiful" (6:17)
2. "Promise Land" (5:22)
3. "Love & Dreams" (5:29)
4. "The Chant" (3:46)
5. "Dance On Fire" (5:28)
6. "Song For Angels" (5:20)
7. "In the Mood" (5:55)
8. "Starchamber" (7:28)
9. "Deep Inside You" (5:14)
10. "Make You Love Me" (4:06)
11. "Far Away" (4:45)
"Strange & Beautiful" is another fine melodic, progressive metal album. The title track reminds me of something off Led Zeppelin's "In Through the Outdoor". "Love & Dreams" is a radio-ready acoustic number. OK perhaps this disc is a bit more commercial than the first two, but itís still a great album by a great band. Crimson Glory are one of the most underrated progressive metal bands. Oh, the band dropped the silver masks for this album.
Crimson Glory-Astronomica (Spitfire) 1999
1. "March to Glory" -instrumental (3:28)
2. "War of the Worlds" (4:08)
3. "New World Machine" (4:14)
4. "Astronomica" (4:54)
5. "Edge of Forever" (5:47)
6. "Touch the Sun" (5:55)
7. "Lucifer's Hammer" (4:25)
8. "The Other Side of Midnight" (4:29)
9. "Cyberchrist" (5:14)
10. "Cydonia" (5:47)
Crimson Glory's fourth album, "Astronomica," marked the return of the more progressive metal sound but is missing the vocals of Midnight. New vocalist Wade Black is a more than competent vocalist and does an excellent job taking over ther reigns. Crimson Glory's lyrics revolve around UFOs, pyramids, the Cydonian region of Mars, the Internet and other millennial, supernatural, sci-fi paranormal themes. Track ten, "Cyndonia," is actually 27:06 in length. The first 5:47 is the song with the remaining time being phone and radio conversations of people reporting to have seen unidentified flying objects. Should also make note that Steve Wacholz (ex-Savatage) performs on this album. Picked up this disc in an internet trade on the PM Board.