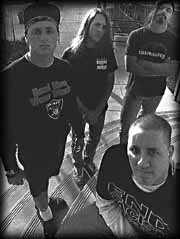 The CRUCIFIED
The Crucified started out as a punk band in the early 80's. They progressed into a hybrid mix of punk and thrash by the mid 80's when they were signed to Pure Metal. Guitarist Greg Minier also put out two discs under the titles Minier and Applehead.

The Crucified (Narrowpath/Pure Metal)
1." The Pit" (3:12)
2. "Diehard" (2:56)
3. "Your Image" (1:24)
4. "Getting A Grip On Things" (3:22)
5. "Hellcorn" (3:15)
6. "Rise" (3:55)
7. "One Demon To Another" (3:10)
8. "Unity" (3:28)
9. "A Guy in a Suite and The Pope" (1:42)
10. "Back to the Cross" (3:43)
11. "Confidence" (2:37)
12. "The Insult Circus" (2:50)
13. "Thread" (2:28)
14. "Crucial Moment" (3:28)
A classic crossover album mixing elements of the Crucified's punk past with their new thrash sound. (Not unlike D.R.I.'s "Crossover") Always liked "The Insult Circus" a song that takes pot shots at band's who really have hypocritical lyrics. Check out the lyrics below. The original Pure Metal release was worth some money for a while as it went out of print when Pure Metal was bought out by Star Song, but Tooth & Nail re-released this album a few years ago, so it's more readily available. Still, a used, original copy sells on eBay for over $10.
The Insult Circus (M. Solomon)
From the very moment I heard your deceit and subtle lies, from the moment you shocked me, silent I burned to question, why? Why? Why do you insist, you persist in blasphemy of my Lord and God? Take you opinions and empty accusations home and rot. Your world is so perverted, nausea grips my stomach! I think I'm gonna vomit. And to think I once took part in the narrowmindedness of a hardened heart. Why?
Why the insults to my Lord? There is no point without support. Blaming God for the faults of me, you don't even understand. Some feeble point or shock effect. Who do you benefit? You profit off another's pain and bite the hand that seeks to aid. Lies. Motive: ego . . . Knowledge, who knows? Solution: zero. . . you goal, oh so vague.
And the band Millions of Dead whoever, you are mumbling and grumbling about today, your music's fast and your outspoken but you have little or nothing to say.
And the boys from south of heaven, who knock TV preachers with every other word, you come off so concerned and charge $20+ for a t-shirt. Hypocrisy your breathe holds. Deception reeks thick and bold. You don't care about anyone but yourself. You couldn't care less if I rot in hell. Me or anyone else . Why?
And the band named after the cow disease, so proud if you're without sin then go ahead - cast your two cents in.
And half of the bands in the Berkeley Mag on the bandwagon of the insult circus. Of all the wrongs you slag the rights and lose us to your purpose. If you're so wise then solve my problems instead. You ask more and more needless questions and my troubles double. Give us something we can use. You serve only to confuse, Why?

The Crucified-The Pillars of Humanity (Ocean)
1. "Intro/Hateworld" (5:20)
2. "It's All About Fear" (2:29)
3. "The Wrong One" (3:41)
4. "Mindbender" (3:54)
5. "Path to Sorrow" (4:02)
6. "Fellowship of Thieves" (3:12)
7. "Focus" (2:32)
8. "The Strength" (3:53)
9. "Blackstone/So-Called Living, 1991" (4:16)
10. "The Pillars of Humanity" (2:57)
This is a PHENOMENAL hardcore/thrash crossover album. Every song is fast and furious yet still has great musical hooks. This is one of those albums that you just can't sit still listening to. The lyrics deal with social topics from a Christian perspective.
Interesting story (at least to me) about these guys. I hung around a show after these guys played in hopes of getting them to autograph my disc. When the band came out to hang with those who were still in the building, three of the four members were really cool and autographed my disc. One of them, guitarist Greg Minier, seemed overjoyed to sign it and struck up a long conversation with me about his solo disc, which I also had him sign. (see Minier) Their singer, however, was the biggest jerk I have ever met. I asked him to sign the cover and he ignored me and instead started a talking with someone else. I waited for him to finish his conversation and once again asked him to sign my disc. He snatched the cover from my hands and scribbled a scripture reference, 1 John 5:21 and didn't even sign his name. The scripture: "Little children, keep yourselves from idols. Amen." Man, talk about the ultimate in arrogance, I had no desire to worship the man, I only wanted him to sign the stinkin' cd because I dug the music. The dude ruined my cover!
Well, this would be the last disc for The Crucified, although Tooth & Nail Records would re-released their early punk demos on a cd called "Nailed." Vocalist Mark Soloman went on to do some crappy rap project then on to another crappy alternative band (Stavesacre). Bassist Jeff Belew had a short stint with industrial metal band Chatterbox, before going on to play with Stavesacre with Soloman. Last seen, Jeff Belew was sporting a sticker on his guitar that said "Metal Sucks!" Poser! I bought the first two Stavesacre albums and held onto them for a few years until I finally got tired of 'em collecting dust on my shelf, so I traded them in. Greg Minier released two excellent solo albums during the Crucified's existence; Minier and Applehead. Greg was featured in an issue of Guitar World Magazine shortly before the band broke up. Drummer Jim Chaffin went on to play with The Blamed.