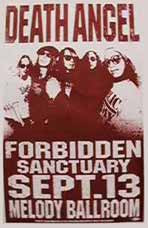 ...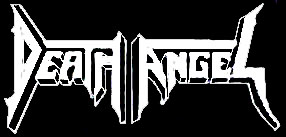 Death Angel was one of the premiere bands from the "Bay Area" Thrash scene of late 1980's. What was even more amazing about them was that they were all teenagers and cousins.; their drummer was only 12 years old when they started! After three studio albums, and one live album vocalist Mark Osegueda quit and the remaining members of Death Angel continued on as The Organization.
The Ultra-Violence (Enigma) 1987
1."Thrashers" (7:09)
2."Evil Priest" (4:53)
3."Voracious Souls" (5:39)
4."Kill as One" (4:57)
5."The Ultra-Violence"-instrumental (10:32)
6."Mistress of Pain" (4:03)
7."Final Death" (6:02)
8."I.P.F.S." (1:54)
A legendary debut, considered a classic by many. There is not a single slow moment to be found here and every track is tight and furious. Amazing drum work, especially considering their drummer is barely a teenager. The only real negative I have to say about this one, is that the lyrics are a bit on the silly side, but were not any different from most of the Bay Area bands at the time. Violence was the theme of the scene. Opening song "Thrashers" is sung by guitarist Rob Cavestany and bassist Dennis Pepa, giving a sneak preview of The Organization...well sort of.

Death Angel-Frolic Through the Park (Enigma) 1988
1."3rd Floor" (4:52)
2."Road Mutants" (3:43)
3."Why You Do This" (5:27)
4."Bored" (3:27)
5."Devil's Metal" (5:31)
6."Confused" (7:20)
7."Guilty of Innocence" (4:23)
8."Open Up" (5:36)
9."Shores of Sin" (6:28)
10."Cold Gin" (4:20)
11."Mind Rape" (5:10)
OK, any band that would cover Ace Frehley's (Kiss) "Cold Gin" has got to be ok. "Frolic" is a nice slice of technical thrash with hints of the genius that would come next. While I really dug this disc, especially when it first came out, their next studio disc is so awesome, this one kinda pails in comparison. However, just about every song on "Frolic" rips through at break neck speed. There are a few slower numbers like "Confused" and "Shores of Sin," but for the most part the music is fast. My favorite song is "Bored," which contains hilarious lyrics put on top of a mid paced groove! Love it! Somebody ought to cover this one. Oh, and I love the album title-great name for a thrash album!
Death Angel-Fall from Grace (Enigma) 1990
1. "Evil Priest" (5:46)
2. "Why You Do This" (6:06)
3. "Mistress of Pain" (4:27)
4. "Road Mutants" (4:01)
5 "Voracious Souls" (6:28)
6. "Confused" (7:00)
7. "Bored" (3:28)
8. "Kill As One" (6:29)
9. "Guilty of Innocence" (4:36))
10. "Shores of Sin" (5:12)
11. "Final Death" (7:01)
I've heard that the band didn't want this live recording to be released, or that it was released without their permission, or whatever. Point is, it came out and it is a collectors item for fans of the band. It's not the best sound; actually it sounds more like a high quality bootleg, but their performance isn't that bad, so I am not sure why the band didn't want it released. It's not something I would spend too much time listening to due to the sound quality, but still a nice collector's item. Recorded live in Amsterdam at the Paradsio, July 9, 1988. I think this album came out shortly after "Act III" but I'm not positive.

Death Angel-Act III (Geffen) 1990
1."Seemingly Endless Time" (3:49)
2."Stop" (5:10)
3."Veil of Deception" (2:35)
4."The Organization" (4:16)
5."Discontinued" (5:50)
6."A Room with a View" (4:42)
7."Stagnant" (5:33)
8."EX-TC" (3:06)
9."Disturbing the Peace" (3:53)
10."Falling Asleep" (5:54)
This is a masterpiece of speed metal. "Act III" is more musically diverse than their previous albums, but still contains some speedy numbers as well. The all-acoustic pieces "Veil of Deception" and especially "A Room with a View" are fabulous. The entire album is a great listen from beginning to end. It makes me wonder what their next album would have sounded like...oh, wait, it would probably sound like The Organization.