I've actually like the Doors since I was a kid. I owned most of their albums on vinyl at one time. I am surprised it actually took me ten years to finally start a Doors cd collection. Part of the hindrance is that my wife despises this band, so I really can only play their discs in my car or at work.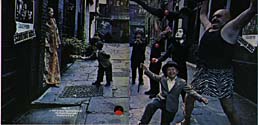 The Doors- Strange Days (Elektra) 1967
1."Strange Days" (3:05)
2."You're Lost Little Girl" (3:01)
3."Love Me Two Times" (3:23)
4."Unhappy Girl" (2:00)
5."Horse Latitudes" (1:30)
6."Moonlight Drive" (3:00)
7."People Are Strange" (2:10)
8."My Eyes Have Seen You" (2:22)
9."I Can't See Your Face in My Mind" (3:18)
10."When the Music's Over" (11:00)
I absolutely love this cd. "People Are Strange" is one of my all time favorite songs. It has one of those musical and lyrical hooks that will embed itself into your brain for days. The one and only time I have ever sang keroke, I sang this song. Pretty funny site, I would imagine. Anyhow, the whole album is just fabulous. The Doors were way ahead of their time.
The Doors-Waiting for the Sun (Elektra) 1968
1. "Hello, I Love You" (2:22)
2. "Love Street" (3:06)
3. "Not to Touch the Earth" (3:54)
4. "Summer's Almost Gone" (3:20)
5. "Wintertime Love" (1:52)
6. "The Unknown Soldier" (3:10)
7. "Spanish Caravan" (2:58)
8. "My Wild Love" (2:50)
9. "We Could Be So Good Together" (2:20)
10. "Yes, the River Knows" (2:35)
11. "Five to One" (4:22)
Found this, the Doors third album, used for $3.99. The music on this disc is much different from the band's first two albums. As I contemplated what to say about the music, I was listening to it once again in my car, on the way to work at 5:30 AM. The only word that I could come up with to describe the music was "trippy." With the exception of "Hello, I Love You" the music on this disc is very non-commercial and very spacey stuff. Lyrically Morrison continued in similar fashion to the the past albums with anti-war songs like "The Unknown Soldier." One of my favorite tracks on this disc is the flamenco, acoustic guitar driven "Spanish Caravan."
The Doors-Morrison Hotel (Elektra) 1970
1."Roadhouse Blues" (4:04)
2."Waiting for the Sun" (3:58)
3."You Make Me Real" (2:50)
4."Peace Frog" (2:52)
5."Blue Sunday" (2:08)
6."Ship of Fools" (3:06)
7."Land Ho!" (4:08)
8."The Spy" (4:15)
9."Queen of the Highway" (2:47)
10."Indian Summer" (2:33)
11."Maggie M'Gill" (4:24)
This disc is a classic. Not much else to say. The 2 "sides" of this album have separate names, "Hard Rock Cafe" for songs 1-6 and "Morrison Hotel" for songs 7-11.
The Doors-L.A. Woman (Elektra) 1971
1. "The Changeling" (4:20)
2. "Love Her Madly" (3:18)
3. "Been Down So Long" (4:40)
4. "Cars Hiss by My Window" (4:10)
5. "L.A. Woman" (7:49)
6. "L'America" (4:35)
7. "Hyacinth House" (3:10)
8. "Crawling King Snake" (4:57)
9. "The Wasp (Texas Radio & the Big Beat)" (4:12)
10. "Riders on the Storm" (7:14)
Lots of great songs on this one, including the title tracks. However, my favorites are "The Wasp (Texas Radio & the Big Beat)" and "Riders on the Storm." "Riders" is absolutely one of the coolest songs ever. This was the Doors last album before the mysterious death of Jim Morrison.