In 1979 Joe Perry left Aerosmith for a few years to pursue a solo career. In the time he was gone, Aerosmith released two albums, "Night in the Ruts," which Joe plays partially on, and "Rock in a Hard Place." While Aerosmith was in limbo Joe released three albums.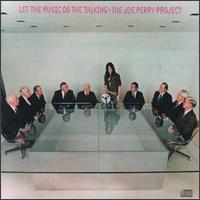 Joe Perry Project-Let the Music Do the Talking (Columbia) 1980
1. "Let the Music Do the Talking? (4:43)
2. "Conflict of Interest" (4:43)
3. "Discount Dogs" (3:43)
4. "Shooting Star" (3:39)
5. "Break Song" -insrumental (2:07)
6. "Rockin' Train" (6:02)
7. "The Mist is Rising" (6:31)
8. "Ready on the Firing Line" (3:54)
9. "Life at a Glance" (2:43)
1978 Joe leaves Aersomith! Is this a bad thing? Of course it is, but at least we were blessed with a few awesome solo albums while he was absent from America's greatest rock and roll band. "Let the Music Do the Talking" is a guitar album that would rival anything put out by Jeff Beck, Jimmy Page, or Eric Clapton. (All of whom are heroes of Joe Perry) The rumor was that Joe originally intended to call the album "Guitar Wars." That would have been appropriate. The title track was actually a song Joe had written for Aersomith and was later re-recorded for "Done With Mirrors." Personally, I think the Project version came out better. This one sold well for Joe, so why it is so hard to find now is beyond me. Had to special order it. Only cost $9.99. Worth every penny. "Let the Music Do the Talking" has sold over 250,000 copies.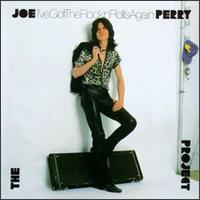 Joe Perry Project-I've Got the Rock and Rolls Again (Columbia) 1981

1. "East Coast, West Coast" (3:07)
2. "No Substitute for Arrogance" (3:25)
3. "I've Got the Rock 'n' Rolls Again" (4:34)
4. "Buzz Buzz" (3:42)
5. "Soldier of Fortune" (3:05)
6. "TV Police" (4:10)
7. "Listen to the Rock" (3:20)
8. "Dirty Little Things" (3:42)
9. "Play the Game" (5:21)
10. "South Station Blues" (4:08)
Perry not content with making solo Aersomith records changes gears slightly to give us one charged guitar album. I remember reading a review somewhere that said, "this is one loud, destructive jam!" Good description, could not have said it better myself. There are four heavy rockers in "East Coast, West Coast," "Soldier of Fortune," "South Station Blues," and the manic "Once A Rocker. "No Substitute for Ignorance," has some of the worst vocals I have ever heard. Actually I sort of wish Joe would just sing all his own songs. Joe Perry's vocals remind me of Ace Frehley, another guitar legend, who has that "can't sing/don't care" vocal style that somehow just works. On a side note, "Buzz, Buzz" had previously been recorded by bassist David Hull's band Dirty Angels. Singer Ralph Morman recorded an album titled "We Come to Play" for Capitol Records with Punky Meadows and Mickey Jones (of Angel fame) in Bux."South Station Blues" also showed up on the Aersomith box set "Pandora's Box."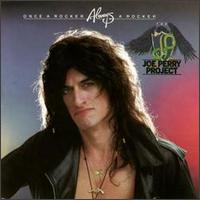 Joe Perry Project-Once A Rocker, Always A Rocker (MCA) 1983
1. "Once A Rocker, Always A Rocker" (2:58)
2. "Black Velvet Pants" (3:21)
3. "Women in Chains" (4:05)
4. "4 Guns West" (4:28)
5. "Crossfire" (5:44)
6. "Adrianna" (3:21)
7. "King of the Kings" (4:03)
8. "Band A Gong" (3:54)
9. "Walk With Me Sally" (3:15)
10. "Never Wanna Stop" (4:28)
"Once a Rocker" is my least favorite Joe Perry album. Joe and his band had a new label and a new (goofy) look. New vocalist "Cowboy" Mach Bell looks like like a reject from Twisted Sister or the New York Dolls. Then there was drummer Joe Pet, who I am sure was moonlighting in Shanana. Musically, however, there are a few gems on this disc. The title track rocks, "Woman in Chains" is a good T-Rex sounding glam ballad, and speaking of T-Rex, they do a cool cover of "Bang A Gong." Otherwise, this is Joe's most eccentric, hard to get into, album. "Once A Rocker" is out of print but was actually the EASIEST Joe Perry Project disc to find. Go figure!
There is actually a "best of" disc available now as well, but it contains nothing new (that I know of) so I think I will pass.