Boxsets and Singles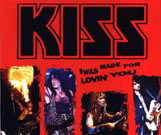 Kiss-I Was Made For Lovin' You (Mercury) 1993
1. "I Was Made For Lovin' You" -live (4:31)
2. "I Was Made For Lovin' You" (4:30)
3. "I Love It Loud" -live (3:40)
4. "Partners in Crime" (3:48)

A German import single that I found for a couple of bucks at a used store. Doesn't really contain anything that I don't already have but it's a nice collector's disc. Especially dig the German version of the logo with the backwards zz's. Apparently the German government felt the lightning bolt ss's could be confused for nazi symbols, so the band was forced to change the logo in order to sell their cds there.
Kiss-We Are One (Mercury) 1998
1. "We Are One" (Edit) (3:45)
2. "We Are One" (4:41)
3. "Psycho Circus" (5:30)
4. "Psycho Circus" (Video)
Collector's single with the complete "Psycho Circus" video for PC. Not sure this one was ever released in the U.S. I've never seen it, so I assume it was not.
Kiss-Box Set (Mercury) 2001

DISC ONE
1. "Strutter" -demo (4:58)
2. "Deuce" -demo (3:26)
3. "Keep Me Waiting" -Wicked Lester (3:26)
4. "She" -Wicked Lester (3:07)
5. "Love Her All I Can" -Wicked Lester (2:41)
6. "Let Me Know" -demo (3:37)
7. "100,000 Years" -demo (5:53)
8. "Stop, Look to Listen" -demo (4:02)
9. "Leeta" -demo (2:28)
10. "Let Me Go, Rock 'N' Roll" -demo (4:05)
11. "Acrobat" -live (6:21)
12. "Firehouse" -demo (4:37)
13. "Nothin' to Lose" (3:27)
14. "Black Diamond" (5:11)
15. "Hotter Than Hell" (3:31)
16. "Strange Ways" (3:19)
17. "Parasite" (3:03)
18. "Goin' Blind" (3:36)
19. "Anything for My Baby" (2:33)
20. "Ladies in Waiting" (2:32)
21. "Rock and Roll Nite" (2:46)
DISC TWO
22. "C'mon and Love Me" -live (3:08)
23. "Rock Bottom" -live (3:20)
24. "Cold Gin" -live (6:40)
25. "Watchin' You" -live (3:55)
26. "Doncha Hesitate" -unreleased (2:40)
27. "Mad Dog" -demo (2:32)
28. "God of Thunder " -demo version (2:54)
29. "Great Expectations" (4:21)
30. "Beth" (2:45)
31. "Do You Love Me" (3:33)
32. "Bad, Bad Lovin'" -demo version (3:35)
33. "Calling Dr. Love" (3:43)
34. "Mr. Speed" -demo version (3:34)
35. "Christine Sixteen" (3:14)
36. "Hard Luck Woman" (3:34)
37. "Shock Me" (3:47)
38. "I Stole Your Love" (3:05)
39. "I Want You" -live/soundcheck (3:31)
40. "Love Gun" -demo (3:23)
41. "Love Is Blind" demo (2:45)
DISC THREE
42. "Detroit Rock City" (3:55)
43. "King of the Night Time World" -live (3:03)
44. "Larger Than Life" (3:59)
45. "Rocket Ride" (4:07)
46. "Tonight You Belong to Me" (4:40)
47. "New York Groove" (3:00)
48. "Radioactive" -demo version (3:09)
49. "Don't You Let Me Down" (3:40)
50. "I Was Made for Lovin' You" (4:30)
51. "Sure Know Something" (3:59)
52. "Shandi" (3:35)
53. "You're All That I Want, You're All That I Need" -demo version (4:17)
54. "Talk to Me" -live (3:40)
55. "A World Without Heroes" (2:41)
56. "The Oath" (4:34)
57. "Nowhere to Run" (4:26)
58. "Creatures of the Night" (4:02)
59. "War Machine" (4:14)
60. "I Love It Loud" (4:16)
DISC FOUR
61. "Lick It Up" (3:56)
62. "All Hell's Breaking Loose" (4:34)
63. "Heaven's on Fire" (3:21)
64. "Get All You Can Take" (3:43)
65. "Thrills in the Night" (4:21)
66. "Tears Are Falling" (3:54)
67. "Uh! All Night" (4:03)
68. "Time Traveller" -demo (4:57)
69. "Hell or High Water" (3:26)
70. "Crazy, Crazy Nights" (3:46)
71. "Reason to Live" (4:01)
72. "Let's Put the X in Sex" (3:50)
73. "Hide Your Heart" (4:24)
74. "Ain't That Peculiar" -demo (3:10)
75. "Silver Spoon" (4:41)
76. "Forever" -Single Version (3:50)
DISC FIVE
77. "God Gave Rock 'N' Roll to You II "(5:20)
78. "Unholy" (3:25)
79. "Domino" -demo version (4:03)
80. "Every Time I Look at You" (4:39)
81. "Comin' Home" -live acoustic (2:51)
82. "Got to Choose" -live acoustic (3:31)
83. "I Still Love You" -live acoustic (6:09)
84. "Nothin' to Lose" -live acoustic (3:45)
85. "Childhood's End" (5:26)
86. "I Will Be There" (3:48)
87. "Psycho Circus" (4:50)
88. "Into the Void" (4:22)
89. "Within" (4:28)
90. "I Pledge Allegiance to the State of Rock and Roll" (3:33)
91. "Nothing Can Keep Me from You" (4:04)
92. "It's My Life" -unreleased (3:45)
93. "Shout It Out Loud" -live (3:37)
94. "Rock and Roll All Nite" -live (6:06)
Well, if your going to do a box set, leave it to the kings of excess to do it right. Kiss does everything on a grand scale and their 2001 box set is no exception. Others may sneer at the fact that Kiss has been a merchandise machine that simply lines the pockets of master-o-marketing Gene Simmons and his ever faithful sidekick Paul Stanley. Well, this may be true but in the case of the box set, the band gives the fans something for their money­over six hours of music on five cds. That's 94 tracks of demos, rarities, hits, album tracks, and live material. On top of this we also get an nicely laid out 120-page color book, including track-by-track commentary mostly by Gene Simmons and Paul Stanley,a biography by Jeff Kitts, and tons of excellent photos that are laid out chronologically as is most of the songs. Here I have only a minor complaint, or perhaps just something I would have liked to have seen. Ace Frehley gives a few commentaries scattered throughout the book and Peter even less than that. I would have liked to have read some more from Peter and Ace and additional comments by Bruce Kulick, Vinnie Vincent, Eric Singer, etc. would also have been nice. Despite this, I really have to say this is one of the finest box sets I have ever seen. Each disc chronicles a certain time period of the band. Each disc also comes with a full color 6 page booklet with photos from the same time period. The entire five disc collection comes wrapped up in a black canvas box with red lining. The silver and black Kiss logo on the front is a metal plate that is glued onto the box. The entire track listing is glued to the back of the box as well.
Disc One 1966-1975
Disc One contains perhaps the most rarities of the five discs. Being a long-time fan of this band, I absolutely enjoyed hearing all the early demos and Wicked Lester material. The first 12 tracks of this disc are all previously unreleased demos. All this material differs from the final album versions and offers some insight into how the band started off. One of the coolest of these early tracks is 'She' as performed by Wicked Lester, which is Paul and Gene's prior band. Imagine Jethro Tull doing 'She' in the early 70's and you get an idea of what this track sounds like, flute and all. Other oddities include the 1960's Beatle-esque pop rock tracks like "Leeta." It was very nice to see underrated fan favorites like "Strange Ways" included on this disc. I always thought this was one of Kiss' most underrated songs. Actually I was quite surprised to see so much Ace material included on this set, being that the set was put together for the most part by Paul and Gene.
Disc Two 1975-1977
Disc Two shows the band in their 1970's heyday, when they became larger than life and the marketing began to become overwhelming. Still all the material on this disc shows Kiss at their finest. Once again a few demo tracks are thrown in allowing to see inside the machine a little further. The oddest of the demo tracks is "Bad, Bad Lovin'" as it features the lyrics and verses from "Calling Dr. Love" but with a completely different chorus. "God of Thunder" is interesting as it features Paul on lead vocals and Gene singing back-up in a high, almost lady-like manner. Of course, the version that finally appeard on 'Destroyer' became Gene's signature song and is the one that had Christians accusing him of worshipping the devil. During the reunion tours Gene would fly up into the light rigging to sing this song above the crowd, which is pictured on the front cover of disc five.
Disc Three 1976-1982
The years of decay when the band was absolutely not focused whatsoever on what they were or what their fans wanted. The first five tracks are prime 70's Kiss, but once the solo albums start and the whole disco experimentation with tracks like "I Was Made For Lovin' You" and "Shandi" you have to be a die-hard to enjoy. Fortunately for me, I am. Tracks 16-19 feature the last of the make-up era material where the band was again focusing on the heavy metal and hard rock that made them the world wide phenomena in the mid-70's. Of course, the "Creatures" material is some of my favorite from the band and is also, in my opinion, some of their most underrated material. A live version of Ace's "Talk to Me" was a nice addition to this set.
Disc Four 1983-1989
Disc Four could have been released as a single disc called "the Best of the Unmasked Years." This disc contains only a few rarities, but it's cool to finally have some of the band's finest 80's material on one disc. I always found it odd that releases like 'Smashes, Trashes & Hits' didn't contain more of the material from this era of the band. Reading through the comments by Paul and Gene, however, it's easy to see why. It seems the band doesn't look back to fondly on some of their glammy 80's pop metal material. Don't exactly understand why as the band was huge during this era and their resurrected metal sound is what brought them back into the spotlight. It was nice to see the band not slagging on Vinnie Vincent and crediting him with helping the band to come out of their slump. There is a few rarities on this disc, like the Eric Carr demo "Ain't That Peculiar" in which Eric sings and performs all instruments except the guitar which is capably handled by Bruce Kulick. Much was made of Eric's contribution to the band throughout this part of the book. Another rarity is a glam rocker from Paul Stanley called "Time Traveller." There are plenty of photos of the band, including rare shots of Vinnie and Eric Carr in their make-up.
Disc Five 1992-1999
Once again, as in the early 80's Kiss had lost focus and had to rebuild. Disc Five features tracks from the reborn Kiss and the 90's Kiss reunion, including tracks from the MTV Unplugged sessions. One song that I had not had the pleasure of hearing until this compilation was the acoustic version of "Got to Choose" which was left off the cd version of 'Unplugged' and only included on the vinyl version. Other rarities include a demo version of "Domino" and a song written by Gene Simmons that was previously recorded by the late Wendy O Williams called "It's My Life." The song was recorded duringthe "Psycho Circus' sessions and has the entire band sharing lead vocals. The disc leaves off with a preview track from the upcoming Kiss 'Alive IV' and a promise to see it released in the coming year.