Lament
Mexican progressive death metal

Lament-Tears of a Leper (Rowe)
1. "Sacrifice of Righteousness" (5:25)
2. "From Pain to Hope" (5:03)
3. "The Mystery of Iniquity" (5:37)
4. "River of Loneliness" (5:14)
5. "Legal" (7:15)
6. "Terminating Existence" (4:29)
7. "Absolute Predominance" (5:18)
8. "Tears of a Leper" (3:24)
9. "A Cry Of Anguish" (5:28)
10. "Chains of Darkness" (4:44)
This is a fabulous death metal album. The music contains loads of blast beats and gutteral vocals, but it also contains loads of melody, tempo changes, and technical prowess. Even the cover art is outstanding, being painted by Troy Dunmire who has done work for other death metal bands including Mortification and Metanoia. This disc was produced by Jeff Scheetz, who also played much of the outstanding lead work. I had the opportunity to meet these guys at the Texas Rockfest in 1997. Very cool guys, I should have had them sign my disc. Argh!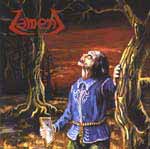 Lament-Through the Reflection (Little Rose)
1. "Through the Reflection" (6:27)
2. "Come Near" (5:26)
3. "1250 Dead Without Reason" (8:18)
4. "A Dream at Sunset" (4:35)
5. "The Wind of My Heart" (5:37)
6. "A Cry Near The Forest" (6:10)
7. "Roots of Wind" (5:50)
8. "Tears ... Instrumental for Reflection" -instrumental (4:09)
Mexico's Lament return with their second release on a new Finnish label. Lament have streamlined down to a three piece without vocalist Marco Perez. Drummer Abel Gomez picks up the lead vocals, which should make for interesting live shows, without a front man. This album continues in the same melodic death metal mode as "Tears of a Leper." The big difference is in the production which puts the bass guitar out front of the guitars, something that is pretty rare for death metal. Still, a way better drum sound than on "Tears of a Leper."