Michael Schenker
Former lead guitarist for the Scorpions and UFO, as well as fronting his own band MSG.
Michael Schenker Group (Chrysalis) 1980
1. "Armed and Ready" (4:05)
2. "Cry for the Nations" (5:08)
3. "Victim of Illusion" (4:41)
4. "Bijou Pleasurette" (2:16)
5. "Feels Like a Good Thing" (3:34)
6. "Into the Arena" -instrumental (4:10)
7. "Looking Out from Nowhere" (4:28)
8. "Tales of Mystery" (3:16)
9. "Lost Horizons" (7:04)
The MSG debut is a timeless heavy metal classic that is on the same level as anything Schenker did with UFO. Essentially, this disc is a best of package in and of itself. Vocalist Gary Barden has a killer voice to match Schenker's vicious guitar assault. This album was produced by Deep Purple's Roger Glover. This cd was hard to find for a while but has since been re-issued domestically as well as an import. Most recently a two on one cd with Schenker's second album "MSG." Have you ever noticed that Chinese restaurants seem to have something against this band, several stating right on their front doors, NO MSG! (I'm kidding of course!)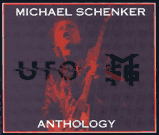 Michael Schenker-Anthology (Griffin)
DISC ONE (UFO)

1. "Rock Bottom" (6:32)
2. "Lipstick Traces" -instrumental (2:17)
3. "Shoot Shoot" (3:35)
4. "High Flyer" (3:55)
5. "Belladonna" (4:28)
6. "On With The Action" (4:58)
7. "Natural Thing" (3:59)
8. "Try Me" (4:45)
9. "Too Hot To Handle" (3:37)
10. "Only You Can Rock Me" (4:09)
11. "Love to Love" (7:37)
12. "Doctor Doctor" (4:46)
13. "Lights Out" (5:02)
14. "Looking Out for Number One" (4:35)

DISC TWO (MSG)

1. "Armed & Ready" (4:34)
2. "Into the Arena" -instrumental (4:13)
3. "Cry for the Nations" (5:08)
4. "Looking Out for Nowhere" (4:29)
5. "Lost Horizons" (7:03)
6. "Looking for Love" (4:04)
7. "On and On" (4:43)
8. "Assault Attack" (4:18)
9. "Rock You to the Ground" (5:48)
10. "Dancer" (4:42)
11. "Captain Nemo" -instrumental (3:22)
12. "Time" (3:57)
13. "Save Yourself" (6:15)
14. "Destiny" (4:34)
A spectacular package that does a decent job of outlining the career of one of the biggest egos in the business. Michael Schenker, who is also known for his early work with the Scorpions, is a great guitarist, but I could never bring myself to fork over the bucks for his cds that are more common as pricey imports than as anything domestic. This particular collection features two discs, one of his work with UFO, and the other a disc of some of the man's best solo work, mostly from the Micheal Schenker Group but also a few from the McAuley Schenker Group.
Michael Schenker Group-Written in the Sand (Michael Schenker Records) 1995
1. "Brave New World" (4:14)
2. "Cry No More" (5:18)
3. "I Believe" (5:48)
4. "Back to Life" (6:12)
5. "Written in the Sand" (3:28)
6. "Essenz" (5:21)
7. "Love Never Dies" (5:45)
8. "I Will Be There" (5:03)
9. "Take Me Through the Night" (6:08)
10. "Down the Drain" (3:46)
11. "Into the Arena" -instrumental (3:56)
12. "Cry for the Nations" (5:35)
Micheal has a knack for writing good melodic hard rock, that has it's basis in the sound of late 70's/early 80's. While I find this album to be excellent both in musicianship and in songcraft, I don't pick it up and listen to it very often. Still tracks like the melodic "I Believe" and the hard rocking "Back to Life" are certainly some of Schenker's finer moments. Also includes a revised and newly recorded version of the Schenker instrumental classic 'Into the Arena.' Track 12 is a hidden track and is also a re-recorded version of a Schenker classic, "Cry for the Nations."
Michael Schenker Group-Unforgiven (Shrapnel) 1998
1. "Rude Awakening" (5:05)
2. "The Mess I've Made" (4:34)
3. "In and Out of Time" (3:47)
4. "Hello Angel" (5:16)
5. "Fat City N.O." (4:19)
6. "Tower" (5:14)
7. "Pilot of Your Soul" (4:28)
8. "Forever and More" (5:45)
9. "Turning Off the Emotion" (5:17)
10. "Live for Today" (4:43)
11. "Illusion" (3:59)
12. "The Storm" (5:19)
Surprisingly good hard rock album with tons of hooks, smooth vocals and, of course, great axe work. For some reason I was expecting this disc to be terrible, but it is not. "Unforgiven" may not reach the brilliance of early UFO, but it certainly is a good listen.