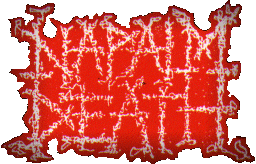 Napalm Death, along with Death, are considered the fathers of death metal and grindcore. I use to own a funny little novelty record called "Scum" in the mid 80's that we thought was hilarious. Who would have ever thought that Napalm Death would be taken seriously and start an entire genre of music? Well, not being a big fan of grindcore, I never payed much attention to Napalm Death after "Scum," nor was I concerned with replacing my vinyl copy with a cd version until one day I found "Inside the Torn Apart."
Napalm Death-Greed Killing (Earache) 1995
1. Greed Killing" (3:06)
2. "My Own Enemy" (3:36)
3. "Self Betrayal" (4:38)
4. "Finer Truths, White Lies" (2:59)
5. "Antibody" (2:51)
6. "All Links Severed" (2:40)
7. "Plague Rages" -live (3:48)
Short little EP that I picked up for $4. A few of these songs are from the "Diatribes" disc, but the rest I assume are unreleased on any other disc. In any case, a decent collection of speedy death numbers from one of the originators of chaotic grind. I must say though that these more recent releases have a lot more groove than any of their early "classic" material. I like it
Napalm Death-Diatribes (Earache) 1995
1."Greed Killing" (3:06)
2. "Glimpse into Genocide" (3:01)
3."Ripe for the Breaking" (4:01)
4."Cursed to Crawl" (3:25)
5."Cold Forgiveness" (4:32)
6."My Own Worst Enemy" (3:36)
7."Just Rewards" (3:28)
8."Dogma" (3:30)
9."Take the Strain" (4:10)
10."Diatribe"s (3:51)
11."Placate, Sedate, Eradicate" (3:24)
12."Corrosive Element"s (4:01)
Diatribes is one aggressive disc, yet maintains interest with strong riffs and surprisingly accessible songwriting. These guys have come a long way from "Scum." "Greed Killing," a song first released on the "Greed Killing" EP, opens the album with sheer intensity and some tribal like rhythms, reminding me slightly of Sepultura. The album never lets up from this point on. The sticker on the front of the disc says this is "Part 2 of the Diatribes sessions." Part 1 is the "Greed Killing" EP.

Napalm Death-Inside the Torn Apart (Earache) 1997
1. "Breed to Breathe" (3:16)
2. "Birth in Regress" (3:32)
3. "Section" (2:45)
4. "Reflect on Conflict" (3:14)
5. "Down in the Zero" (3:09)
6. "Inside the Torn Apart" (3:45)
7. "If Symptoms Persist" (2:41)
8. "Prelude" (3:11)
9. "Indispose" (3:04)
10. "Purist Realist" (2:58)
11. "Lowpoint" (3:25)
12. "Lifeless Alarm" (4:39)
Found this disc for a whopping 95¢ cents, in perfect condition, so I decided to give it a shot. To my surprise Napalm Death have expanded their sound a bit and added elements of thrash, heavy metal and a bit of hardcore into the mix. Very cool, although I must say this disc sounds frighteningly similar to Sepultura.