Neo-classical heavy metal from Sweden!

Narnia-Awakening (Nuclear Blast) 1998
1. "Break the Chains" (5:00)
2. "No More Shadows from the Past" (3:28)
3. "Return of Aslan" -instrumental (4:55)
4. "Heavenly Love" (4:21)
5. "Time of Changes" (5:14)
6. "Awakening" (5:30)
7. "Touch from You" (3:17)
8. "Sign of the Time" (7:21)
Neo-classical German heavy metal that is influenced heavily by Yngwie Malmsteen. "Return of Aslan" is an outstanding instrumental, but sounds as if it were lifted right out of Malmsteen's first Rising Force disc. Guitarist Carljohan Grimmark, who plays a Fender Strat (big surprise), is a phenomenal shredder. His leads, while similar to Yngwie, seem more controlled and sometimes fit the music better. Rather than just trying to show off or shred, Carljohan's leads help the music. The lyrics are blatantly Christian. Somehow, spiritual lyrics seem to fit well with neo-classical metal. This album has been released with a different cover as well. The above cover is the German Nuclear Blast version.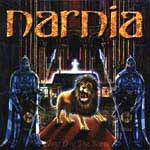 Narnia-Long Live the King (Nuclear Blast) 1999
1. "Gates of Cair Paravail" (intro.) -instrumental (1:25)
2. "Living Water" (3:53)
3. "Shelter Through the Pain" (5:01)
4. "The Mission" (4:30)
5. "What You Give is What You Get" (4:35)
6. "The Lost Son" (4:05)
7. "Long Live the King" (4:57)
8. "Dangerous Game" (5:11)
9. "Star Over Bethlehem" (6:47)
10. "Shadowlands" (outro) -instrumental (2:29)
More of the same as "Awakening" but with improved songwriting and better production. The lyrics are still very simplistic Christian based lyrics. I listen to this one repeatedly. Narnia know how to shred, but they don't rely simply on technique, rather they add in emotion and melody and quality song writing. Another stellar effort from Sweden's Narnia.
Narnia-Desert Land (Nuclear Blast) 2001
1. "Inner Sanctum" (5:45)
2. "The Witch and the Lion" (4:17)
3. "Falling from the Throne" (5:15)
4. "Revolution of Mother Earth" (5:00)
5. "The Light at the End of the Tunnel" -instrumental (4:32)
6. "Angels Are Crying" (4:59)
7. "Walking the Wire" (5:39)
8. "Misty Morning" -instrumental (4:05)
9. "Trapped in This Age" (9:30)
Well, one thing is for sure, these guys are consistant. I think, however, that I like this album the best thus far. The Yngwie comparisons are still inevitable but what I think has improved is that guitarist Carljohan Grimmark has decided he no longer needs to show off. His soloing is actually better on this album because he slows it down here and there adding a bit of emotion. Not to worry, however, there is still plenty of shred contained herein as well.