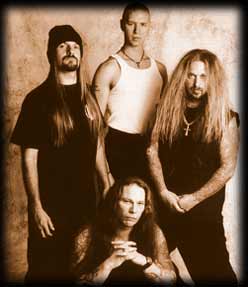 O...I...L
Oil was formed in Long Beach, Calfornia in 1997 by guitarist Blake Nelson and ex-Dark Angel vocalist Ron Rinehart.

Oil (independent EP) 1997
1. "When No One Cares" (3:29)
2. "Last Breathe" (6:31)
3. "Searching For Heaven" (4:11)
4. "Numbers" (5:34)
5. "Day or Night" (5:54)
OK, I admit that I ordered this hoping to hear Dark Angel II after hearing the stellar performance of Ron Rinehart on "Time Does Not Heal." DA2 was not what I got, but instead a mix of heavy power metal, thrash and some groove as well. OK, perhaps it is not that far off from Dark Angel but Oil does slow things down here and there. This being so, Ron is given more room to breathe. He has a powerful voice to go along with the heavy guitar tones. The production is excellent, especially for a self produced album. This one is readily available now, but most likely will be hard to get soon, as it is only available through the band and a handful of mail order/web stores.

Oil-Refine (Kalubone) 2000
1. "Divided" (3:50)
2. "Waiting There" (4:30)
3. "Scream" (5:20)
4. "Life Addiction" (4:00)
5. "Lost" (4:06)
6. "Open Wound" (4:48)
7. "Struggle" (4:33)
8. "S.I.N." (6:48)
9. "I Won't Give Up" (4:25)
10. "Chopping Block" (4:09)
It is inevitable that this band will be compared to Dark Angel, especially with stickers all over the front stating that Oil features former Dark Angel vocalist Ron Rinehart. There is no way of comparing, however, as Dark Angel's forte' was speed and aggression. Oil, while just as heavy as DA, feature more groove and crunch. Ron isn't forced to rap out his lyrics in a rapid fire manner, but rather, is able to do a bit more singing. Don't misunderstand me, this band is heavy. If DA had stayed together this is the direction they may have gone. Songs like "Chopping Block" could very well have been on Dark Angel's "Time Does Not Heal." Other songs like "Waiting There" allow Ron to scream like he did in the "Leave Scars" days. Another striking difference is in the lyrics. Seems that Ron has decided to allow his Christian beliefs to shine forth. This being true, Oil's lyrics can still be as disturbing as DA's was as they still deal with personal topics, however from a new perspective. Also, don't be fooled into thinking this is a Ron Rinhart solo project. Guitarist Blake Nelson, who started the band with Ron, writes most of the band's music and is a great guitarist and songwriter.
Oil are also featured on Dwell's "2000-A Second Coming" compilation.