Petra
One of Christian rocks' oldest bands. They are pioneers in Chrisian music, and legends to some. I've never really been a big fan, but they do have some decent music. By the late 90's there were no original members left in Petra, but they forged ahead releasing trend soaked garbage and following every trend that came around.

Petra-Never Say Die/Washes Whiter Than (Star Song)
1. "The Coloring Song" (2:52)
2. "Chameleon" (5:47)
3. "Angel of Light" (4:21)
4. "Killing My Old Man" (3:46)
5. "Witout Him We Can Do Nothing" (3:26)
6. "Never Say Die" (3:42)
7. "I Can Be Friends With You" (4:12)
8. "For Annie" (4:24)
9. "Father of Lights" (3:02)
10. "Praise Ye the Lord" (3:18)
11. "I'm Thankful" (3:41)
12. "Why Should the Father Bother" (3:46)
13. "Morning Star" (4:47)
14. "Mary's Song" (4:00)
15. "Yahweh Love" (5:38)
16. "Taste & See" (3:23)
17. "Deep Love" (3:57)

Two albums on one disc. This is Petra's third and fourth album respectively. "Never Say Die" has a cool cover. There are some decent songs on this disc like "Chameleon," "Yahweh Love" and "Morning Star." I bought this a long time ago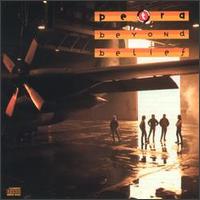 Petra-Beyond Belief (Word)
1.   "Armed and Dangerous" (4:06)
2.   "I Am on the Rock" (4:34)
3.   "Creed" (4:35)
4.   "Beyond Belief" (5:02)
5.   "Love" (4:11)
6.   "Underground" (4:29)
7.   "Seen and Not Heard" (3:54)
8.   "Last Daze" (5:01)
9.   "What's in a Name" (3:32)
10. "Prayer" (4:14)
This is a phenomenal arena rock/AOR album. Regardless of what anyone thinks of the Christian lyrics, Bob Hartman and Co. were at their prime here, both in creativity and popularity. The album contained a bunch of hit singles including "Seen and Not Heard," "Beyond Belief." "Prayer," and "Creed."