The Quiet Room
Progressive metal from Denver, Colorado, USA.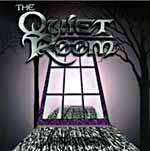 Quiet Room-Introspect (Dominion)
1. "Different Scene" (4:44)
2. "Grudge" (5:02)
3. "Second Time Around" (6:23)
4. "Altered Past" (4:46)
5. "Drowning" (5:29)
6. "Laughing At Your Expense" (3:53)
7. "Holding On" (4:31)
8. "Extramental" -instrumental (3:22)
9. "Suspended Seconds" (2:32)
10. "Undetermined" (4:44)
Majestic progressive metal that is very similar in style to mid-90's Fates Warning. Vocalist Chad Caster has the perfect voice for this type of metal. The music is technical, but not overly so, as some prog-metal bands tend to do. The Quiet Room put equal attention to melody and memorable hooks. This album was re-released on Metal Blade in 1999, but has been out since 1997.