Soundtracks
Airheads (Fox)
1. "Born to Raise Hell" -Motorhead with Ice-T and Whitfield Crane (4:56)
2. "I'm the One" -4 Non Blondes (3:56)
3. "Feed the Gods" -White Zombie (4:05)
4. "No Way Out" -DGeneration (4:26)
5. "Bastardizing Jellykit" -Primus (4:09)
6. "London" -Anthrax (2:40)
7. "Can't Give In" -Candlebox (3:15)
8. "Curious George Blues" -Dig (4:00)
9. "Inheritance" -Prong (2:10)
10. "Degenerated" -The Lone Rangers (3:52)
11. "I'll Talk My Way Out of It" -Stuttering John (3:39)
12. "Fuel" -Stick (4:57)
13. "We Want the Airwaves" -The Ramones (3:20)
I held out for years to find a used, cheap copy of this. After all, the only songs I was really interested in was Anthrax's cover of the Smiths "London" and Motorhead's "Born to Raise Hell" with Ice-T and Whitfield Crane. Upon purchasing this $3.99 disc, I'm glad I didn't spend to much money on it. Anthrax's contribution absolutely shreds but the rest bites! 4 Non Blondes totally annihilate the Van Halen track "I'm the One." I mean, this is the WORST cover song I have ever heard. Seriously, they must have taken some serious doses of suck pills before recording this song. Unfortunately most of the rest is uninteresting to me as well. Even the mighty Motorhead track is annoying with Ice-T overdubbed into the song. I assumed that this would be a re-recorded track, but it sounds like the album version with additional vocals added. The Ramones track is halfway cool but a little commercial for them.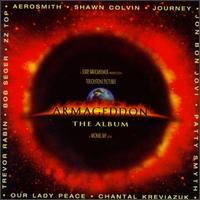 Armageddon-The Album (Columbia)
1. "I Don't Want to Miss a Thing" -Aerosmith (4:59)
2. "Remember Me" -Journey (5:29)
3. "What Kind of Love Are You On" -Aerosmith (3:16)
4. "La Grange" -ZZ Top (3:35)  
5 . "Roll Me Away" -Bob Seger (4:38)
6. "When the Rainbow Comes" Shawn Colvin (4:21)
7. "Sweet Emotion" -Aerosmith(5:10)
8. "Mister Big Time" -Bon Jovi (2:48)
9. "Come Together" -Aerosmith(3:45)
10. "Wish I Were You" -Patty Smyth (3:49)  
11. "Starseed" -Our Lady Peace (4:20)  
12. "Leaving on a Jet Plane" -Chantal Kreviazuk (4:41)  
13. "Theme from Armageddon" -instrumental -Tevor Rabin (3:08)
14. "Animal Crackers" -Aerosmith (2:36)
A blockbuster movie only deserves the best, so why not give 'em Aerosmith! It's the only reason to own this disc. The presense of ex-Yes guitarist Trevor Rabin is cool and shows the diversity of his talent. Gotta admit I also like the ZZ Top and Bob Segar cuts, but other than that, well it's a good thing that cd players are programmable. Either that or you can just let the disc play through to track nine and tolerate Journey and Bon Jovi, then stop the disc before the really bad stuff begins.
Bordello of Blood (Mercury) 1996
1. "Bordello of Blood" -Anthrax (4:12)
2. "This is Not a Love Song" -Kerbdog (2:25)
3. "All Right Now" -Free (5:32)
4. "Jailbreak" -Thin Lizzy (3:59)
5. "Ballroom Blitz" -Sweet (4:02)
6. "Deuce" -Red Kross (3:12)
7. "Still Loving You" -Scorpions (6:26)
8. "30 Days in the Hole" -Humble Pie (3:56)
9. "Love's Got Me Doin' Time" -Cinderella (5:16)
10 ."From the Underworld" The Herd (featuring Peter Frampton) (3:16)
The problem with most soundtrack albums for me is that there are usually only one or two songs that I am interested in. If I compiled all my favorite songs from all my soundtrack albums, I would have one or two killer discs, rather than 20 average discs. "Bordello of Blood" is no different. My soul purpose in wanting this disc is for the excellent title cut by Anthrax. Of course I also like the cuts by Thin Lizzy, Scorpions and Cinderella but I already have all these songs on other discs. A few other highlights on this disc are Red Kross' glam rock cover of Kiss' "Duece" (a song that has also been covered by Bathory, Overkill, and Lenny Kravitz) and Sweet's "Ballroom Blitz" (which has been covered by Krokus, Nuclear Assault, and The Surf Punks). It's also nice to have a full-length version of Free's "All Right Now" on cd.
Detroit Rock City (Mercury)
1. "Boys Are Back in Town" -Everclear (4:05)
2. "Shout It out Loud" -Kiss (2:47)
3. "Runnin' with the Devil" -Van Halen (3:34)
4. "Cat Scratch Fever" -Pantera (3:48)
5. "Iron Man" -Black Sabbath (5:54)
6. "Highway to Hell" -AC/DC (3:46)
7. "20th Century Boy" -Drain (4:28)
8. "Detroit Rock City" -Kiss (3:35)
9. " Jailbreak" -Thin Lizzy (4:00)
10. "Surrender" '-live -Cheap Trick (4:22)
11. "Rebel Rebel" David Bowie (4:25)
12. "Strutter" -The Donnas (2:57)
13. "School Days" -The Runaways (2:51)
14. "Little Willy" -Sweet (3:10)
15. "Nothing Can Keep Me from You" -Kiss (4:04)
This movie was funny, as well as a trip back to when I was a kid. Kiss ruled my world in the 70's. The best songs on the disc are the original classic rock songs: "Running with the Devil," "Iron Man," "Jailbreak," "Surrender," "Rebel Rebel," "Little Willy" and, of course the Kiss tracks "Shout It out Loud" and the title track. Unfortunately most of the covers fall flat, with the exception of Pantera's cover of Ted Nugent's "Cat Scratch Fever." The Donnas do a decent version of "Strutter." Everclear shows us how much they SUCK by totally hacking to pieces a classic, Thin Lizzy's "The Boys Are Back In Town." Marilyn Manson covering AC/DC speaks for itself. How the heck did that guy ever get a record contract? I wish this disc would have just included the originals as most of the covers suck. To be quite honest, however, the reason I picked up this disc is because it included an unreleased Kiss song "Nothing Can Keep Me from You". The song was originally recorded for "Psycho Circus" but was left off for obvious reasons. Despite the fact that I am a huge Kiss fan, and am about to commit blasphemy, this song sucks! It's a sappy ballad with orchestration. I know, now I will have to be hung, drawn, and quartered.
Last Action Hero (Columbia)
1. "Big Gun" -AC/DC (4:22)
2. "What the Hell Have I" -Alice in Chains (3:56)
3. "Angry Again" -Megadeth (3:46)
4. "Real World" -Queensryche (4:21)
5. "Two Steps Behind" -Def Leppard (4:18)
6. "Poison My Eyes" -Anthrax (7:03)
7. "Dream On" -live orchestral version -Aerosmith (5:42)
8. "A Little Better" -Alice in Chains (3:52)
9. "Cock the Hammer" -Cypress Hill (4:10)
10. "Swim" -Fishbone (4:12)
11. "Last Action Hero" -Tesla (5:44)
12. "Jack and the Ripper"-instrumental Michael Kamen & the Los Angeles Rock & Roll Ensemble w/ Buckethead (3:45)
The movie for this soundtrack bombed. The soundtrack, however, sold rather well. It's actually a very good disc with a wealth of unreleased songs from some excellent artists. Favorite tracks are "Poison My Eyes" by Anthrax, "Angry Again" by Megadeth, "Big Gun" by AC/DC and, of course, the live version of Aerosmith's "Dream On." Biggest disappointment is the Queensryche ballad "Real World."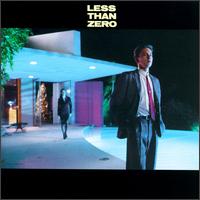 Less Than Zero Soundtrack (Columbia)
1. "Rocking Pneumonia and the Boogie Woogie Flu" -Aerosmith (2:56)
2. "Life Fades Away" -Ray Orbison (3:42)
3. "Rock and Roll All Nite" -Poison (3:37)
4. "Going Back to Cali" -L.L. Cool J (4:10)
5. "You & Me" -Glen Danzig and the Power and Fury Orchestra (3:36)
6. "In-a-Gadda-da-Vida" -Slayer (3:19)
7. "Bring the Noise" -Public Enemy (3:45)
8. "Are You My Woman?" -The Black Flames (3:06)
9. "She's Lost You" -Joan Jett & the Blackhearts (2:58)
10. "How to Love Again (duet w/ Alyson Williams)" -Oran "Juice" Jones (4:42)
11. "Hazy Shade of Winter" -Bangles (2:47)
Well it's has Slayer performing "In-a-Gadda-da-Vida" and Aerosmith performing "Rocking Pneumonia and the Boogie Woogie Flu." These two songs alone are enough for me to own this disc. Not much else that interests me. I kind of dig the Public Enemy tune though. Poison somehow manage to make one of the all time greatest rock n roll anthems ("Rock and Roll All Nite") sound light and wimpy.
Strangeland Original Motion Picture Soundtrack 1998
1."Inconclusion" - Dee Snider (4:16)
2."Breathe" - Sevendust (3:18)
3."A Secret Place" - Megadeth (5:30)
4."Where You Come From" - Pantera (5:10)
5."P & V" - Anthrax (3:14)
6."Absent" - Snot (4:53)
7."Street Justice" - dayinthelife (3:50)
8."Not Living" - Coal Chamber (3:51)
9."In League" - Bile (5:10)
10."Sweet Tooth" - Marilyn Manson (5:03)
11."Eye for an Eye" - Soulfly (3:36)
12."Serpent Boy" [Radio Edit] - (HED)P.E. (3:25)
13."Awake" - The Clay People (3:30)
14."Marmalade" - System Of A Down (3:01)
15."I'm the Man" - Nashville Pussy (2:16)
16."Captain Howdy - Crisis (3:41)
17."Heroes Are Hard to Find" - Twisted Sister (5:01)
Since Dee Snider wrote and starred in the 1998 horror movie Strangeland, I kind of assumed that the soundtrack to his movie would be full of killer heavy metal. What is surprising is that much of this stuff is crappy, so-called nu-metal making the disc a somewhat mixed affair for me. Essential are the new tracks by Dee Snider and a re-formed Twisted Sister ("Heroes Are Hard to Find"). The Twisted Sister track was written by the Desperado writing team of Snider & Tormé. Both of these tracks are excellent, and my sole reason for owning this disc. There are also two Twisted Sister covers; dayinthelife's cover of "Street Justice" and Crisis doing "Captain Howdy," both of which suck royally. I certainly could have lived without Marilyn Manson, The Clay People, Nashville Pussy and other such garbage. The Megadeth, Anthrax and Pantera tracks are all good, but have all been released before. With most soundtracks the skip button is a necessity but on this cd, I just program my cd player to play tracks 1 and 17.
Wayne's World 2 Soundtrack (2 Aerosmith live tracks)
1. "Louie, Louie" -Robert Plant (2:54)  
2. "Dude (Looks Like a Lady)" -live -Aerosmith (5:05)  
3. "Idiot Summer" -Gin Blossoms (4:13)
4. "Superstar" -Superfan (3:53)  
5. "I Love Rock & Roll" -Joan Jett and the Blackhearts (2:57)  
6. "Spirit in the Sky" -Norman Greenbaum (4:02)  
7. "Out There" -Dinosaur Jr (5:55)  
8. "Mary's House" -4 Non Blondes (4:04)  
9. "Radar Love" -Goldern Earring (5:05)  
10. "Can't Get Enough" -Bad Company (4:15)  
11. "Frankenstein" -Edgar Winter (4:43)
12. "Shut up and Dance" -live -Aerosmith (4:49)
13. "Y.M.C.A." -Village People (3:45)
I picked up this disc used for under $5 for the inclusion of the two live Aerosmith cuts. The Robert Plant version of "Louie, Louie" is cool as well. Other than that I just don't care much. Someday I'm going to make a cdr compilation of Aerosmith tracks off all the different compilations and soundtracks and have one killer b-side collection.