Steve Howe
Steve Howe is the most infamous guitarist to have come out of Yes. He has released a number of solo albums as well as played with A.B.W.H, Asia, and GTR.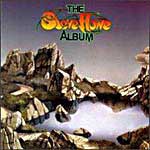 Steve Howe-The Steve Howe Album (Atlantic)
1.   Pennants (4:30)
2.   Cactus Boogie (2:02)
3.   All's a Chord (4:56)
4.   Diary of a Man Who Vanished (2:34)
5.   Look over Your Shoulder (5:02)
6.   Meadow Rag (2:41)
7.   Continental (2:51)
8.   Surface Tension (3:29)
9.   Double Rondo (8:12)
10.   Concerto in D, 2nd Movement (Vivaldi) (4:51)
Unlike the cover art may suggest, Steve Howe's second solo outing does not sound like his band Yes. Rather what "The Steve Howe Album" is is a chance for Steve to branch out and explore other styles of music that would not fit into the confines of progressive/art rock. This album explores everything from bluegrass to rock, even some hints of country. The inside sleeve displays the variety of instruments that were used on this album. The song variety is just as wide. The first track "Pennants" is a more straight forward rock song. At least half of the tracks are played by Howe alone. "Surface Tension," is a composition for solo Spanish guitar. Other songs feature former Yes-men Alan White, Bill Bruford and Patrick Moraz. Found this remastered cd version in the used bins for $5.99.