Glenn Tipton
Glen is Judas Priest's main man!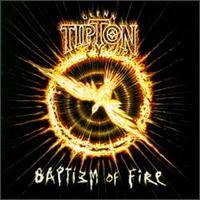 Glenn Tipton-Baptism of Fire (Atlantic)
1. "Hard Core" (4:39)
2. "Paint It Black" (2:53)
3. "Enter the Storm" (5:56)
4. "Feel Me Up" (3:02)
5. "Extinct" (5:33)
6. "Baptizm of Fire" -instrumental (5:16)
7. "The Healer" (4:55)
8. "Cruise Control" (4:08)
9. "Kill or Be Killed" (3:21)
10. "Voodoo Brother" (5:36)
11. "Left For Dead" (3:45)
As an original member of heavy metal forefathers Judas Priest, Tipton has dazzled fans and musicians alike with his aggressive yet melodic guitar playing and his unique staccato picking style. His solo album, recorded in the interim between Halford and "Ripper," displays a wide range of styles including blues, classical, thrash, and of course, traditional British heavy metal. I'm sure what made this type of project so appealing to Tipton was that he was able to work in formats not common to Priest, such as the stellar rendition of the Rolling Stones "Paint It Black" and the majestic instrumental "Baptizm of Fire". There are some Judas Pries like numbers as well such as the opener "Hard Core." Overall, not as spectacular as some of Priest's best, but better than others. A solid solo disc from a metal legends with tons of guests musicians helping him out.