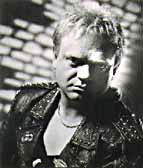 U.D.O. is the solo band of Udo Dirkschnieder. Of course most people know Udo was the singer for Accept. U.D.O. started when Udo left Accept when they decided to go in a more pop metal direction. He later returned to Accept in the mid 90's and put out three more incredible studio albums. Udo has also produced one of Raven's album's as well as sang two songs on Raven's "Born to be Wild" ep. U.D.O. is from Germany and continues to produce excellent German power metal.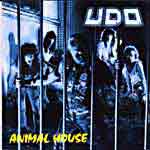 U.D.O.-Animal House (GUN)
1. "Animal House" (4:19)
2. "Go Back to Hell" (4:31)
3. "They Want War" (4:12)
4. "Black Widow" (4:29)
5. "In the Darkness" (4:03)
6. "Lay Down the Law" (3:47)
7. "We Wanit It Loud" (4:06)
8. "Hot Tonight" (4:37)
9. "Warrior" (4:12)
10. "Coming Home" (3:39)
11. "Run For Cover" (4:43)
The mighty Udo leaves Accept because, as rumors told us, he was unhappy with the direction his bandmates wanted to take into a more commercial, pop metal direction. So, Udo leaves taking the music, the voice and the attitude with him. "Animal House," the first of many UDO solo discs to come, is a good Accept album. Accept? Yes, all the songs on the disc were written with his former band mates and sound exactly like them. While this album is not up to par with "Balls to the Wall" or "Restless & Wild" it would have been a much better Accept album than the abismal "Eat the Heat." Accept without Udo is like a hamburger without the meat. This disc is out of print in the US but available everywhere else in the world. Got mine from a friend in Germany.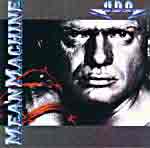 U.D.O.-Mean Machine (GUN)
1. "Don't Look Back" (3:11)
2. "Break the Rules" (4:00)
3. "We're History" (3:30)
4. "Painted Love" (4:57)
5. "Mean Machine" (3:53)
6. "Dirty Boys" (3:47)
7. "Streets on Fire" (3:50)
8. "Lost Passion" (4:10)
9. "Sweet Little Child" (4:48)
10. "Catch My Fall" (3:55)
11. 'Still In Love With You" (:49)
"Mean Machine" is one mean heavy metal disc. It's funny how U.D.O. sounded more like Accept than Accept themselves did during this time (1988). U.D.O. is nothing if not consistent. "Still In Love With You" is a 49 second speed/thrash tune.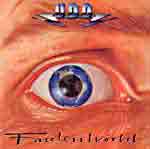 U.D.O.-Faceless World (RCA)
1. "Heart of Gold" (5:00)
2. "Blitz of Lightning" (4:23)
3. "System of Life" (4:12)
4. "Faceless World" (6:31)
5. "Stranger" (5:15)
6. "Restricted Area" (3:09)
7. "Living on a Frontline" (4:19)
8. "Trip to Nowhere" (3:22)
9. "Born to Run" (3:26)
10. "Can't Get Enough" (3:22)
11. "Unspoken Words" (5:13)
12. "Future Land" (5:13)
More meldodic that some of the other UDO discs, but still heavy and unmistakably UDO. Sort of in the same vein as "Russian Roulette" or "Metal Heart" era Accept. Favorite tracks would be "Heart of Gold" and "Restricted Area" with it's catchy chorus.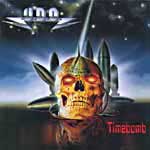 U.D.O.-Time Bomb (RCA)
1. "The Gutter" -instrumental (1:04)
2. "Metal Eater" (3:42)
3. "Thunderforce" (3:40)
4. "Overloaded" -instrumental (1:05)
5. "Burning Heat" (3:14)
6. "Back in Pain" (3:46)
7. "Timebomb" (3:57)
8. "Powersquad" (4:13)
9. "Kick in the Face" (3:47)
10. "Soldiers of Darkness" (4:12)
11. "Metal Maniac Master Mind" (5:41)
If there is one thing you can't accuse UDO of, it being inconsistent. "Timbomb"doesn't stray far from all his other releases. Still heavy metal, still Udo! You either love him or hate him. I love it! Got my copy from a friend in Germany.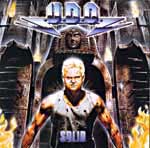 U.D.O.-Solid (GUN)
1. "Independence Day" (6:01)
2. "Two Faced Woman" (3:38)
3. "Desperate Balls" (3:54)
4. "The Punisher"(4:46)
5. "Devil's Dice" (4:33)
6. "Bad Luck" (4:56)
7. "Preachers of the Night" (4:44)
8. "Hate Stinger" (4:59)
9. "Braindead Hero" (5:13)
10. "Pray for the Hunted" (4:01)
11. "Healer" (6:09)
Now Udo is back in the driver seat! (Not that he ever left it.) "Solid" is real heavy metal! Accept drummer Stephan Kauffman is now a permanent fixture in the UDO camp. If I didn't know better, I would have sworn this was an Accept disc. "The Healer" is a great melodic song, one of Udo's finest. Got this disc from a good friend in Germany. I'm indebted to him as this is a frequent player!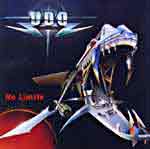 U.D.O.-No Limits (GUN)
1. "The Gate" -instrumental (:51)
2. "Freelance Man" (4:24)
3. "Way of Life" (4:45)
4. "No Limits" (4:01)
5. "With a Vengeance" (5:26)
6. "One Step to Fate" (5:10)
7. "Backstreet Loner" (3:28)
8. "Raise the Crown" (4:06)
9. "Manhunt" (4:16)
10. "Rated X" (3:54)
11. "Lovemachine" (5:24)
12. "Iím A Rebel" (2:19)
13. "Azreal" (5:31)
Oh yes! If you like true metal, then this disc is a dream come true. Killer guitar tunes, fast songs, mid paced songs, chunka, chunka rhythms and everything else a good metal release should have. Add to that the incredible voice of metal Udo Dirkschnieder , and you've got one great metal disc. U.D.O. is made up of two former members of Accept so U.D.O.'s recent projects sound a lot like classic Accept, more so than even Accept did in their last few years together. Speaking of Accept "I'm A Rebel" is an Accept cover, although I'm not sure that it is actually their song. "Azreal" and "Lovemachine" are covers also but of whom I do not know. While most of UDO's discs are a pain in the butt to find, I was able to order this one right off Century Media's web page, or was it Metal Blade's page? Hmm, can't remember, but I do remember it was reasonably priced.
U.D.O. did a GREAT cover of "Metal Gods" on the Judas Priest tribute about this same time.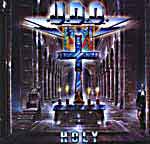 U.D.O.-Holy (Nuclear Blast) digi-pack
1. "Holy" (4:56)
2. "Radiers of Beyond" (4:11)
3. "Shout It Out" (4:55)
4. "Recall the Sin" (4:36)
5. "Thunder in the Tower" (5:04)
6. "Back Off" (3:03)
7. "Friends Will Be Friends" (3:33)
8. "State Run Operation" (3:51)
9. "Danger" (3:23)
10. "Ride the Storm" (3:58)
11. "Cut Me Out" (3:59)
"Holy" is third in a line of killer UDO albums since Udo Dirksneider's reunion/departure from Accept. Stephan Kauffman takes on both drum and guitar duties for this disc along side guitarist Igor Gianola. This disc is available in both the US and Europe as Udo has secured a deal with Nuclear Blast, who have much better distribution than GUN, his former label. My copy was given to me by a friend from Germany.
Had the extreme pleasure of meeting Udo at his show in SantaFe, New Mexico. He was very pleasant and talked a bit with us and graciously signed our cds. As a matter of fact the entire band was very cool and hung around with the few fans that were left in the venue once the place cleared out a bit. U.D.O., the band, put on a spectacular show playing at least one song from each U.D.O. cd and a whole bunch of Accept material. Guitarist Igor Gianola was very impressive, both in stage presence and in his playing. Of course, Udo was the main attraction and he did not fail to deliver, even giving us the opening, glass shattering scream on "Fast as a Shark." I hope at 47 I can be as cool!