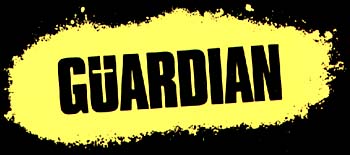 Guardian was originally known as "Fusion" by its founders, bassist David Bach and vocalist Paul Cawley. Along with drummer Rikk Hart and guitarist David Caro, the band played at local gigs in LA throughout the early '80s before finally obtaining a record deal from the Enigma/Capitol label in 1988. After adding guitarist Tony Palacios and dumping David Caro, the band changed their name to Guardian. After their first album First Watch and extensive touring, including a tour of Japan, both Cawley and Hart left. The band forged ahead with new vocalist (ex-Tempest) Jamie (JR) Rowe and drummer Karl Ney. The new lineup released "Fire & Love" which eventually landed them a deal with Epic Records and had them on regular rotation of MTV's Headbanger's Ball. Unfortunately, after releasing only one more metal album the band switched modes and began to follow the new alternative trends that were taking over the U.S. I lost interest in the band after "Miracle Mile." The exception is the independently released Stryper tribute "The Yellow in Black Attack."

Guardian-First Watch (Enigma) 1989
1. "I'll Never Leave You" (4:31)
2. "Mystery Man" (4:07)
3. "Livin' for the Promise" (4:08)
4. "Miracle" (4:55)
5. "Saints Battalion" (3:47)
6. "Kingdom of Rock" (3:25)
7. "Good Life" (4:41)
8. "One of a Kind" (3:33)
9. "World Without Love" (3:55)
10. "Rock in Victory" (3:49)
BONUS TRACKS
11. "Hyperdrive" (4:17)
12. "Marching On" (3:55)
This is a great melodic metal album with tons of hooks and smooth as silk 1980's metal vocals. The original cd version contains two songs that were not on the vinyl or cassette version ("Hyperdrive" & "Marching On"). Both the additional tracks are superb, and in my opinion, even better than some of the album material. Of course with every 80's metal band, there was the obligatory ballads, but overall this disc just rocks. Produced by Oz Fox of Stryper. Bought this one as a new release. This one has been re-released with a different cover and additional bonus tracks. The original 1989 release came with two bonus tracks not available on the tape or record.
Guardian-Fire & Love (Pakederm) 1990
1. "Power of Love" (4:30)
2. "Send a Message" (3:58)
3. "Time Stands Still" (4:24)
4. "Forever and a Day" (5:09)
5. "Takin' on the World" (3:51)
6. "Fire and Love" (3:24)
7. "Turnaround" (4:16)
8. "Time and Time Again" (4:49)
9. "Rain" (5:28)
10. "Never Say Goodbye" (5:07)
From the opening note I knew this was going to be a great metal album. New vocalist Jamie Rowe's raspy voice fit the more melodic commercial vibe that the band had progressed into. I was already familiar with Jamie from his former band Tempest, of which I still own both their albums on vinyl. Tony is a superb guitarist. I saw Guardian on this tour and they were powerful. I think this album was eventually re-released on Epic Records.

Guardian-Miracle Mile (Epic) 1993
1. "Dr. Jones & The Kings of Rhythm" (5:10)
2. "Shoeshine Johnny" (4:15)
3. "Long Way Home" (4:31)
4. "I Found Love" (5:24)
5. "Sweet Mystery" (3:57)
6. "Let It Roll" (4:10)
7. "Mr. Do Wrong" (5:02)
8. "Curiosity Killed the Cat" (4:27)
9. "Sister Wisdom" (4:12)
10. "Captain" (4:18)
11. "You & I" (4:03)
11. "Do You Know What Love Is" (7:26)
Sounding like a mix of Motley Crue and Guns n Roses with a bit of funk, "Miracle Mile" was one more step closer to me not liking this band. However, the hooks, the powerhouse vocals, and the incredible guitar playing cannot be denied. As commercial as this album was, I really dug it. I can honestly say that, despite the "Christian" label that is slapped on this album, this is one of the finest commercial metal albums on the early 90's. Too bad everything after this album would suck! "Swing, Swang, Swung" was an experimental acoustic album, "Buzz" and "Bottle Rocket" were both ill attempts at grungy alternative rock, devoid of guitar solos or the melodic metal that the band was so proficient at.
Guardian-The Yellow & Black Attack Is Back (G-Man) 1998
1. "Loud n Clear" (3:42)
2. "From Wrong to Right" (4:00)
3. "You Know What to Do" (4:54)
4. "Co'mon Rock" (3:49)
5. You Won't Be Lonely" (3:51)
6. "Loving You" (4:22)
Ah, now this is more like it. Guardian once again allows their talent to show through, creating the finest Stryper tribute record yet. I actually think that Guardian may have outdone the original with this one. With the exception of the guitar solos and the excellent production, the music is exactly the same as the original. Of course Jamie Rowe's vocals are way different than Michael Sweet's, but he still does a fine job! The opening scream is pretty funny.
Gardian-Fusion & Voyager-The Early Recordings (M8) 2001
1. "Intro" -instrumental (1:59)
2. "Voyager" (4:18)
3. "Across the Universe" (2:28)
4. "Run to the Light" (4:06)
5. "In a World without Love" (3:48)
6. "I am Here" (3:44)
7. "Prisoners Zone" (3:01)
8. "Look to the Future" (4:44)
9. "Hyperdrive" (3:54)
10. "When the Time is Right" (5:37)
11. "Marching On" (3:40)
12. "Spiritual Warfare" (4:44)
13. "Miracle of the Galaxy" (5:01)
14. "Living for the Promise" (4:07)
15. "Eclipse" (3:08)
16. "Rock in Victory" (4:16)
17. "Step to the Light" (4:25)
18. "Armored Defense" (3:58)
19. "Your Love Looks to the Future" (3:41)
This is a disc for die-hard Guardian fans or fans who enjoy their earlier material better than their later, of which I count myself. I was a bit apprehensive about getting this disc after the experience with the awful Deliverance/M8 experience on 'Back in the Day". While I think it is cool that all these old demos are made available to fans, it is also a shame that they don't spend more time mastering them better. The Guardian disc is quit a bit better than the Deliverance disc however. The production is much more listenable although I still can't say that I would spend a lot of time listening to this. It's a nice history lesson, though, for fans of the band. Note that the name of the band is spelled without the 'U'. Apparently the band, in the early days, omitted it from the name to keep the spelling at 7 letters in line with the playful Stryper numerology of the day. Some of these songs appeared on the band's Enigma / Capitol debut called "First Watch" in 1989 but most never saw the light of day. Most interesting, and somewhat out of character, is "I am here" featuring Tony Palacios on lead vocals. According to the liner notes. the incarnation of the band that recorded most of these demos and the "First Watch" disc toured so relentlessly worldwide that both Paul Cawley and Rikk Hart had to quit due to the rigors and harsh realities of road life. Cool! I always wondered why Paul Cawley left. He was a cool vocalist. Anyhow, some of the song names are a bit deceiving. For instance both "Run to the Light" and "Step to the Light" are early versions of "One of Kind Love." Several of the other tracks have been released on compilation cds like "California Metal" while others were re-recorded as bonus tracks for "First Watch." The inclusion of the liner notes by bassist David Bach was a nice addition but overall the packaging was cheap with little in the way of photos and no lyrics.