o...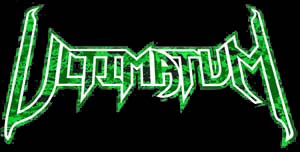 American power thrash!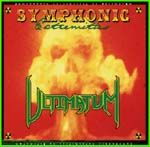 Ultimatum-Symphonic Extremities (Juke Box Media) 1995
1. "Symphonic Extremities" (4:31)
2. "The Killing Fields" (4:32)
3. "E.N.D. (Erroneous Notion of Death)" (4:59)
4. "Black Light" (4:09)
5. "Darkest Void" (3:59)
6. "Ode to Noise" (1:57)
7. "The Grip" (6:16)
8. "Fatal Delay" (7:52)
9. "Megaton" (6:01)
10. "Blink" (2:57)
BONUS TRACK
11. "World of Sin" (4:58)
I have mixed feelings about this one. Songs like the title track, "Darkest Void" and "Blink" are all power metal classics but compared to the two albums to follow, this one doesn't hold water. This disc is out of print and getting increasingly hard to find. "World of Sin" is a remixed song from the "Massive Frequency Overload" compilation.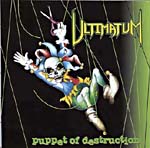 Ultimatum-Puppet of Destruction (Rowe Productions) 1998
1."Never" (4:03)
2."Mortal Stomp" (5:32)
3."Scorn" (4:45)
4."Puppet of Destruction" (4:19)
5."Gutterbox" (5:02)
6."Repentance" (4:02)
7."World of Sin" (4:57)
8."Crosshope" (4:35)
9."Conform to Reality" (3:26)
10."Charged/Power" (4:53)
On hundred times better than the debut, this disc features more fast downpicking, loads of double bass and more gnarly vocals. What makes this disc such an improvement mostly, however, is the production. The new version of "World of Sin" is much better than the bonus track from "Symphonic" as it features some tight double bass work. Favorite tracks are "Never," "Mortal Stomp," "Gutterbox" and "Charged/Power."
Click here to see a picture of Ultimatum with Steve Rowe(Mortification) from their gig at Spotlights, Albuquerque, NM.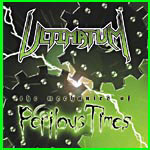 Ultimatum-The Mechanics of Perilous Times (Gutter/Massacre) 2001
1. "Temple of the Spirit" (3:20)
2. "Greed Regime, Inc." (7:27)
3. "Perilous Times" (4:40)
4. "Shroud of Science" (4:01)
5. "The Purging" (7:45)
6. "Crash Couse" (5:33)
7. "Warlord's Sword" (3:54)
8. "Burn" (3:49)
9. "MutalMitlu" -instrumental (5:18)
10. "Violence & Bloodshed" (3:20)
KILLER THRASH METAL in the tradition of Forbidden and especially Exodus. Ultimatum has their own sound but what continues to change with each album is their speed, intensity, and the vocals. The vox on this disc vary from song to song. They still retain the snake-like hiss of past albums but add elements of death metal and even some more melodic parts. Of the three cds, this one is my favorite. "MutalMitlu" is Ultimatum spelled backwards. "Burn" is a Vengeance Rising cover. This disc is a German import.
Ultimatum recorded "Sins of Omission" for the "Jump in the Pit-Testament Tribute".

Back to Index