Peter Criss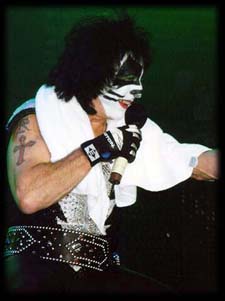 Born Peter George Criscoula on December 20, 1945 in Brooklyn, New York, Peter Criss got his start drumming after discovering legendary jazz drummer Gene Krupa. He formed Kiss with Paul Stanley and Gene Simmons in the early 70's and stayed with the band until 1980. Peter Criss was the one Kiss member who just could never get it together outside of Kiss. His first two solo albums "Let Me Rock You" and "Out of Control" strayed so far from the hard rock of Kiss that most fans just were not interested. A discouraged Peter Criss disappeared for years playing sparce shows in clubs in the East Coast area, doing mostly oldies covers, but never releasing anything commercially until 1994's Criss-Cat #1.
Peter Criss-Out of Control (Mercury) 1980
1. "By Myself" (3:34)
2. "In Trouble Again" (3:20)
3. "Where Will They Run?" (3:52)
4. "I Found Love" (3:27)
5. "There's Nothing Better" (3:34)
6. "Out of Control" (4:02)
7. "Words" (4:44)
8. "You Better Run" (2:42)
9. "My Life" (3:42)
10. "Feel Like Letting Go" (5:18)
I still have yet to meet somebody who actually likes these albums beyond the collectability of them. I mean, I am a huge Kiss fan and I really enjoy the solo work of Ace and Vinnie, but Peter's albums always brought thoughts of red velvet, bubble machines and Lawrence Welk. OK, maybe it's not that lame. There are some attempts at rock n roll on this album, but in reality there is really nothing outstanding like some of the work he did with Kiss. I suppose with a title like 'Out of Control' and an album cover with an exploding jukebox I expected something a little less generic. Most of this album was co-written by Criss and longtime friend and songwriter Stan Penridge, who also co-wrote such Kiss classics as "Baby Driver" and "Beth".
Peter Criss-Let Me Rock You (Mercury) 1982
1. "Let It Go" (4:05)
2. "Tears" (3:36)
3. "Move on Over" (3:48)
4. "Jealous Guy" (3:58)
5. "Destiny" (4:11)
6. "Some Kinda' Hurricane" (4:04)
7. "Let Me Rock You" (3:37)
8. "First Day in the Rain" (3:32)
9. "Feel Like Heaven" (3:43)
10. "Bad Boys" (3:28)
Let me rock you . . . to sleep. What exactly was Peter thinking when he released his two solo albums in the early 80's? I mean thoughts of Jimmy Buffet, Firefly, Air Supply and Ned Flanders for sure. Just goes to show you what a Kiss freak I am to own these two albums. The title tracks is a doo-wap, Russ Ballard penned song. "First Day in the Rain" was written by Steve Stevens and 'Jealous Guy' is a John Lennon song. Gene Simmons also offers some song writing in "Feel like Heaven." To make things worse, Vince Poncia brings his slick Kiss 'Unmasked' sensibilities to the production. As I said in the beginning, Let Me Rock You to Sleep. Anyone for a catnap?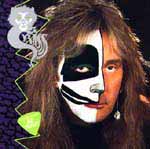 Criss-Cat #1 (TNT) 1994
1.   "Bad Attitude" (4:35)
2.   "Walk the Line" (3:49)
3.   "Truth" (4:54)
4.   "Bad People Burn in Hell" (3:47)
5.   "Show Me" (4:04)
6.   "Good Times" (4:36)
7.   "Strike" (4:45)
8.   "Blue Moon over Brooklyn" (5:23)
9.   "Down with the Sun" (4:37)
10.  "We Want You" (3:48)
11.  "Beth" (2:48)
Cat #1 featured a guest appearance by Ace Frehley, a front cover with Peter Criss wearing his Cat make-up on half his face, and a new version of the Kiss classic "Beth." Criss & his band toured with Frehley's Comet, all of this raising hopes that the original Kiss may get back together. Peter Criss showed up at one of the Kiss Convention's where Gene and Paul invited him on stage to sing a song with them. This was the beginning of the reunion.
As for this album, it features some very Kiss-like hard rock with Peter Criss on vocals. "Cat #1" is much better than either of Peter Criss' 1980's solo albums. Not a disc that frequents my cd player but a nice collector's disc nonetheless, especially for the $2.50 I paid for it.