Vinnie Vincent Invasion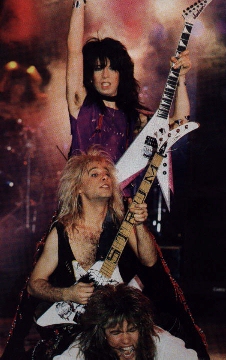 After Vinnie Vincent helped put KISS back on the map in the mid-80's, he left to pursue a solo carreer. Despite their over the top glam look, the Vinnie Vincent Invasion were a talented pop metal band. In any case, after touring with such bands as Iron Maiden and Alice Cooper to support their "All Systems Go" album, Dana Strum and Mark Slaughter left to form Slaughter. Vinnie released a couple hard to find demos and a cd I have yet to even see, but has not done much since these two albums. He has some co-writter's credits on KISS' "Revenge" and has also appeared at a few KISS conventions.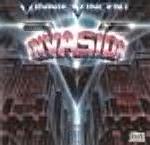 Vinnie Vincent Invasion (Zoom Club)
1. "Boyz Are Gonna Rock" (4:54)
2. "Shoot You Full of Love" (4:44)
3. "No Substitute" (3:52)
4. "Animal" (5:33)
5. "Twisted" (4:49)
6. "Do You Wanna Make Love" (3:23)
7. "Back on the Streets" (4:50)
8. "I Wanna Be Your Victim" (4:36)
9. "Baby-O" (3:43)
10. "Invasion" (7:50)
Vinnie's first solo disc is so over-the-top that it's hilarious. Everything about this disc is outrageous, from the bands poofy glam look (Bobby Rock's outfit is partially painted on!), to the insanely fast guitar solos, to the helium high vocals. The songs are of the LA glam variety and sound alot like Nitro. Being a huge Kiss fan, I suppose, I latched onto this one immediately. The song "Invasion" contains about three full minutes of guitar feedback at the end of the song. The record had this same feedback at the end, but the difference is that it never ended until you picked up the needle because the sound went right into the end of the vinyl. I always thought that was kind of cool. This disc features ex-Journey vocalist Robert Fleischman, Dana Strum, and Bobby Rock, who went on to play with Nitro and Nelson.
I waited a LOOONNNGG time to get this one again. I just couldn't fork over $30-$50 for this disc on eBay, which was the going rate for the longest time. After years of waiting someone (Zoom Club Reocrds) finally re-issued this disc. Originally VVI was released on Chrysalis.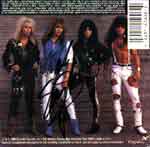 Vinnie Vincent Invasion-All Systems Go (Chrysalis)
1. "Ashes to Ashes" (5:05)
2. "Dirty Rhythm" (3:38)
3. "Love Kills" (5:36)
4. "Naughty, Naughty" (3:30)
5. "Burn" (4:38)
6. "Star Spangled Banner" -instumental (5:31)
7. "Let Freedom Rock" (4:44)
8. "That Time of Year" (4:11)
9. "Heavey Pettin'" (4:38)
10. "Ecstacy" (3:56)
11. "Deeper and Deeper" (4:02)
12. "Breakout" (2:01)
13. "The Meldown" -instrumental (2:01)
14. "'Ya Know' -I'm Pretty Shot" -instrumental (4:07)
A tremendous glam metal album. Vinnie is a flashy player but his leads fit the songs well. Mark Slaughter's helium-high vocals wail on top some great rhythm work by bassist Dana Strum and drummer Rob Rock (who also played with Nitro). The songwriting is simplistic, but not quite a simple as "Lick It Up" which is a Vinnie penned Kiss song. What makes the simplicity work is that there are lyrical and musical hooks that make you want to hear it again. "Breakout" is a drum solo, "'Ya Know' -I'm Pretty Shot" is an acoustic guitar instrumental.
I use to own both Vinnie Vincent Invasion discs on vinyl and the first album was even autographed by Vinnie and the entire band. I met them in Rochester, NY at a record signing at the House of Guitars when they were touring with Alice Cooper. Unfortunately, in a moment of madness I sold them. Unfortunately the two Invasion cds became impossible to find. I paid $15 for a beat to hell copy of "All Systems Go." I held onto it until I could find a better copy. I finally secured one in a trade for a Haven disc and sold the beat up copy on eBay with an accurate description of the disc for $20.52.
Vinnie Vincent-The EP (aka 'Euphoria') (Metaluna) 1996
1. "Euphoria" (5:23)
2. "Get The Led Out" (6:14)
3. "Wild Child" (5:14)
4. "Full Shred" (4:58)
I missed this one when it was available for a normal price. Don't know how the heck I managed to totally miss the release of it, but in any case I finally scored a copy on eBay. Apparently this is the first pressing of the disc and it was personally numbered and autographed by Vinnie, so I guess I can take satisfaction in that fact, since I probably spent more on this cd per song than almost any other cd in my collection. "The EP" was apparently supposed to be a teaser for Vinnie's third full-length album, "Guitarmageddon," which has still not seen release. There is another pressing of this disc as well called 'Euphoria' that has a pink border, as opposed to the black border shown above. (Check out the rollover image above to see the other cover.) Back on board for this EP is Robert Fleischman, who also sang on the first Invasion album. One thing for sure, Vinnie knows what his fans want. There are no traces of trendy crap on this disc, but only guitar shred and melodic heavy metal. It's almost like you are back to 1986 and hearing a lost-track from the Invasion album. Album opener 'Euphoria' starts off with some super fast guitar solos before bursting into a fine pop metal track. ' This track is without a doubt the he album's best track and one of Vinnie's personal best ever.
Vinnie Vincent-Prepare to Invade (Eager Beaver/cdr)
1. "Back in the Streets" -version 1 (5:48)
2. "Gypsy in Your Eyes" -version 1 (3:30)
3. "Tears: (3:16)
4. "No Substitute" (3:55)
5. "I'm On Fire For You" (3:43)
6. "Youngblood" (4:26)
7. "Forbidden" (3:43)
8. "My Love Goes With You" (4:27)
9. "Gypsy in Your Eyes" -version 2 (5:41)
10. "Back in the Streets" -version 2 (3:58)
11. "Boys Are Gonna Rock" (3:14)
12. "I'm In Love" (3:28)
13. "Your Baby" (4:09)
14. "It's So Pretty" (3:44)
A bootleg of various Vinnie demos, supposedly all recorded between 1983 and 1986. There is little in the way of information about these tracks. Being a compilation of various tracks, the sound quality changes from track to track, but overall is listenable. The first two tracks are of much interest to me as I am curious who is singing on these tracks. Sounds to me like it might have been Eric Carr, but I am not sure of this at all.