When the Vinnie Vincent Invasion ran into some legal problems, Dana Strum and Mark Slaughter left to form Slaughter with guitarist Tim Kelly and drummer Blas Elias. They decided to go even deeper into the pop metal direction than VVI and in doing so sold millions of cds up until grunge and alternative became the flavor of the day. Guitarist Tim Kelly died in an auto accident in 1998 and Jeff Blando took over the empty guitar slot.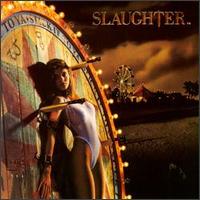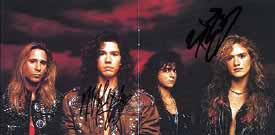 Slaughter-Stick It To Ya (Chrysalis)

1.   "Eye to Eye" (3:57)
2.   "Burnin' Bridges" (4:07)
3.   "Up All Night" (4:16)
4.   "Spend My Life" (3:21)
5.   "Thinking of June" -instrumental (1:05)
6.   "She Wants More" (3:55)
7.   "Fly to the Angels" (5:06)
8.   "Mad About You" (4:05)
9.   "That's Not Enough" (3:25)
10.  "You Are the One" (3:55)
11.  "Gave Me Your Heart" (3:51)
12.  "Desperately" (3:34)
13.  "Loaded Gun" (4:18)
14. "Fly to the Angels" -acoustic version (3:22)
15. "Wingin' It" (1:11)
A bit too slick and pop for my liking. I actually bought this one after buying "Wild Life," "Stick It Live," and "Revolution." The live versions of these songs on "Stick It Live" are heavier and a bit more raw so I guess I just got use to hearing them like that. One thing good about Slaughter is that they get better with each album, rather than degressing further into trends.

Slaughter-Stick It Live (Chrysalis)
1. "Burnin' Bridges" (4:29)
2. "Eye to Eye" (6:25)
3. "Fly to the Angels" (6:07)
4. "Up All Night" (6:38)
5. "Loaded Gun" (5:44)
I can't say that I was much into Slaughter when I bought this disc, as a matter of fact I alway kind of hated Slaughter assuming they were a cheesy Nelson pop-rock band with a metal look. I was curious more than anything else, being a Vinnie Vincent Invasion fan. What changed my mind was when I saw Slaughter open up for Ted Nugent and they were really good. Actually they blew me away. Bassist Dana Strum was quite the showman and a great bass player. Marc Slaughter had a great vocal range and a very cool falseto voice. So, I decided to keep an eye out for a cheap used copy of a Slaughter album. I found this live EP for $3.99 and decided to give it a whirl. Must have liked it because only a few weeks later I picked up: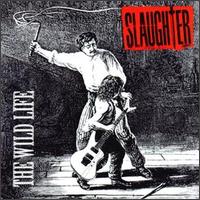 Slaughter-Wild Life (Chrysalis)
1. "Reach for the Sky" (5:30)
2. "Out for Love" (3:32)
3. "Wild Life" (3:24)
4. "Days Gone By" (4:35)
5. "Dance for Me Baby" (3:20)
6. "Times They Change" (7:08)
7. "Move to the Music" (4:30)
8. "Real Love" (3:40)
9. "Shake This Place" (3:37)
10. "Streets of Broken Hearts" (4:39)
11. "Hold On" (3:56)
12. "Do Ya Know" (6:25)
13. "Old Man" (5:26)
14. "Days Gone By" -acoustic version (3:25)
I read on another web page that this cd was out of print. This particular copy had been sitting at a local store for years, literally. Since it was only $5.99 I decided I might as well pick it up before it becomes hard to find. To my surprise this is actually a very good melodic metal disc. "Wild Life" is overflowing with American pomp delivered with a raw energy and a whole lot of attitude. The axe solos are flying all over the place, many times on top of just the bass, giving the whole thing a "live" feel. Not really as pop oriented as I thought, rather it's more of an 80's throw-back to the L.A. metal scene, reminding me slightly of bands like Ratt and Stryper. Who woulda guessed it. Slaughter ain't bad at all; they are just straight-ahead, melodic, meat-and-potatoes hard rock! Oh and this disc, I read, was a disappointment selling only one million copies, so their label dropped them. (ONLY one million?????)

Slaughter-Fear No Evil (CMC International)
1.   "Like There's No Tomorrow" (5:46)
2.   "Get Used to It" (3:35)
3.   "Searchin'" (4:28)
4.   "It'll Be Alright" (5:15)
5.   "Let the Good Times Roll" (3:31)
6.   "Breakdown N' Cry" (6:07)
7.   "Hard Times" (5:57)
8.   "Divine Order" -instumental (1:11)
9.   "Yesterday's Gone" (5:13)
10. "Prelude" -instrumental (1:55)
11. "Outta My Head" (3:52)
12. "Unknown Destination" (5:29)
Slaughter were one of the first bands to sign with CMC, a label that helped preserve heavy metal in the 90's when the big labels were force-feeding us alternative crap. In any case, Slaughter's first independent label release is as good, if not better than their first two discs. What? Don't like Slaughter? Think they are wimpy? Ah, go listen to your Kidd Rock/Limp Dick crap. As for me, I'll stick to real rock-n-roll!!!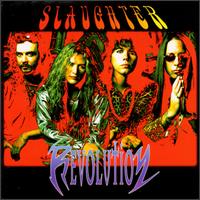 Slaughter-Revolution (CMC International)
1.   "American Pie" (3:54)
2.   "Heaven It Cries" (6:18)
3.   "Tongue 'N' Groove" (3:05)
4.   "Can We Find a Way" (4:27)
5.   "Stuck on You" (4:36)
6.   "Hard to Say Good-Bye" (4:50)
7.   "Revolution" (3:22)
8.   "Guck" -instrumental (1:40)
9.   "Heat of the Moment" (5:06)
10. "Rocky Mountain Way" (5:24)
11. "You're My Everything" (5:01)
12. " I'm Gone" (2:31)
13. "Ad-Majorem-Vei-Gloriam" -instrumental (2:14)
When I first heard the song "American Pie" I would have swore that it was a T. Rex cover song. That song pays serious homage to the fat grooves and distorted guitars of Marc Bolen and Co. The enire disc actually reminds me of glam rock bands like T. Rex and Sweet, but there are also hints of Led Zeppelin and Aerosmith as well. This is very different from the pop metal Slaughter is known for, however Slaughter also knows what their fans want. The music is heavier, bluesier, but still your basic American hard rock/metal. I'm not sure why I hated these guys for so many years. Slaughter are acutally a pretty good band. "Rocky Mountain Way" is a Joe Walsh tune."Ad-Majorem-Vei-Gloriam" is a trippy psychadelic instumental. This disc is also enhanced and includes photos, video, bios, discography and the whole bit. Nice package, especially for $5.99!
Slaughter-Eternal Live (SPV)
1. "Rock the World" (3:52)
2. "Get Used to It" (3:26)
3. "Shout It Out" (3:29)
4. "Mad About You" (4:40)
5. "Spend My Life" (2:19)
6. "Fly to the Angels" (5:22)
7. "Real Love" (3:41)
8. "Dance for Me" (3:19)
9. "Searchin'" (4:05)
10. "Wild Life" (3:06)
11. "Move to the Music" (4:00)
12. "Up All Night" (6:12)
Slaughter live is what convinced me that these guys were not the posers everyone said they were. They put on a spectacular show and play great rock 'n roll. The band sticks primarily to material from their two major label albums, "Stick It To Ya" and "Wild Life" and only throw in only a couple from "Fear No Evil" and "Revolution." This disc is far better than the short "Stick It Live" as the band is more seasoned on this disc and "Eternal Live" obviously includes more material. The disc is dedicated to guitarist Timothy Patrick who died in a car crash while this cd was being put together. I've had this on my want list for several years and a friend found a copy used and very cheap, so he bought it for me. Couldn't ask for a better gift than the gift of cds. (-:
Slaughter-Back to Reality (CMC International)
1. "Killin' Time" (3:59)
2. "All Fired Up" (4:32)
3. "Take Me Away" (4:05)
4. "Dangerous" (3:49)
5. "Trailer Park Boogie" (3:16)
6. "Love Is Forever" (6:00)
7. "Bad Groove" (3:32)
8. "On My Own" (5:02)
9. "Silence of Ba" (2:36)
10. "Headin' for a Dream" (4:56)
11. "Nothin' Left to Lose" (3:42)
12. "untitled song" (2:20)
I swear I must have bid on this disc on eBay no less than 20 times. It always sells for around $5 or so, but someone always outbids me in the last minutes. I FINALLY won a copy on eBay for $1.99. Anyhow, "Back to Reality," introduces new guitarist Jeff Blando, who is a competent replacement for Timothy Patrick as the band doesn't lose any momentum. Slaughter knows their audience and doesn't disappoint to give us what we want--good '80s-style hard rock and metal! Actually I think this disc may be a bit heavier than all the bands past efforts. A tad more groove as well. It wasn't actually until this tour that I started to get into Slaughter. Saw them twice, once opening for Ted Nugent and once with Cinderella.