NITRO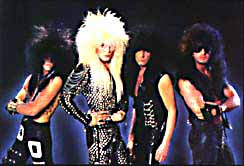 Nitro took the L.A. glam look and sound to the extreme. Micheal Angelo shreds faster than most, Jim Gilletter had the blondest & the biggest hair, as well as the highest pipes of anyone. Rob Rock who has also played with Vinnie Vincent Invasion performed with Nitro one their first album as well.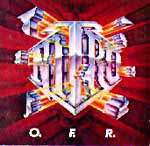 Nitro-O.F.R. (Rhino) 1989
1. "Freight Train" (3:32)
2. "Double Trouble" (3:59)
3. "Machine Gun Eddie" (6:44)
4. "Long Way From Home" (5:27)
5. "Bring It Down" (3:10)
6. "Nasty Reputation" (4:44)
7. "Fighting Mad" (3:45)
8. "Shot Heard 'Round the World" (4:07)
9. "O.F.R." (5:06)
I saw the video for "Freight Train" on a cable access show in 1989 and, of course, I had to run out an find their album. Why? Because they made me laugh my butt off! These guys were hilarious. In the height of hair madness, Nitro, who were actually serious about their look, put Spinal Tap to shame in the cliche department. Vocalist Jim Gillette's bleach blond doo was higher and bigger than all the Poison guys put together, his high pitched, helium ingested vocals would put Warrel Dane to shame and his outfit had more rinestones than the most elaborate evening gown. Then there was Micheal Angelo's speedy guitarleads which would have sent Yngwie Malmsteen and Impelliteri running for the hills. On the drums, the one and only macho-man himself-Rob Rock. And finally on the bass, a man whose hair touches the sky, T.J. Racer. HA! HA! Much fun! Out F'n Ragious! Available in a cut out bin near you!
Nitro II-H.W.D.W.S (Rhino) 1991

1. "I Want U" (4:11)
2. "Cat Scratch Fever" (3:36)
3. "Crazy Love" (3:42)
4. "Hot, Wet, Drippin' With Sweat" (3:28)
5. "Boyz Will B Boyz" (3:28)
6. "Turnin' Me On" (3:47)
7. "Don't Go" (4:05)
8. "Makin' Love" (4:33)
9. "Take Me" (4:00)
10. "Johhny Died on Christimas" (3:47)
11. "Hey Mike" -guitar solo (:53)
Gone are the O.F.R. cloths, hair and look of Nitro's past. What remains is the "ìbeen sucking on helium" high vocals of Jim Gillete and the outrageous guitar playing of Micheal Angelo. Songs like "H.W.D.W.S," a 95 m.p.h. rocker and "Johnny Died" a full on glam rocker would have fit well on the last Nitro record, so the attitude hasn't changed any. Nitro also do a very cool version of Ted Nugent's top ten hit "Cat Scratch Fever," complete with some lightning quick double bass and speedy guitar solos. "Hey Mike" is a shred solo, proving that Michael Angelo could compete with the best known guitarists. The entire thing reminds me a bit of an exaggerated Vinnie Vincent Invasion.