Great White (EMI)
1."Out of the Night" (3:00)
2."Stick It" (3:58)
3."Substitute" (4:23)
4."Bad Boys" (4:20)
5."On Your Knees" (3:51)
6."Streetkiller" (3:58)
7."No Better Than Hell" (4:06)
8."Hold On" (4:12)
9."Nightmares" (3:17)
10."Dead End (Garden Grove 1982)" (3:34)
Searched high and low for this, their first full length album, and finally found a copy for $4.50. Wouldn't you know, even though the disc looked like it was in mint condition tracks 6 & 7 skipped! Argh! Well, I took it back to the store, who also happens to be a cd repair shop. Anyhow, a good Zeppelin influenced heavy metal album and still my favorite Great White disc.

Great White-...Twice Shy (Capitol)
1. "Move It" (5:36)
2. "Heart the Hunter" (4:51)
3. "Hiway Nights" (6:00)
4. "Angel Song" (4:51)
5. "Mista Bone" (5:11)
6. "Baby's on Fire" (6:11)
7. "House of Broken Love" (5:59)
8. "She Only" (5:24)
9. "Once Bitten, Twice Shy" (5:23)
Well, I dig the cover! Nah, actually this is a pretty good AOR album (particularly "House of Broken Love" and "Mistah Bone") that sold over two million copies. The Ian Hunter cover ("Once Bitten, Twice Shy") was a huge hit for the band.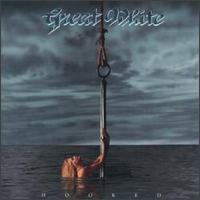 Great White-Hooked (Capitol)
1.   "Call It Rock N' Roll" (3:57)
2.   "Original Queen of Sheba" (4:39)
3.   "Cold Hearted Lovin'" (4:20)
4.   "Can't Shake It" (4:45)
5.   "Lovin' Kind" (4:46)
6.   "Heartbreaker" (6:45)
7.   "Congo Square" (6:58)
8.   "South Bay Cities" (5:26)
9.   "Desert Moon" (4:32)
10. "Afterglow" (5:50)
Great White followed their double platinum "...Twice Shy," with this well-crafted, bluesy album. It has the bluesy wail of Led Zeppelin and the riffs of AC/DC and the Scorpions, although without the attitude of either. Still, despite this album being a decent offering of hard rock, it just doesn't hold water to the first album, in my opinion. Of course some 500,000 people disagreed with me.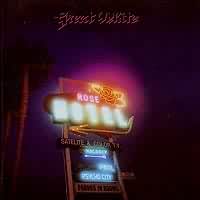 Great White-Psycho City (Capitol)
1. "Psycho City" (6:07)
2. "Step on You" (5:50)
3. "Old Rose Motel" (7:24)
4. " Maybe Someday" (7:24)
5. " Big Goodbye" (5:57)
6. " Doctor Me" (6:13)
7. " I Want You" (3:42)
8. " Never Trust a Pretty Face" (5:29)
9. " Love is a Lie" (8:15)
10. "Get On Home" (5:28)
"Psycho City" is, in my opinion, the best Great White disc since their debut, which has been the album I have compared all the rest to since it came out. This album rocks consistently from beginning to end without all the crappy pop rock getting in the way. I actually bought this after seeing the ridiculous selling price on HeavyHarmonies.com. Thinking it was somewhat of a collectors disc, I picked it up for $4.50 for that reason alone. When I got home and popped it into the cd player, I was very surprised. I guess losing popularity has done good things for this band.