Killjoy
LA thrash metal.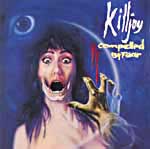 Killjoy-Compelled by Fear (Colossal/Restless)
1. Body Count (3:47)
2. Enemy Within (Cycle of Insanity) (3:29)
3. Faith Against Faith (4:24)
4. Infected -instrumental (3:10)
5. Demise of Humanity (4:15)
6. Status Nine -instrumental (1:01)
7. Frozen Refuge (4:17)
8. Fall From Grace (3:18)
9. Altered Image (6:00)
10. Compelled by Fear (4:43)
Hidden in track ten-Backward Vocal Line
Killjoy is one of the Bay Area thrash bands that never quite caught on or gained the popularity of some of their contemporaries. Regardless of their lack of popularity, this disc is pure thrash metal. Don't really know much about them, but this disc was produced and mixed by Rob "Wacko" Hunter, ex-drummer from Raven. I would compare their sound to Betrayal and Nuclear Assault. The song listing on the back of the disc leaves off track #9 "Altered Image." The song they have listed as #10 is actually a short spoken word thing at the end of "Compelled by Fear" which should be track #10.