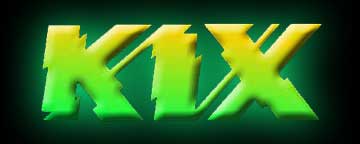 Kix are one of those AC/DC meets Aerosmith pop metal bands that dominated the airwaves of the late 80's/early 90's. For some reason, despite having the chops, the looks, and a major label, Kix never could sell millions like less worthy bands. Still, their music is infectious, and heavier than most party metal bands, so I have always dug 'em.
Kix (Atlantic) 1981
1. "Atomic Bombs" (3:45)
2. "Love at First Sight" (2:42)
3. "Heartache" (3:16)
4. "Poison" (3:46)
5. "The Itch" (4:26)
6. "Kix Are for Kids" (4:16)
7. "Contrary Mar" (3:10)
8. "The Kid" (3:54)
9. "Yeah, Yeah, Yeah" (6:57)
Really not sure what to say about this one. The music and lyrics are sort of a mix of late 70's pop metal (Kiss, Cheap Trick) but with an almost simplistic punk attitude like the Ramones. Hearing this disc for the first time after being familiar with "Blow My Fuse" and "Hot Wire" I can see how much this band matured and progressed with each album. Found this disc in excellent condition for $1.99.

Kix-Blow My Fuse (Altantic) 1988
1. "Red Lite, Green Lite, TNT" (3:54)
2. "Get It While It's Hot" (4:24)
3. "No Ring Around Rosie" (4:34)
4. "Don't Close Your Eyes" (4:15)
5. "She Dropped Me The Bomb" (3:46)
6. "Cold Blood" (4:16)
7. "Piece Of The Pie" (3:48)
8. "Boomerang" (3:44)
9. "Blow My Fuse" (4:00)
10. "Dirty Boys" (3:42)
There were a ton of bands doing the L.A. (although they're East Coast dudes) pomp, glam metal, Aerosmith/AC/DC wanna-be stuff in the late 80's. Of the genre Kix was one of the better bands. Unfortunately, they were never able to make the "big time" like other less worthy bands (i.e. Poison, Nelson, Warrant, Winger, etc.) despite their infectious, well written songs. The ballad "Don't Close Your Eyes" was a hit for the band, the only one in their long catalog, helping the record to achieve gold. Sort of a shame as Kix's party pop metal holds up better than many of the bands who were selling millions in 1988.

Kix-Hot Wire (Eastwest Records America) 1991
1. "Hot Wire" (5:22)
2. "Girl Money" (3:58)
3. "Luv-A-Holic" (4:39)
4. "Tear Down the Walls" (4:35)
5. "Bump the la La" (3:28)
6. "Rock and Roll Overdose" (4:29)
7. "Cold Chills" (5:19)
8. "Same Jane" (4:33)
9. "Pants on Fire (Liar, Liar)" (4:12)
10. "Hee Bee Jee Bee Crush" (5:33)
More AC/DC inspired party metal. I dunno, I guess any true metalhead is suppose to hate this stuff, or at least pretend they hate it, but it's just so darn catchy. "Hot Wire" is very similar to "Blow My Fuse." Not sure why these guys weren't hugely popular since this type of stuff was the trend in 1991. They had the chops, the hooks, the big label backing. Hmm, I guess they just weren't cute enough.

Kix-Live (Atlantic) 1993
1.   "Hot Wire" (6:06)
2.   "Same Jane" (4:55)
3.   "Rock & Roll Overdose" (4:25)
4.   "Sex" (4:46)
5.   "Itch" (6:27)
6.   "For Shame" (5:37)
7.   "Tear Down the Walls" (4:48)
8.   "Blow My Fuse" (5:33)
9.   "Girl Money" (7:07)
10.  "Cold Blood" (6:36)
11.  "Don't Close Your Eyes" (4:22)
12.  "Yeah, Yeah, Yeah" (13:58)
Despite being labeled posers, Kix put on a fun and energetic live set. I've never been priveleged to see these guys live, but from listening to this disc, I can tell they put on one heck of a show. This was their last major label release.