L E V I T I C U S
Levitcus is the brainchild of Swedish born Bjorn Stigsson. They are one of the earliest Christian metal bands and released a total of four albums. Bjorn has also released a few solo albums and has recorded with XT.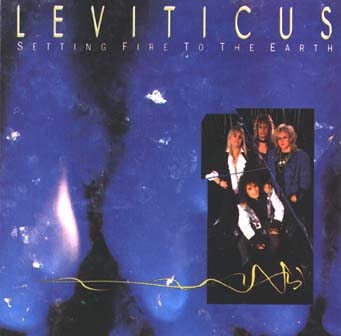 Leviticus-Setting Fire to the Earth (Pure Metal)
1. "Flames of Fire" (3:18)
2. "Saved" (4:07)
3. "The First & the Last" (3:39)
4. "I'm A Believer" (3:56)
5. "Don't Go Out" (3:33)
6. "Elijah on Carmel" (3:50)
7. "The Suffering Servant" (4:49)
8. "Get Up" (3:37)
9. "Love is Love" (4:01)
Of the four Leviticus disc, this is the only one I like, and is also the most rare in cd form. The music is melodic and hooky, but what really makes this disc is the vocals of Terry H, who along with bassist Ez Gomez would go on to form Jet Circus. "Setting Fire" was Leviticus' third release.
On vinyl:
Leviticus-I Shall Conquer (Shadow)

Bjorn Stigsson & Friends-Together With Friends (Pure Metal)