Phil Keaggy
Phil Keaggy and drummer John Sferra, founded Glass Harp in the late '60s. They became known as one of the most innovative power trios around, mostly because of Keaggy's guitar playing. They had a contract with Decca Records, toured the country several times, and opened for such major acts as Iron Butterfly, Yes, Traffic and Chicago. After the demise of Glass Harp, Keaggy began recording solo records and has done so ever since.

Phil Keaggy-Town to Town/Phílip Side/Play Thru Me (Myrhh)
DISC ONE
1. Town to Town" (6:49)
2. "Life Love and You" (4:29)
3. "Full Circle" (4:23)
4. "Wished You Wee There" (3:04)
5. "What A Wonder You Are" (4:03)
6. ""In Between" (3:04)
7. "Our Lives" (5:28)
8. "Rise Up O Men Of God" (4:53)
9. "Let Everything Else Go" (4:53)
10. "A Child (In Everyone's Heart)" (4:01)
11. "Little Ones" (4:58)
12. "Spend My Life With You" (5:17)
13. "Belong To You" (3:27)
14. "In Your Keep" (3:31)

DISC TWO
1. "Just A Moment Away" (4:02)
2. "Sunday School" (4:23)
3. "A Royal Commandment" (5:49)
4. "Pulling Down" (5:25)
5. "Happy" (2:48)
6. "Carefree" (4:41)
7. "Nobody's Playgirl Now" (3:39)
8. "Cherish the Moment" (4:59)
9. "She Came to Stay" (3:35)
10. "Papa Song" (3:11)
11. "The Wall" (2:45)
12. "Make A Change" (3:31)
13. "Train to Glory" (3:09)
14. "Play Thru Me" (4:26)
15. "His Master's Voice" (3:09)
16. "Morning Light" (3:31)
Three of Phil's earliest works on two discs ("Ph'lip Side," "Play Thru Me," "Town to Town"). Phil Keaggy's early rock works sound very dated, but contain some fabulous guitar work. I actually pop this one on late at night sometimes when I want to kick back and read or something.

Phil Keaggy-The Master & the Musician (Myrrh)
1. "Pilgrim's Flight" (2:22)
2. "Agora (The Markerplace)" (3:26)
3. "The Castle's Call" (:47)
4. "Wedding in the Country Manor" (3:20
5. "Suite of Reflections" (5:45)
6. "Golden Halls" (5:13)
7. "Mouthpiece" (1:18)
8. "Follow Me Up" (4:05)
9. "Jungle Pleasures" (:55)
10. "Deep Calls Unto Deep" (3:52)
11. "Medley: Evensong/Twilight/Forever Joy" (7:05)
12. "The High and Exalted One" (1:48)
13. "Epilogue/Amazing Grace" (8:56)
This is a great acoustic/electric instrumental album and is actually one of the first Christian albums I had ever heard. My youth pastor growing up showed me this album as an alternative to the "bad" stuff I was listening to. (ie. Black Sabbath, Kiss, etc. ) I really dug this album, as Phil is a talented guitarist with a unique style, so I gained a new interest, but I didn't necessarily replace the old stuff either. (-: This cd version has a bonus track ("Epilogue/Amazing Grace") not available on the LP version that I still own.


Phil Keaggy-Find Me in these Fields (Myrrh)
1. "Live Studio Recording # 1" -instumental (:19)
2. "Strong Tower" (4:14)
3. "Carry On" (3:14)
4. "Live Studio Recording # 2" -instumental (:39)
5. "When the Wild Winds Blow" (5:39)
6. "This Side of Heaven" (4:18)
7. "Find Me in These Fields" (3:56)
8. "Get over It" (6:08)
9. "Calling You" (4:17)
10. "Live Studio Recording # 3" -instumental (2:32)
11. "Gentle and Strong" (3:37)
12. "Final Day" (3:57)
13. "Live Studio Recording # 4" -instumental (2:08)
14. "Be in My Heart (4:40)
15. "Live Studio Recording # 5" -instumental (1:00)
Wow, talk about living in the past. Phil Keaggy borrows heavily from the Beatles and other 60's pop rock influences on this disc. The hooks, however, are undeniable and hold your attention. There are also some noce guitar instrumentals throughout this disc, that make "Find Me in These Fields" a good listen all the way through. I bought this when I was looking for some decent Christian rock and roll. Phil Keaggy is not only one of the best, but one of the few.

Phil Keaggy-Beyond Nature (Myrrh)
1. "In the Light of Common Day" (3:52)
2. "County Down" (5:44)
3. "Symphonic Dance" (5:44)
4. "Addisonís Walk" (4:04)
5. "I Feel the Winds of God Today" (4:48)
6. "Fare Thee Well" (5:42)
7. "Fragile Forest" (4:24)
8. "Brother Jack" (4:54)
9. "As Warm as Tears" (6:05)
10. "Place of Springs" (6:29)
11. "In the Light of Common Day" (4:11)
12. "When Night Falls" (4:08)
One of Phil Keaggy's awesome solo instumental albums filled with sweeping melodies and beautiful acoustic guitar passages. This is the most listened to disc in my Phil Keaggy collection. The music is mellow but creates the right mood for late nights with my wife. Enough said! (-:

Phil Keaggy-Crimson & Blue (Myrrh)
1. "Shouts of Joy (5:54)
2. "World of Mine (5:38)
3. "Everywhere I Look (4:26)
4. "Love Divine" (2:23)
5. "Reunion of Friends" (4:11)
6. "All There Is to Know" (3:47)
7. "When Will I Ever Learn to Live in God?" (6:40)
8. "Stone Eyes" (7:01)
9. "I Will Be There" (6:51)
10. "Don't Pass Me By" (3:44)
11."John the Revelator" (8:04)
12. "Doin' Nothin'" (8:25)
13. "Nothing but the Blood" (2:41)
I really like Phil's instrumental albums a lot more than his pop rock albums. "Crimson and Blue" is a mixture of both because it contains the pop rock song but also contains some great guitar jams. The album is filled with 60's and 70's rock influences but this time around it's less "Beatles-pop" and more "Jimi Hendrix-rock jams." (OK, maybe Hendrix is stretching it.) "Doin' Nothin'" is an extended guitar jam that shows off Phil's technique, almost gaining a Jimi Hendrix sound here and there. "Crimson and Blue" also features the Van Morrison tune, "When Will I Learn (To Live in God)" and a cover of Badfinger's "Baby Blue."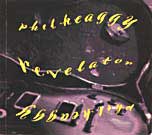 Phil Keaggy-Revelator (Myrrh)
1. "Everywhere I Look (3:09)
2. "John the Revelator" -radio mix (4:58)
3. "Doin' Nothin"' -alternate take/swamp version (5:48)
4. "John the Revelator" -extended strat mix (8:02)
5. "The Further Adventures Of..." -instrumental (12:46)
6. "Celebrate" (2:14)

"Revelator" is a digi-pack disc with outtakes from the "Crimson and Blue" sessions. I actually like this disc a bit more that "Crimson & Blue" as there is more emphasis on guitar-rock jams. Includes radio mixes that are edited versions of the originals songs but the extended jams show off Keaggy's incredible guitar playing abilities. "The Further Adventures Of..." is a blues rock jam that features original Glass Harp drummer John Sferra. A collector's item that went out of print almost as quickly as it was put into print.

Phil Keaggy-True Believer (Myrrh)
1. "True Believers" (4:36)
2. "Wild Heart" (5:01)
3. "Only You" (Can Wash My Sins Away) (4:31)
4. "Salvation Army Band" (4:09)
5. "Don't Let Go of My Heart" (4:09)
6. "Son of Man" (4:38)
7. "And on That Day" (5:05)
8. "Be Thou My Vision" (4:51)
9. "Have Mercy Lord" (4:01)
10. "Survivor" (7:30)
More pop rock from Keaggy, but this one is even more mellow than some of the past releases. I was hanging around after a show my band did in TX when somebody just walked up and gave me this disc. Free is good.