Phil Lynott
Phil Lynott was the singer and bassist for Thin Lizzy. He also put out two fabulous solo albums that departed from the heavy metal sounds of Thin Lizzy. After his untimely death, several compilations of other material has also shown up. Both these discs have been out of print for quite a while.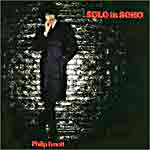 Phil Lynott-Solo in Soho (Vertigo)
1. "Dear Miss Lonely Hearts" (4:10)
2. "King's Call" (3:38)
3. "Child's Lullaby" (2:42)
4. "Tattoo (Giving It All up for Love)" (3:19)
5. "Solo in Soho" (4:13)
6. "Girls" (3:59)
7. "Yellow Pearl" (4:04)
8. "Ode to a Black Man" (4:04)
9. "Jamaican Rum" (2:42)
10. "Talk in 79" (2:56)
This is a fabulous album, although nothing like his band Thin Lizzy. Jimmy Bain (Rainbow, Dio) plays bass on much of the album and co-wrote "Dear Miss Lonely Hearts." Brian Robertson, Huey Lewis, Scott Gorham, Snowey White, all who have had connections with Thin Lizzy at one time or another, also make guest appearances on "Solo in Soho."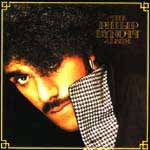 Phil Lynott-The Phil Lynott Album (Vertigo)
1. "Fatalistic Attitude" (4:37)
2. "Man's a Fool" (2:59)
3. "Old Town" (3:28)
4. "Cathleen" (3:34)
5. "Growing Up" (5:01)
6. "Yellow Pearl" (2:58)
7. "Together" (3:40)
8. "Little Bit of Water" (3:35)
9. "Ode to Liberty (Protest Song)" (5:48)
10. "Gino" (4:10)
11. "Don't Talk About Me Baby" (4:30)
On both solo albums, Phil Lynott strays far from the Thin Lizzy formula and writes rock and pop songs that strive for memorable hooks and are related to growing up in the rough end of Ireland. Of particular interest is that ex-Rainbow bassist Jimmy Bain has some writing credits on the album as well as "Solo in Soho." The Phil Lynott Album did generate a European hit in a remodeled version of techno-dance song "Yellow Pearl" (co-written by Midge Ure of Ultravox). Other guest musicians include: Brian Downey and Scott Gorham from Thin Lizzy, Huey Lewis, and several other studio musicians.