R A I N B O W
Rainbow, despite the illusion of being a full fledged band, has always been more of a Ritchie Blackmore solo project. Their first three studio albums were somewhat consistent and representative of a band effort, but even through those years it was Ritchie plus any number of revolving musicians.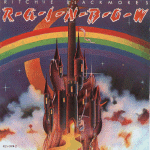 Ritchie Blackmore's Rainbow (Polydor) 1975
1."Man on the Silver Mountain" (4:37)
2."Self Portrait" (3:12)
3."Black Sheep of the Family" (3:19)
4."Catch the Rainbow" (6:29)
5."Snake Charmer" (4:30)
6."The Temple of the King" (4:43)
7."If You Don't Like Rock 'n' Roll" (2:35)
8."Sixteenth Century Greensleeves" (3:29)
9."Still I'm Sad"-instrumental (3:52)
Egomaniac Ritchie Blackmore recorded this album as a solo effort with Ronnie James Dio and his current band Elf, minus their guitarist of course. I read that the last Elf record "Trying to Burn the Sun" and this record were recorded around the same time and certainly were released the same year. Anyhow, of the three Dio-era Rainbow albums, this is my least favorite, but it's still a great album. Of course "Man on the Silver Mountain" was a hit for the band and is still played on the classic rock stations.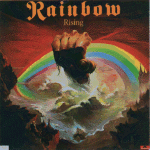 Rainbow-Rising (Polydor) 1976
1."Tarot Woman" (6:08)
2."Run with the Wolf" (3:47)
3."Starstruck" (4:04)
4."Do You Close Your Eyes" (2:58)
5."Stargazer" (8:27)
6."A Light in the Black" (8:11)
"Rising" displays the classic Rainbow lineup and is, in my opinion, one of the best albums ever recorded! The bass player is Jimmy Bain (later to play with Dio in...well, DIO), keyboards are done by Tony Carey, plus the consummate drummer Cozy Powell (Whitesnake, Black Sabbath, etc. etc. etc.) "Starstruck," "Stargazer" and "A Light in the Black" are all AWESOME!!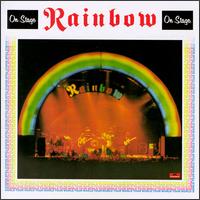 Rainbow-On Stage (Polydor) 1977
1. "Kill The King" (5:31)
2. Medley: "Man On The Silver Mountain/Blues/Stqarstruck" (11:15)
3."Catch The Rainbow" (15:36)
4. "Mistreated" (13:07)
5. "Sixteenth Century Greensleeves" (7:37)
6. "Still I'm Sad" (11:05)
This album, while being a great live album, always bugged me slightly. Why the heck did they not include "Stargazer," the band's best song ever, and one that they definitley played during this time! OK, it is available on some expensive imports but why did they not include it on "On Stage." Argh! Well, besides that minor irritation, "On Stage" features some great extended versions of "Catch the Rainbow" and "Mistreated," a song from Blackmore's Deep Purple days. "Kill the King" is song which would show up on their next studio album, but made it's debut on this live album and is another great song. Of course no concert featuring the mighty Dio would be complete without Ronnie crying out, "I'm the man, I'm the man, You're the the man...We're all the maaaaaaaaaannnn." HA! Ronnie James Dio rules!
Liege Lord and Primal Fear have covered "Kill the King."

Rainbow-Long Live Rock & Roll (Polygram) 1978
1."Long Live Rock 'n' Roll" (4:19)
2."Lady of the Lake" (3:37)
3."L.A. Connection" (4:58)
4."Gates of Babylon" (6:46)
5."Kill the King" (4:28)
6."The Shed (Subtle)" (4:45)
7."Sensitive to Light" (3:04)
8."Rainbow Eyes" (7:11)
One of the finest early heavy metal albums ever made. "Gates of Babylon" is a killer song and personally one of my favorites on this album. Of course the title tracks is another excellent song and has managed to stay alive throughout Dio's career even after Rainbow. I've read about 20 different stories as to why Dio left, or was kicked out, after this album so I really have no clue what really happened. I do know Ronnie went on to revive Black Sabbath's career.
The Dio tribute, Holy Dio: A Tribute to the Voice of Metal, contains cover versions of several songs from Rainbow's first three albums: "Man on the Silver Mountain" (Hammerfall), "Temple of the King" (Angel Dust), "Still I'm Sad" (Axel Rudi Pell), "Long Live Rock'n'Roll" (Gamma Ray), "Gates of Babylon" (Yngwie Malmsteen), "Kill the King" (Primal Fear), and "Rainbow Eyes" (Catch the Rainbow).
'Kill the King' has also been covered by a number of other bands including Heathen and Stratovarious.
I sort of lost interest in Rainbow after Dio left and only recently picked up a few of the post-Dio discs when I've stumbled across them in the used bins.

Rainbow-Straight Between the Eyes (Polydor) 1982
1."Death Alley Driver" (4:42)
2."Stone Cold" (5:17)
3."Bring on the Night (Dream Chaser)" (4:06)
4."Tite Squeeze" (3:15)
5."Tearin' Out My Heart" (4:03)
6."Power" (4:26)
7."MISS Mistreated" (4:27)
8."Rock Fever" (3:50)
9."Eyes of Fire" (6:37)
In high school I thought the album cover was cool, but I never could get into the overtly commercial pop metal that Blackmore was pumping out. "Stone Cold," the one hit from the album, is a good melodic hard rock song. The rest is sort of forgettable compared to anything from the Dio-era.

Rainbow-Bent out of Shape (Polydor) 1983
1."Stranded" (4:26)
2."Can't Let You Go" (4:21)
3."Fool for the Night" (4:04)
4."Fire Dance" (4:29)
5."Anybody There"-instrumental (2:37)
6."Desperate Heart" (4:03)
7."Street of Dreams" (4:26)
8."Drinking with the Devil" (3:43)
9."Snowman"--instrumental (4:32)
10."Make Your Move" (3:56)
This album sounds just like the one before it. "Street of Dreams" sounds just like "Stone Cold!" A legend like Ritchie Blackmore is capable of so much more than this. I guess if I forget who this band is made up of, this is not such a bad disc. Vocalist Joe Lynn Turner, who has been with Rainbow for the last three albums, went on to join Yngwie Malmsteen and later rejoined Ritchie Blackmore in Deep Purple. (Joe is a good vocalist but could never even touch the greatness of Ian Gillan or Ronnie James Dio)

Rainbow-Stranger in Us All (Fuel 2000)1998
1."Wolf to the Moon" (4:16)
2."Cold Hearted Woman" (4:31)
3."Hunting Humans (Insatiable)" (5:45)
4."Stand and Fight" (5:22)
5."Ariel" (5:39)
6."Too Late for Tears" (4:56)
7."Black Masquerade" (5:35)
8."Silence" (4:04)
9."Hall of the Mountain King" (5:34)
10."Still I'm Sad" (5:22)
Ritchie was in and out of Deep Purple through the years. Apparently his ego is beyond that of even Yngwie Malmsteen's which has caused some serious fights between him and Gillan. In any case, at this point, Ritchie was out of Deep Purple and put out this solo disc with a bunch of unknown musicians. I actually like it better than any of the Joe Lynn Turner-era discs as it retains some of the gothic medieval ambiences of Rainbow's earlier material.