Tribute Discs
Despite the fact that most people claim to hate tribute discs, they obviously sell well or record companies wouldn't continue to put them out. Depending on how you look at it tributes are either cash cows put out by a greedy record company to make money off ill-recorded classic songs, or they are enjoyable tribute compilations that give newer bands the chance to pay homage to musicians that have influenced their sound. I tend to think it's a little of both, but I tend to like them.
Thunderbolt - A Tribute to AC/DC (D-Rock) 1998
1. "Highway to Hell" -Quiet Riot (3:59)
2. "Little Lover" -w/Sebastian Bach, Warren DeMartini, Billy Sherwood, Bobby Blotzer (4:36)
3. "Back in Black" -w/Joe Lynn Turner, Phil Collen, Jeff Pilson, Simon Wright (4:30)
4. "Live Wire" -The Sensations Whiskiteer Band w/ Whitfield Crane (5:50)
5. "Sin City" -w/ Jack Russell, Mark Kendall, Sean McNabb, Bobby Blotzer, Bruce Gowdy (4:55)
6. "Ride On" - The Sensations Whiskiteer Band w/ Whitfield Crane (5:39)
7. "Shake a Leg" - John Corabi,Bob Kulick, Billy Sheehan, Pat Torpey (4:20)
8. "Whole Lot of Rosie" -w/Stephan Pearcy, Tracii Guns, John Alderete, Jay Schellen, Bruce Gowdy (4:20)
9. "Night Prowler" -w/ Dave Meniketti, Tony Frankin, Simon Wright, James Morley (5:43)
10. "It's a Long Way to the Top" -w/ Lemmy Kilmister, Jake E. Lee, Simon Wright, James Morley (5:37)
11. "Walk All over You" -Anthrax w/ Dee Snider (4:53)
12. "TNT" - w/Sebastian Bach, Kelly Deal, Jimmy Flemion (3:42)
Sort of a generic sounding tribute although with the list of names above, you'd expect something outstanding. There are some decent numbers, especially "Walk All Over You," as song the features Anthrax performing with Dee Snider singing. However, the majority of this disc just sounds generic. I really think when the individual bands get to put their own unique style into the songs it does more for the sound, not unlike on the "Holy Dio" or "A Tribute to Judas Priest: Legends of Metal" cds. Just bringing a bunch of big name musicians into the studio to add their parts just doesn't work as well. Picked up this disc for $4.
Blues on Fire/Sweet Emotion: Songs of AEROSMITH (Heavy Hip Mama) 2001
1. "Cryin'" performed by Otis Clay (5:16)
2. "Pink" performed by Gerad McClendon (4:12)
3. "Walk This Way" performed by Pinetop Perkins /Rusty Zinn (4:49)
4. "Last Child" performed by Richardson, Cathy /Wayne Baker Brooks (4:04)
5. "Big Ten Inch Records" performed by Marshall Crenshaw / Sugar Blue (3:02)
6. "One Way Street" performed by Lou Ann Barton (4:30)
7. "Back in the Saddle" performed by Lou Gramm / Sugar Blue (4:23)
8. "Dream On" performed by Kim McFarland (4:58)
9. "Draw the Line" performed by Robinson (4:15)
10. "Rag Doll" performed by Joe Louis Walker (5:00)
11. "Sweet Emotion" performed by Donald Kinsey (4:16)
12. "Dude I Look Like a Lady" performed by Crystal Taliefero (4:12)
13. "Train Kept on Rollin'" performed by "Homeboy"David Edwards (2:43)
I can't imagine even a casual fan of Aerosmith or the blues not enjoying this disc. Thirteen Aerosmith songs rearranged and performed by real blues musicians, as opposed to rock stars pretending to be blues artists. Being a huge Aero fan myself, I couldn't resist this. Since I am also a casual fan of the blues, I was in total bliss in my car as I rocked this cd for close to an hour. Funny thing is, apparently this disc angered a bunch of blues purists, who felt that their favorite blues artists had sold out. OK, whatever. Even AMG gave this disc a bad review. Whatever! You freaking reviewers have no clue. This is an outstanding disc. "Sweet Emotion" is one of the best tribute discs to come out in a while. It offers some smokey, sultry, down home musical interpretations of all-time Aero favorites.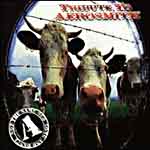 Not the Same Old Song & Dance-A Tribute to AEROSMITH (Deadline)
Produced by Bob Kulick
1. Back In The Saddle (w/ Mark Slaughter, Albert Lee, Rudy Sarzo, Frankie Banali) (4:28)
2. Rag Doll (w/ Ted Nugent) (4:50)
3. Chip Away At the Stone (w/ Vince Neil, Blues Saraceno) (4:19)
4. Last Child (w/ Mickey Thomas, Earl Slick, Nathan East, Stephen Ferrone) (3:57)
5. Sweet Emotion (w/ Jack Blades, Tommy Shaw, Randy Castillo) (4:13)
6. Dream On (w/Dio, Yngwie Malmsteen, Stu Hamm, Greg Bissonette) (4:28)
7. Walk This Way (w/Fee Waybill, Steve Lukateher. Tim Bogert, Tommy Aldrgidge) (3:48)
8. Draw the Line (w/ Jeff Keith, Tommy Skeoch, Tony Levin, Eric Singer) (4:02)
9. Same Old Song & Dance (w/ Jack Russel, Skunk Baxter, Jeff Poilson, Bobby Blotzer, Edgar Winter) (4:08)
10. No Surprise (w/ Jani Lane, Chris Holmes, Adrian Perry, Stephen Riley) (4:26)
11. Toys in the Attic (w/ Stephen Pearcy, Traci Gunns, Phil Soussan, Aynsley Dunbar) (3:27)
Of course I had to get this one! It's a tribute to AEROSMITH. If any band deserves a tribute it's Aerosmith, a band who has been churning out killer RnR for over three decades. The difference between this tribute and most others is that the variances between the songs are not as noticeable because this is not a bunch of different bands recording Aero-songs but rather a bunch of different artists coming into the studio to record their parts for Aero-songs. My two favorites are Ted Nugent's wango version of Rag Doll and Dio/Yngwie's smoking version "Dream On." Vince Neil does a pretty good job on "Chip Away the Stone," a somewhat obscure selection, but a good one none-the-less. Of course, none can even come close to the classic originals, but it is still fun to hear these different interpretations. Other performers include former members of Warrant, Tesla, Damn Yankees, Ratt, and Great White.
Janie's Got a Gun-A Tribute to AEROSMITH (Dressed to Kill)
1."Pink"- Tom McNally
2."Walk This Way" -The Butchers
3."Dream On" -Kitty Litter
4."Janie's Got A Gun" -Sonia Archer
5."Sweet Emotion" -The Butchers
6."Fine" -Sam Blue
7."Big Ten Inch Record"- Wolfie
8."Love In An Elevator" -The Darlicks
9."Toys In The Attic" -Wolfie
10."Angel" -Kristen De Beauvoir
11."Dude (Looks Like A Lady)" -Tom McNally
12."I Don't Want To Miss A Thing" -Sonia Archer
Imagine the local country garage band in your area learned a bunch of Aerosmith songs and performed them at the local pub on kerokee night. Now imagine that someone recorded this monstrosity. Perhaps if you had a few brews that night you might have enjoyed the evening of entertainment, but revisiting it on cd is nothing short of a painful, pointless exercise. Seriously, this Aerosmith tribute is that bad. Yet another in the row of Aerosmith tribute albums with artists that nobody has ever heard of. It was released by the UK label "Dressed To Kill Records" on January 30, 2001. Even the packaging is cheap. Besides the nicely designed cover, there is nothing printed on the inside of the cover. Obviously an attempt to cash in on Aerosmith fans. This disc was given to me by a generous trader who paid $3 and told me it wasn't worth that. Ouch! Being the Aero-collector, however, I will be holding onto this disc.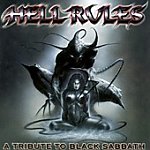 Hell Rules-A Tribute to BLACK SABBATH (Dwell)
1. Agent Steel "Sweet Leaf" (5:25)
2. Hostile Intent "Electric Funeral" (5:36)
3. Coffin Texts "Disturbing the Priest" (5:35)
4. Steel Prophet "Neon Knights" (3:56)
5. Society I "Who Are You?" (4:49)
6. Division "Heaven and Hell" (4:41)
7. Hate Theory "Sabbath Bloody Sabbath" (6:19)
8. Infamy "Cornucopia" (3:00)
9. Blood Coven "N.I.B." (4:53)
10. Rise "Into the Void" (5:50)
11. Debauchery "Paranoid" (2:35)
12. Tyrant "Children of the Grave" (7:01)
There are a ton of Black Sabbath tributes out. The thing about this one is that it actually contained some songs from the Ronni James Dio and Ian Gillan era of Sabbath. The bad thing about this one is once again, Dwell has put out a tribute with mostly crappy death metal bands destroying classic metal songs. Coffin Text totally destroys the Ian Gillan era "Disturbing the Priest." (Like anyone could improve on Ian Gillan!) Hate Theory's version of "Sabbath Bloody Sabbath" just sucks! Anthrax did a far superior version on their "I'm The Man" ep. Infamy's vocalist, with his "wish I were in Cannibal Corpse" vocals, makes "Cornacopia" unlistenable. (What is it with death metal bands, do they all share the same vocalist?) There are a few choice songs on this disc however. Agent Steel's version of "Sweet Leaf" is awesome. Steel Prophet does a decent version of "Neon Nights." (this same song also appears on Century Media's Dio tribute AND Dwell's Dio tribute AND Steel Prophet's "Genesis" disc.) Also, Tyrant does a good job on "Children of the Grave." Buy cheap or pass as there are only a few choice cuts on this disc. For those who care, Dwell released a Hell Rules 2 recently featuring more death metal band botching up Sabbath classics.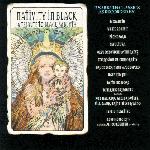 Nativity in Black-A Tribute to BLACK SABBATH (Columbia)
1. Biohazard "After Forever" (5:46)
2. White Zombie "Children of the Grave" (5:49)
3. Megadeth "Paranoid" (2:31)
4. 1000 Homo DJ's "Supernaut" (6:39)
5. Ozzy Osbourne w/ Therapy? "Iron Man" (5:25)
6. Corrosion of Conformity "Lord of this World" (6:25)
7. Sepultura "Symptom of the Universe" (4:15)
8. Bullring Brummies "The Wizard" (5:01)
9. Bruce Dickinson w/ Godspeed "Sabbath Bloody Sabbath" (5:36)
10. Ugly Kid Joe "N.I.B." (5:28)
11. Faith No More "War Pigs"-live (7:02)
12. Type O Negative "Black Sabbath" (7:45)
Columbia's tribute to Sabbath is only only slightly better than most of the Sabbath tributes I have heard. Bigger name artists pay tribute to Tony, Geezer, Bill, and Ozzy. (Bigger is not always better, especially in this case.) Missing is any trace of Dio or Gillan era Sabbath. Also missing on some of these tracks is any trace of talent. Faith No More's live version of "War Pigs" is a joke. It sounds at times like vocalist Mike Patton is mocking Sabbath, and at one point instead of singing the words he sings, "Blah, blah, blah." The song is just terrible! Biohazard shows how little talent their vocalist has by totally annihilating "After Forever." Perhaps they would have been able to "drop some respect to the almighty Black Sabbath" better by not appearing on this cd. (Want to hear a good version of "After Forever?" Check out Deliverance's version on "What A Joke!") Possibly the worst of all is the pathetic, goth version of "Black Sabbath" by Type O Crap, er I mean, Negative. I'm sorry but they just plain SUCK! Even the track that Ozzy himself sings on isn't very good. (What's up with that?) Megadeth, on the other hand, pulls off a tremendous version of "Paranoid." White Zombie hands in an eerie, yet fun interpretation of "Children of the Grave," and Seputura tears it up with "Symptom of the Universe." Bruce Dickinson, a man deserving of his own tribute, pulls off a very raw but respectable version of "Sabbath Bloody Sabbath." What is cool about this tribute is that the bands who are on it actually sound like fans who are thrilled to be able to pay homage to one of the greatest metal bands ever. This disc is worthy of repeated listens but make sure that the skip button is close by.
Well, since this disc was such a good seller, another Nativity In Black cd was released by Columbia. Yet another disc to ad to my WANT list.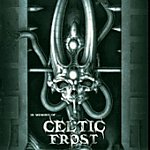 In Memory of CELTIC FROST (Dwell)
1. Morgion "Innocence and Wrath/The Usurper" (4:12)
2. Enslaved "Procreation (of the Wicked)" (4:15)
3. Slaughter "Dethroned Emperor" (4:49)
4. Mayhem "Visual Aggression" (3:57)
5. Inner Thought "Morbid Tales" (3:39)
6. Sadistic Intent "Return to the Eve" (4:14)
7. Cianide "Dawn of Meggido" (5:30)
8. Divine Eve "Visions of Mortality" (4:58)
9. Grave "Mesmerized" (3:17)
10. Apollyon's Sun "Babylon Fell" (5:41)
11. Opeth "Circle of the Tyrants" (5:11)
12. Closedown "Danse Macabre"-instrumental (9:58)
13. Emperor "Massacra" (2:55)
14.13 "Triumph of Death" (7:40)
A tribute to the legendary (and defunct) Celtic Frost, done by a bunch of death & black metal bands, most of whom I've never heard of. (Actually, the last two tracks are Hellhammer songs.) Well, to be honest, this cd is a good listen but I can't really pick out any stand out cuts. Overall the music is cool just because its Celtic Frost music, but nobody really made the songs any better than the originals in my opinion.
Huminary Stew- A Tribute to ALICE COOPER (Deadline)
1. "Under My Wheels" w/ Joe Elliot, Phil Collen, Bob Kulick, Chuck Wright, Pat Torpey, Clarence Clemens (3:20)
2. "Schools Out" w/Dave Mustaine, Marty Friedman, Bob Kulick, Eric Singer Bob Daisly (3:58)
3. "No More Mr. Nice Guy" w/ Roger Daltry, Slash, Bob Kulickm Mike Inez, Carmine Appice, David Glen Isley (3:38)
4. "Welcom to My Nightmare" w/ Ronnie James Dio, Steve Lukather, Bob Kuliuck, Phil Soussan, Randy Castillo,
Paul Taylor (5:10)
5. "Cold Ethyl" w/ Vince Neil, Mick Mars, Bob Kulick, Billy Sheehan, Simon Phillips (4:02)
6. "Black Widow" w/ Bruce Dickinson, Adrian Smith, Bob Kulick, Tony Franklin, Tommy Aldridge, David Glen Eisley (4:46)
7. "Go To Hell" w/ Dee Snider, Zakk Wylde, Bob Kulick, Rudy Sarzo, Frankie Banali, Paul Taylor (3:56)
8. "Billion Dollar Babies" w/ Phil Lewis, George Lynch, Bob Kulick, Stu Hamm, Vinnie Colaiuta, Derek Sherinian, David Glen Eisley (3:56)
9. "Only Woman Bleed" w/ Glen Hughes, Paul Gilbert, Bob Kulick, Michael Porcara, Stephan Forrone, Paul Taylor, David Glen Isley (5:42)
10. "Eighteen" w/ Don Dokken, Jon Norum, Bob Kulick, Tim Bogert,Gregg Bissonette, David Glen Isley (5:09))
11. "Elected" w/ Steve Jones, Duff McKagen, Bill Duffy, Matt Sorum (3:59)
This is the second Dead Line tribute that I have bought. As with the Aerosmith tribute, Bob Kulick produces the disc and plays on almost every song. Bob Kulick is a well known studio musician who played with Meatloaf and filled in for Ace Frehely on several Kiss albums. What I like about this tribute is the quality of the material. Hearing legends like Roger Daltrey (The Who) and Ronnie James Dio sing tribute to Alice Cooper is pretty cool. The other thing about these Deadline tributes is that all the songs are well produced and the sound quality doesn't waver from song to song. What I don't like about these tributes, as compared to the ones where each band gets to put their own spin on the song, is that the songs are a bit more generic. Still this is only a minor complaint. I mean after all, who could not love hearing Dio sing "Welcome to my nightmare, I hope I didn't scare you..." HA! Great stuff. Picked this one up for $5.99.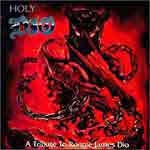 Holy Dio-A Tribute to the Voice of Metal-Ronnie James DIO (Century Media)
DISC ONE
1. Blind Guardian "Don't Talk to Strangers" (4:48)
2. Primal Fear "Kill the King" (4:33)
3. Doro "Egypt (The Chains Are On)" (6:11)
4. Jag Panzer "Children of the Sea" (5:16)
5. Fates Warning "Sign of the Southern Cross" (7:38)
6. Catch the Rainbow "Rainbow Eyes" (7:06)
7. Gamma Ray "Long Live Rock'n'Roll" (3:46)
8. Swan?/T?gtgren "Country Girl" (4:03)|
9. Yngwie Malmsteen "Gates of Babylon" (7:11)
DISC 2
1. Grave Digger "We Rock" (4:14)
2. Hammerfall "Man on the Silver Mountain" (3:25)
3. Holy Mother "Holy Diver" (4:07)
4. Stratovarius "Kill the King" (4:35)
5. Alex Rudi Pell "Still I'm Sad" (4:37)
6. Enola Gay "Heaven and Hell" (6:18)
7. Steel Prophet "Neon Knights" (3:54)
8. Solitude Aeturnus "Shame on the Night" (6:11)
9. Destiny's End "The Last in Line" (4:53)
10. Angel Dust "Temple of the King" (6:33)
There is one thing for sure; Century Media knows how to do a tribute cd right. They use bands that were actually influenced by the artist being honored and that will appeal to fans of the style of music. Seriously, how could I pass up a disc that has some of my favorite bands doing songs by one of my favorite singers? The material is a sampling of Dio's songs from Black Sabbath, Rainbow, as well as some of his earlier solo material. I sort of wish some of the later Dio solo stuff would have been covered. A few highlights are Fate's Warning's AWESOME version of "Sign of the Southern Cross." (If only their newer material were as good), Destiny's End-The Last in Line, Hammerfall's "Man on the Silver Mountain," Blind Guardian's "Don't Talk To Strangers." Ah, heck, the whole disc is good. I was wondering though, how the heck does Steel Prophet get on so many tribute cds? Geez, I've seen them on no less than ten tribute discs, most of them for Dwell.

Awaken the Demon-Tribute to Dio (Dwell)
1. Division "Rainbow in the Dark" (3:36)
2. Aurora Borealis "We Rock" (4:09)
3. Steel Prophet "Neon Nights" (3:56)
4. Enertia "Invisible" (5:40)
5. Ion Vein "Don't Talk to Strangers" (4:33)
6. Opposite Earth "Caught in the Middle" (4:23)
7. Black Earth "King of Rock and Roll" (3:48)
8. Imagika "Evil Eyes" (3:18)
9. Tyrant "Holy Diver" (4:22)
10. Division "Heaven & Hell" (4:40)
11. Psycho Scream "Last in Line" (5:40)
12. Dofka "Egypt (The Chains Are On)" (6:45)
13. Seven Witches "Shame on the Night" (6:27)
Hmm, after already owning the incredible double disc "Holy Dio" tribute, this one is kind of anti-climatic. Steel Prophet's cover of "Neon Nights" is the same version on that apprears on both the "Hell Rules" Black Sabbath tribute and the "Holy Dio" tribute, but is an excellent version and probably one of the best on this disc. Steel Prophet are also the only band on this disc that I am familiar with, although some of these bands have appeared on other Dwell tributes. I also like Division's version of "Rainbow in the Dark" which takes out the keyboards and replaces it with a slick guitar lead. I've only listened to song #2 once, and have pushed the skip button every time since then. Somehow, a death metal band, butchering a classic Dio song, just does not belong.
The Doors Stoned Immaculate (Elektra)
1. Stone Temple Pilots "Break On Through"
2. Creed "Riders On The Storm"
3. Train "Light My Fire"
4. Smash Mouth "Peace Frog"
5. Days Of The New "L.A. Woman"
6. Aerosmith"Love Me Two Times"
7. The Doors "Under Waterfall"
8. The Cult "Wild Child"
9. Jim Morrison "Roadhouse Rap"
10. John Lee Hooker & Jim Morrison "Roadhouse Blues"
11. William S. Burroughs "Is Everybody In?"
12. Oleander"Hello I Love You"
13. Ian Astbury Of The Cult "Touch Me"
14. Perry Farrell & Exene "Children Of The Night"
15. Bo Diddley "Love Her Madly"
16. The Doors "The Cosmic Movie"
17. Days Of The New "The End"
This disc rekindled my interest in the Doors. My main interest in picking it up was for the Aerosmith rendition of "Love Me Two Times." After checking out the whole disc, I began searching for Doors discs.

A Call To Irons-
A Tribute to IRON MAIDEN (Dwell)

1. Steel Prophet "Ides of March/Purgatory" (5:27)
2. Ancient Wisdom "Powerslave" (5:54)
3. Vital Remains "The Trooper" (4:05)
4. Angel Corpse "Genghis Khan"-instrumental (3:27)
5. Solitude Aeturnus "Hallowed Be Thy Name" (7:34)
6. New Eden "Phantom of the Opera" (6:34)
7. Opeth "Remember Tomorrow" (5:01)
8. Morgion "To Tame a Land" (10:06)
9. Evoken "Strange World" (6:59)
10 .Opera IX "Rime of the Ancient Mariner" (13:03)
11. Absu "Transylvania"-instrumental (3:42)


A Call to Irons 2-
A Tribute to IRON MAIDEN (Dwell)

1. Engrave "Invaders" (3:15)
2. Steel Prophet "Gangland" (3:52)
3. From the Depths "Iron Maiden" (3:37)
4. Terror "Total Eclipse" (4:18)
5. Acheron "Wrathchild" (2:51)
6. Possession "Revelations" (6:06)
7. Ion Vein "Killers" (5:18)
8. Mystic Force "Where Eagles Dare" (6:12)
9. Deceased "2 Minutes to Midnight" (5:45)
10. October 31 "Public Enema Number One" (3:51)
11. Prototype "Sea of Madness" (5:52)
12. Diesel Machine "Children of the Damned" (4:38)
13. Abattoir "Sanctuary" (3:10)
Dwell is known for these underground tributes. Depending on how you look at it they are either crappy tributes put out by a greedy record company making money off ill-recorded classic songs by unknown bands, or they are enjoyable tributes that give some underground bands, who normally wouldnít be given the chance, to pay homage to some of their favorite bands. I look at it as the second choice as I enjoy most of these tributes. In my case, I tend to like the bands who are not of the death metal variety. On the Maiden tributes, bands like New Eden, Steel Prophet, Solitude Aeturnus, Mystic Force and Possession bring life to classic Maiden songs while death metal bands like Vital Remains, Engrave and From the Depths just ruin the songs. Acheron totally obliterates "Wrathchild." Death vocals and downtuning just don't go well with Iron Maiden tunes! I must say, however, that Morgion's version of "Tame a Land" was interesting enough to cause me to search out more of their music. Deceased, who are a death metal band as well, figured out that Maiden must not be messed with and tuned up their guitars and toned down the death growls to a more listenable shout. A Call to Irons is much more listenable than it's shovel to heard disc, A Call to Iron s 2. Too bad this wasn't broken down into a death metal tribute and a power metal tribute, then I could have just bought the one and spared myself from the death metal crap.
A Tribute to Judas Priest:
Legends of Metal" (Century Media)

1. Helloween "The Hellion/Electric Eye" (4:05)
2. Fates Warning "Saints in Hell" (5:06)
3. Gamma Ray "Victim of Changes" (7:20)
4. Devin Townsend "Sinner" (7:55)
5. Mercyful Fate "The Ripper" (2:51)
6. Rage "Jawbreaker" (3:26)
7. Radaka "Night Crawler" (5:51)
8. Doom Squad "Burnin' Up" (3:57)
9. Lions Share "A Touch of Evil" (5:39)
10.Testament "Rapid Fire" (3:42)
11.U.D.O. "Metal Gods" (4:09)
12.Saxon "You've Got Another Thing Comin'" (5:31)

A Tribute to Judas Priest:
Legends of Metal Vol. II" (Century Media)

1. Iced Earth "The Ripper" (2:44)
2. Blind Guardian "Beyond the Realms of Death" (7:02)
3. Heavens Gate "The Sentinel" (5:00)
4. Nevermore "Love Bites" (5:21)
5. Gamma Ray featuring Ralf Sheepers "Exciter" (5:01)
6. Forbidden "Dissident Aggressor" (2:45)
7. Angra "Painkiller" (6:04)
8. Overkill "Tyrant" (4:00)
9. Kreator "Grinder" (3:57)
10. Skyclad "Dreamer Deceiver" (4:05)
11. Stratovarius "Bloodstone" (3:55)
12. Virgin Steele "Screaming for Vengeance" (5:11)
13. Leviathan "Night Comes Down" (4:19)

These two discs are AWESOME!!! Every Priest fan should have them. Most of these bands are legends themselves, especially bands like Saxon and Fates Warning. What more could anyone ask for but some of my favorite bands covering songs from one of my all time favorite bands. Did I mention these discs are AWESOME?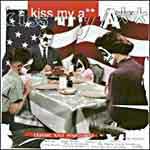 Kiss My Ass-classic KISS Regrooved (Mercury)
1.   Lenny Kravitz "Deuce" (4:10)
2.   Garth Brooks "Hard Luck Woman" (3:14)
3.   Anthrax "She" (4:53)
4.   Gin Blossoms "Christine Sixteen"(3:09)
5.   Toad The Wet Sprocket "Rock and Roll All Night" (2:54)
6.   Shandi's Addiction "Calling Dr. Love" (4:51)
7.   Dinosaur Jr "Goin' Blind" (3:24)
8.   Extreme "Strutter" (4:39)
9.   Lemonheads "Plaster Caster" (3:02)
10.   The Mighty Mighty Bosstones "Detroit Rock City" (4:21)
11.   Yoshiki "Black Diamond" (7:07)
Leave it to Kiss to put out their own tribute cd. This is one of those tributes that is really hard to sit down and listen to all the way through due to the varied music styles. Rumor was that there were suppose to be more heavy bands on this project like the Galactic Cowboys, Ugly Kid Joe and Megadeth. Who knows what happened to those. The Cowboys did release "I Want You" on their own "Feel the Rage" ep and were thanked in the liner notes. Megadeth are mentioned in a recorded phone message from Gene Simmons in the opening to "Detroit Rock City." In any case, the highlights of this disc for me are "She" by Anthrax (the forth KISS song they have done), "Strutter" by Extreme and surprisingly "Detroit Rock City" by The Mighty Mighty Bosstones. The sax solo in place of the guitar solo is hilarious. I think the only song that did anything on the charts was ìHard Luck Womanî by Garth Brooks which was never actually released as a single. Kiss my Ass is a novelty collectorís item with a few choice jems, but a lot of stinkers. This cd is also known as Kiss My Asterick as some versions have astericks in place of the "ss" in "Kiss My A**." Bought mine for a mere $5.99.
Spacewalk-A Tribute to Ace Frehley (Shrapnel)
1. "Duece" -Marty Friedman (3:47)
2. "Shock Me" -Gilby Clarke (3:23)
3. "Rip It Out" -Anthrax w/ Scott Ian & Gilby Clarke lead vox (3:47)
4. "Hard Luck Woman" -Ron Young & Jeff Watson (3:11)
5. "Snowblind" -Snake Sabo (4:01)
6. "Rock Bottom" -Sebastian Bach (3:07)
7. "Parasite" -Tracii Guns (3:16)
8. "Cold Gin" -John Norum (4:10)
9. "New York Groove" -Bruce Bouillet (4:52)
10. "Fractured Mirror" -Dimebag Darrel (6:35)
I like this tribute better than the "official" Kiss My Ass tribute that Gene Simmons put together. This tribute is more consistent and features less styles of music, which in my opinion, makes for a more liteneable album overall. One similarity is that Anthrax appears on both tributes, although doing different songs. Most of the drumwork throughout the album is done by Scott Travis (Judas Priest/Fight). Most surprising song to me was the pehnomenal "Fractured Mirror" with Dimebag shredding all over, even surpassing the original if that is possible. Most of the songs don't stray far from the originals, however, creative liscense was used here and there, especially on some of the solos. The once solo I wish wasn't messed with is in "Shock Me" as it is such an intregal part of the song. It's almost like changing the lyrics; it's just not the same. Overall, however, a killer tribute to a guitarist who definetely had his own style and charisma-Ace! ACE RULES!
The Spirit of the Back Rose-A Tribute to Phillip Parris Lynott (Record Heaven) 2000
DISC ONE
Philomena Lynott-"Dublin" (:59)
Celtic Legacy-"Glen Corr (The Spirit of the Vagabond)" (4:39)
Lotus-"Gonna Creep Up On You" (3:32)
Loaded Dice-"It's Only Money" (3:11)
Randy Bachman/BTO-"The Boys Are Back In Town" (5:21)
Locomotive Breath-"Warriors" (4:45)
Carl Dixon-"Romeo and the Lonely Girl" (4:21)
Southern Rock Allstars-"Southbound" (5:10)
Yellow Pearl-"Rocky" (3:35)
Motherlode-"Killer Without a Cause" (3:47)
Ten Jinn-"Angel of Death" (6:29)
Dogface-"Suicide" (4:43)
Ian Osbourne &
.........the Voodoo Hounds-"Fighting My Way Back" (3:09)
Robin George-"King's Call" (3:08)
Damon Johnson-"Borderline" (4:17)
Tribe Of Gypsies-"Parisienne Walkways" (5:07)
Primal Fear-"Out in the Fields" (3:58)
Thin Az Lizzy-"Little Darling" (2:45)
DISC TWO
Roddy Cleere-"A Song For While I'm Away" (:44)
Robin George-Crying Diamonds" (4:53)
Nitzinger-"Cowboy Song" (4:39)
Demon-"Emerald" (4:31)
The Boys Are Back-"Johnny" (3:59)
Kurgan¹s Bane-"Opium Trail" (3:42)
Ken Hensley-"Dear Lord" (3:11)
Fatt Elizabeth-"Freedom Song" (4:03)
Doc Holliday-"Jailbreak" (4:15)
Bigelf-"Bad Reputation" (3:59)
Hobbit-"Fool's Gold" (3:59)
Thin Lipztick-"Do Anything You Want" (3:37)
Celtic Legacy-"Vagabons of the Western World" (4:16)
Vick LeCar's Blue Moon-"Thunder & Lightning" (4:33)
Parris-"Baby Please Don't Go" (5:06)
Sinner-"The Sun Goes Down" (6:12)
Thin Az Lizzy -"Ode to a Black Man" (5:13)
Now this is a tribute cd! Even the worst songs aren't bad, and the best songs are downright fabulous. Of course being a huge Thin Lizzy and Phil Lynott fan since I was a kid, I guess they couldn't really go wrong. Hmmm, perhaps I should not have said that as I have been a huge Aerosmith fan for that long too and look at the terrible "Janie's Got a Gun" cd. Anyhow, the song selection here is stupendous. Most of the songs are Thin Lizzy numbers, but there are a few from his solo albums and from Gary Moore's solo discs as well. Most notable is Roy Z's Tribe Of Gypsies doing "Parisienne Walkways." This song features the vocal talents of ex-Seventhsign singer Gregg Analla. Both discs start off with a spoken poem written by Phil. Disc one is Phil's mom reciting "Dublin." The packaging on this disc is also worth mentioning. The double disc features two booklets; one of each disc. The discs themselves are interesting as one is a gold cd while the other is silver. There are plenty of cool liner notes, many of which were written by the band's who are paying tribute. The bands themselves are from all around the globe, which is very cool, some being well known, international bands, others being Thin Lizzy tribute bands, and still others popular local acts. This one is well worth my hard earned cash. Picked it up directly through the Southern Rock Allstars' website.


Overload-A Tribute to METALLICA (Dwell)
1. Crematorium "Whiplash" (4:04)
2. From the Depths "Creeping Death" (6:17)
3. Terror "Jump in the Fire" (4:27)
4. Habeas Corpus "Fight Fire With Fire" (4:54)
5. Diesel Machine "The Thing That Should Not Be" (6:37)
6. Steel Prophet "Fade to Black" (6:44)
7. Prototype "Trapped Under Ice" (4:03)
8. Sickness "The Eye of the Beholder" (6:22)
9. Fongus "Enter Sandman" (4:54)
10. Castle of Pain "King Nothing" (4:34)
11. Fist "Damage, Inc." (4:16)
12. Engrave "Metal Militia" (5:20)
Well at least Dwell picked metal bands to cover Metallica songs. That's about the best I can say about this tribute. Most of these covers are pretty poor. There are a couple of exceptions, "Whiplash" by Crematorium is very cool. Steel Prophet, the only band on here I am familiar with, do a respectable version of "Fade to Black." The cover art is pretty funny as well. Found this used for $8.99. Hmm, wasn't worth it.

Modification-A Tribute to Steve Rowe and Mortification
1. Rosanna's Raiders "One Man" (4:07)
2. Petrol Money "Liquid Assets" (3:27)
3. Pots of Plastic "Lovesong" (4:25)
4. R.U.G. "Nocturnal" (3:28)
5. Cybergrind "Scrolls of the Megilloth" (4:20)
6. Roma "Your Life" (3:33)
7. Teramaze "Northern Storm" (3:38)
8. Wrench "Impulsation" (6:11)
9. Wise Guys "Noah Was A Knower" (5:47)
10. Mortification & Friends "Metal Missionary" (4:58)
This tribute was put out by friends of Steve Rowe in an effort to raise money for Steve's leukemia treatment. Many people did not expect Steve to live although thousands were praying for him and sending him donations. My own little church even took up an offering for Steve and sent it to him. Well, miraculosly, Steve pulled through and has NO SIGN of the cancer in his body! If ever there was a reason to say "Praise God," this would be it. In any case, I bought this disc to help Steve but I don't care for most of the covers on it. Mortification is a death/thrash band and some of the artists that covered Morty's songs are far removed from that style. Ther are a few exceptions like Teramaze's awesome version of "Northern Storm." R.U.G. actually make a HEAVIER version of "Nocturnal," if that is possible. Also like the Lightforce cover that the other members of Mortification did ("Metal Missionary"). Rosanna's Raiders original song dedicated to Steve is also cool. Biggest joke Roma "Your Life" and Wise Guys "Noah Was A Knower." Both of these covers should be illegal as they are just that bad.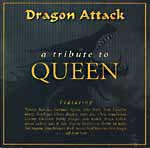 Dragon Attack-a tribute to QUEEN (D-Rock)
1. "I Want It All" (w/ Robin McAuley, Chris Impellitteri, Bob Kulick, Edward Harris Roth, Joay Schellen)
2. "Sheer Heart Attack" (w/ James LaBrie, Marty Friedman, Tony Frankiln, Carmine Appice)
3. "Another One Bites the Dust" (w/ Adam, John Petrucci, Rudy Sarzo, Tommy Aldridge)
4. "Save Me" (w/ Jeff Scott Soto, Bruce & Bob Kulick, Michaels Sherwood, Ricky Phillips, Eric Singer)
5. "We Will Rock You" (w/ Paul Shortino, Bob Kulick, Jay Schellen, Matt Laurent)
6. "We Are the Champions" (w/ Paul Shortino, Robby Kreger, Bob Kulick, Michael Sherwood, Tony Franklin, Carmine Appice)
7. "Tie You Mother Down" (w/ Lemmy Kilmister, Ted Nugent, Bob Kulick, Rudy Sarzo, Tommy Aldridge)
8. "Get Down Make Love" (w/ Glenn Hughes, Jake E. Lee, Bob Kulick, Tony Franklin, Carmine Appice)
9. "Keep Yourself Alive" (w/ Marc Boals, Yngwie Malmsteen, Rudy Sarzo, Tommy Aldridge)
10. "One Vision" (w/ James LaBrie, Bruce Bouillet, Bob Kulick, Ricky Phillips, Jay Schellen, Mike Portnay)
11. "It's Late" (Anthrax w/ John Bush & Scott Ian)
I stumbled across this disc in a cut out bin for $2.50. I almost passed it up until I saw that Ted Nugent and Lemmy (Motorhead) were teamed up to do "Tie Your Mother Down." Now how could I resist a combination like that? On top of this members of such stellar bands as Dream Theatre, KISS, Armored Saint, Anthrax, Yngwie Malmsteen, MSG, are teamed up to pay tribute to one of rock's legendary bands . This is a good tribute with part of the proceeds going to benefit AIDS research.

Isaiah 53:3-A Tribute to STRYPER (1340 Records)
1. Disciple "More than a Man" (3:53)
2. Blood n Fire "Surrender" (4:28)
3. Free "Lonely" (3:55)
4. Fringe "The World of You & I" (4:21)
5. Augensristall "The Abyss" (4:22)
6. Nailed "To Hell With The Devil" (3:32)
7. Derron's Tuba "Soldier's Under Command" (5:21)
8. One Bad Apple "You Know What To Do"(4:50)
9. The World Inside "Honestly" (4:46)
10. Honeymooner "Calling On You" (4:49)
11. Aimee Clark "I Believe in You" (3:20)
12. Estis P@RC "It's Up To You" (3:56)
13. Antioch "Free" (3:43)
14. Wonderboy Phd "Makes Me Wanna Sing" (3:01)
15. Blood n Fire w/ Racing Elijah "Loving You" (4:11)
Stryper were one of my favorite bands in the 80's. They were one of the few Christian bands that were ever successful in breaking into the mainstream market, so I think a tribute to them is justified. This is the second Stryper tribute I have bought. The first, Sweet Family Music-A Stryper Tribute, was more of a mockery than a tribute. Even the cover mocked the band with a bunch of bare foot nerds holding up Stryper records. What is it with these cheesy tributes? Techno bands and lame alternative bands do not belong on a heavy metal tribute? I got rid of that piece of trash. Well, "Isaiah 53:5" is not much better. Cuts 1 and 2 are passable. Nailed's heavy groove version of "To Hell With the Devil" is the best song on the cd. "Lonely" sounds like a sick cat is trying to sing; "The World of Your & I" just plain sucks; "The Abyss" wasn't even a song, it was just an album opener, so to do a cover version and call it a song is a joke. "Soldier's Under Command" is done by a band called Derron's Tuba, enough said? One Bad Apple presents a lame version of "You Know What to Do." "Honestly" as performed by The World Inside is so bad it's embarrassing. "It's Up To You" made me want to puke. Wonderboy Phd's version of "Wanna Sing" makes me wonder why these guys haven't been put out of their misery. The rest of the performances are not even worth mentioning. I'm so sick of these labels putting out BAD tributes just to cash in on a name. The music on this disc would not appeal to fans of Stryper, so I guess I wasted my hard earned cash. For a good example of a Stryper tribute see Guardian's "The Yellow & Black Attack is Back."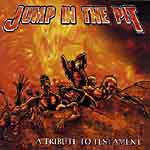 Jump in the Pit-A Tribute to TESTAMENT (Dwell)
1. Dog Faced Gods-Fury (3:52)
2. Time Is Coming-Wasteland (5:03)
3. Into the Pit-Prototype (2:49)
4. Face in the Sky-Scary German Guy (4:09)
5. Perilous Nation-Cold (5:14)
6. Sins of Omission-Ultimatum (4:43)
7. Return to Serenity-Horror of Horrors (4:25)
8. Trial by Fire-Catch 22 (4:38)
9. Practice What You Preach-Blackend (3:55)
10. Ride-Delusion (2:39)
11. Nightmare-Habeas Corpus (2:31)
This is one of the better Dwell Records tributes as even the death metal bands do justice to Testament's arsenal of songs. Favorites are Fury's charged up version of "Dog Faced Gods," Ultimatum's- "Sins of Omission," (of course!) Catch 22's-"Trial by Fire," and Blackend's- "Practice What You Preach." The only song I don't like is "Return to Serenity" as done by Horror of Horrors. Frankly I just don''t like the vocals. The other 10 songs are a good listen! Fury and Ultimatum have smokin' guitar lead work. "Nightmare" was engineered and mixed by ex-Testament guitarist James Murphy. (Big deal!) Actually one of the more listened to tribute discs in my collection.
Twisted Forever-A Tribute to the Legendary Twisted Sister (Koch)
1. "I Wanna Rock" - Lit
2. "Shoot 'Em Down" - Motorhead
3. "The Kids Are Back" - Nashville Pussy
4. "The Price" - Nine Days
5. "Wake Up The Sleeping Giant" - Chuck D
6. "Destroyer" - Anthrax
7. "Under The Blade" - Overkill
8. "The Fire Still Burns" - Cradle Of Filth
9. "Don't Let Me Down" - Vision Of Disorder
10. "Burn In Hell" - The Step Kings
11. "Ride To Live "(Live To Ride) - Fu Manchu
12. "We're Not Gonna Take It" - Joan Jett
13. "You Can't Stop Rock 'N Roll" - Sebastian Bach
14. "We're Gonna Make It" - Hammerfall
15. "I Am (I'm Me)" - Sevendust
16. "Sin City" - Twisted Sister
Well, at least there is a nice mix of old school and nu-metal. As usual for me, however, I prefer the old school stuff. Several of these bands are already favorites of mine, so of course I prefer their interpretations best. Lit doing 'I Wanna Rock' sounds very similar to the original. Motorhead, as usual, make any cover sound like their own song. Nashville Pussy do a decent version of 'The Kids are Back.' (Always wondered, did NP get their name from Ted Nugent's Double Live Gonzo?) Nine Days do an interesting version of one of the few Twisted ballads adding orchestration to make the song even more interesting than the original. Ex-Public Enemy rapper Chuck D's interpretation of "Wake Up The Sleeping Giant" sounds so far removed from the original that I couldn't even tell which song he was covering. Have to add though that Chuck D has one of the most unique and recongnizable voices in rap. Anthrax and Overkill both totally shred on their songs. Cradle of Filth and Vision of Disorder take their Sister songs into the death/black metal realms. Surprisingly both bands do decent versions. Cradle of Filth sound like they have Mickey Mouse with a throat infection singing for them. The Step Kings prove once again why I don't like modern hardcore. Their version of one of Twisted Sister's best "Burn in Hell" is weak. Fu Manchu follows suit with another lame attempt soundling like a bad garage band. Joan Jett's is an odd choice for this disc, but her version is sort of fun and pop oriented. Sebastian Bach does an excellent job singing over "You Can't Stop Rock 'N Roll." His band for this song is the four musicians from Twisted Sister-AJ Pero, Mark Mendoza, Eddie Ojeda, and Jay Jay French. The four musicians from Twisted went in and recorded the song, then Sebastian came in a few weeks later and laid down his vocal tracks. The song was mixed by Mark Medoza. Hammerfall RULE, so as you can imagine, I totally dig their classic metal take on 'We're Gonna Make It.' Have to admit that it is weird hearing Joacim Cans singing a Twisted Sister song. He just doesn't have that 'street tough' voice. Sevendust do a fast speed/thrash metal, downbeat version of "I Am (I'm Me)". (I may have to check out more of these guys after hearing this song.) The disc closes out with a reunited Twisted Sister performing AC/DC's 'Sin City.' a song they use to perform in the clubs. I read in their web page that they didn't even have to practice to do this song since they all knew it so well. Their interpretation is not that different from the original, but hearing Dee sing rather that Bon Scott is what makes the real difference. Overall, a good tribute disc, but as with any compilation of bands, the skip button may be a necessity.