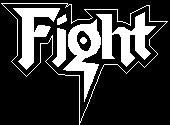 Fight was the first band/project of Rob Halford after he left Judas Priest. He also has projects out under Two and Halford.

Fight-War of Words (Epic) 1993
1."Into the Pit" (4:13)
2."Nailed to the Gun" (3:38)
3."Life in Black" (4:34)
4."Immortal Sin" (4:39)
5."War of Words" (4:29)
6."Laid to Rest" (4:40)
7."For All Eternity" (4:42)
8."Little Crazy" (3:49)
9."Contortion" (4:35)
10."Kill It" (3:30)
11."Vicious" (3:11)
12."Reality, A New Beginning" (4:42)
13."Jesus Saves"-unlisted (3:34)

"War of Words" doesn't stray far from when Priest left off with "Painkiller." However, Halford's love for bands like Pantera are showing through . I really dig this disc as it is full of musical and lyrical hooks as well as some phenomenal drumming by Priest drummer Scott Travis. Halford's lyrical approach has changed slightly from that of Priest, tackling social and political issues as well as a few personal vices. Of course, the biggest highlight is Halford's vocals which sound as good as ever.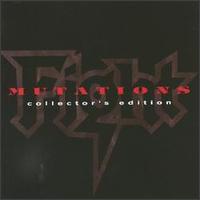 Fight-Mutations (Epic) 1994
1. "Into The Pit" -Live (4:10)
2. "Nailed To The Gun" -Live (3:34)
3. "FreeWheel Burning" -Live (4:45)
4. "Little Crazy" -Live (4:56)
5. "War Of Words" (Bloody Tongue Mix) (6:47)
6. "Kill It" (Dutch Death Mix) (3:50)
7. "Vicious" (Middle Finger Mix) (6:05)
8. "Immortal Sin" (Tolerance Mix) (5:49)
9. "Little Crazy" (Straight Jacket Mix) (5:55)
I bought this for the live tracks alone. I'm not really interested in dance remixes. As a matter of fact, I had a promo disc that featured some other remixes of Fight tunes that I traded off. Unfortunately Halford was beginning to dabble in industrial and the last five songs are the result. (Halford's newfound interest in industrial dance sounds, are the precursor to the crap he did with guitarist John Lowery in Two. GAK!) The live material, on the other hand is stellar! Of particular highlight is the live version of Judas Priest's "Freewheel Burning." This song alone made it worth the price of the disc.

Fight- Small Deadly Space (Epic) 1994
1."I Am Alive" (4:39)
2."Mouthpiece" (3:21)
3."Legacy of Hate" (4:33)
4."Blowout in the Radio Room" (4:10)
5."Never Again" (3:51)
6."Small Deadly Space" (5:18)
7."Gretna Greene" (3:53)
8."Beneath the Violence" (4:42)
9."Human Crate" (6:08)
10."In a World of My Own Making" (7:06)
11."Psycho Suicide"-unlisted, end of track #10 (4:36)
Unlike "War of Words," which was more of a Halford solo project, "Small Deadly Space" is more of a band effort with members of Fight contributing to the writing of new material. This definitely resulted in a strong project. Once again, however, the main interest is Halford's pipes, which wail on top of the heavy guitar riffs. The lyrics are a bit darker than "War of Words" as well, but still deal with social issues like child abuse and homelessness. Unfortunately, this would be the last Fight disc as Halford decided he needed to tell the world he was gay (something I did not care to know either way) and that he needed to express himself outside of heavy metal with industrial-pop act Two.