First there was Priest, then Fight, then the abismal Two, now Halford.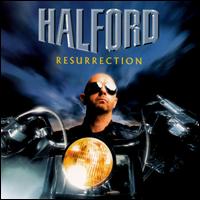 Halford-Resurrection (Metal-Is) 2000
1.   "Resurrection" (3:58)
2.   "Made in Hell" (4:12)
3.   "Locked and Loaded" (3:18)
4.   "Night Fall" (3:41)
5.   "Silent Screams" (7:06)
6.   "One You Love to Hate" (3:11)
7.   "Cyber World" (3:08)
8.   "Slow Down" (4:51)
9.   "Twist" (4:08)
10. "Temptation" (3:32)
11. "Drive" (4:30)
12. "Saviour" (2:57)
Halford returns to what he does best -- HEAVY METAL!!! After the somewhat abismal Two and all the hype about Rob's sexual orientation, I really lost interest in him. After hearing an advance cassette of this album, I was blown out of my chair, much the same way I was when I heard an advance cassette of Judas Priest's "Bullet Train." Rob leaving the mighty Priest may have dissappointed a lot of people, but it has given us some killer metal releases by both bands. "Resurrection" is sandwiched somewhere between "Painkiller"-era Priest and the two Fight albums. "Night Fall" is especially Priest-like, sounding like an attempt to get some radio airplay. Despite this, it's actually a really good song and might actually succeed as I have heard it sveral times on the local rock station recently. Another pleasant surprise is that Bruce Dickinson (Iron Maiden) makes an appearance sharing lead vocals on "One You Love To Hate." This and the title track are two incredible speed metal songs. The album was produced by Roy Z who has also produced two of Bruce Dickinson's best solo albums. Overall, this is a great album and a return to form for ol' Rob-a "resurrection" if you will.
Halford-Live Insurrection (Metal-Is) 2001
DISC ONE
1. "Resurrection" (4:03)
2. "Made In Hell" (4:24)
3. "Into The Pit" (4:15)
4. "Nailed To The Gun" (3:35)
5. "Light Comes Out Of Black" (5:01)
6. "Stained Class" (5:33)
7. "Jawbreaker" (3:26)
8. "Running Wild" (3:02)
9. "Slow Down" (4:40)
10. "The One You Love To Hate" (3:12)
11. "Life In Black" (4:26)
12. "Hell's Last Survivor" (3:25)
13. "Sad Wings" (3:33)
14. "Saviour" (2:58)
15. "Silent Screams" (7:32)

DISC TWO
1. "Untitled" (:14)
2. "Cyberworld" (3:02)
3. "The Hellion" -instrumental (:48)
4. "Electric Eye" (3:29)
5. "Riding On The Wind" (3:11)
6. "Genocide" (7:36)
7. "Beyond The Realms Of Death" 6:52)
8. "Metal Gods" (4:34)
9. "Breaking The Law" (3:50)
10. "Tyrant" (4:41)
11. "Screaming In The Dark" -Studio Track (3:42)
12. "Heart Of A Lion" -Studio Track (3:51)
13. "Prisoner Of Your Eyes" -Studio Track (4:34)
Live Insurrection is a compilation of live tracks from the 2000-2001 Halford tour. According to the liner notes some of the songs are "bonus" tracks that were recorded during sound checks or on off dats. Two of the tracks "Light Comes Out of Black" and "Life in Black" apparently were not played in front of a crowd but fit in well due to some studio tricks. "The One You Love To Hate" is a recording of two soundchecks recorded in London with Bruce doing one soundcheck and Rob doing the other. The last three studio tracks are made up of a new Halford track ("Screaming in the Dark") and two Judas Priest demo tracks ("Heart of A Lion" and "Prisoner of your Eyes"). I sort of wish that Rob would have played more Fight material. While I, of course, love the Priest material, it somehow just does not sound the same without the mighty Priest behind the voice. The Fight and Halford material, however sound phenomenal. I have to admit though, that it was cool to hear some obscure classics like "Stained Class" and "Running Wild." Comparing this offering to the last Priest live offering, I'd have to give the prize to Priest, but Halford is only a hair behind. Would love to see these guys resolve whatever differences they have and reform, not unlike Maiden. I mean, come on Rob, you and Priest are an entity.