Euro-metal quartet formed in Hamburg, Germany in 1984. The bands original members were Kai Hansen (guitar, vocals, songwriting), Michael Weikath (guitar), Markus Grosskopf (bass), and Ingo Schwichenburg (drums). Vocalist Michael Kiske joined for 1987's "Keeper of the Seven Keys Part I." Kai Hansen left the group to form Gamma Ray in '88 and was replace by Roland Grawpow. In 1996 lead vocalist Michael Kiske left the band as well but was replaced by new singer Andi Deris. Shortly after the release of "Chameleon" drummer Ingo Swichtenberg also quit, replaced by Uli Kusch (ex-Sinner/Gamma Ray)...and the band forges on...
Helloween-Helloween/Walls of Jericho (Noise) 1985

1."Starlight" (5:17)
2."Murderer" (4:26)
3."Warrior" (4:00)
4."Victim of Fate" (6:37)
5."Cry for Freedom" (6:02)
6."Walls of Jericho"-instrumental (0:53)
7."Ride the Sky" (5:51)
8."Reptile" (3:44)
9."Guardians" (4:19)
10."Phantoms of Death" (6:34)
11."Metal Invaders" (4:10)
12."Gorgar" (3:55)
13."Heavy Metal (is the Law)" (3:51)
14."How Many Tears" (7:15)
15."Judas" (4:39)
Well I had a copy of Helloween's debut on vinyl a long time ago. Finding it on cd was impossible until a friend in Germany ran across this double disc that also included the bonus track "Judas." These two albums are more raw and much heavier than anything that would follow.
Helloween-Keeper of the Seven Keys part I (Noise) 1987
1."Initiation"-instrumental (1:21)
2."I'm Alive" (3:23)
3."A Little Time" (3:59)
4."Twilight of the Gods" (4:29)
5."A Tale that Wasn't Right" (5:15)
6."Future World" (4:02)
7."Halloween" (13:18)
8."Follow the Sign" (1:46)
Enter new lead vocalist Michael Hiske and Helloween enters a new realm of metal matched only by the likes of their heros Iron Maiden and Judas Priest. At points Michael Hiske has no problem singing in a high, ear-splitting pitch that matches the velocity of the music. To be honest, however, I'm not as fond of this one as I am of part two, although "Halloween" is an epic track and one of my favorites. Helloween avoids many of the early 80's cliches of women, odes to metal and Satan, but rather sticks to a type of gothic, fantasy-oriented lyrics. A classic in almost every sense but soon to be overshadowed by:

Helloween-Keeper of the Seven Keys part II (Noise) 1988
1."Invitation"-instrumental (1:06)
2."Eagle Fly Free" (5:08)
3."You Always Walk Alone" (5:08)
4."Rise and Fall" (4:20)
5."Dr. Stein" (5:03)
6."We Got the Right" (5:07)
7."Save Us" (5:12)
8."March of Time" (5:13)
9."I Want Out" (4:39)
10."Keeper of the Seven Keys" (13:38)
A masterwork! Simply one of the best Helloween albums ever! "I Want Out" is a bit commercial, but other than that this album shreds from beginning to end. Some of the disc even touches on thrash, but most is straight ahead Euro-metal with excellent vocals. It's amazing really, but this album inspired a whole generation of German metal bands, many who helped keep metal alive through the late 1990's when America had given up on the genre.
Hammerfall along with Kai Hanson did a killer cover of "I Want Out."
Helloween-I Want Out: Live (RCA) 1989
1. "Intro: Happy Helloween/A Little Time" (4:19)
2. "Doctor Stein" (6:59)
3. "Future World" (9:22)
4. "We Got the Right" (6:06)
5. "I Want Out/Encores" (5:50)
6. "How Many Tears" (9:45)
Essentially the same as Live in the U.K., since it features mostly the same songs. This little EP was released in the States to help promote the band as their single "I Want Out" was gaining the band some success. I suppose the record company thought that people would be more apt to check out a "new" band by buying an inexpensive EP rather than a full length album.
Helloween-Live in the U.K. (EMI) 1989
1. "A Little Time" (6:33)
2. "Dr. Stein" (5:26)
3. "Future World" (8:48)
4. "Rise and Fall" (4:50)
5. "We Got the Right" (6:07)
6. "I Want Out" (5:50)
7. "How Many Tears" (9:46)
Pure heavy metal excellence! Helloween live with both Michael Kiske and Kai Hansen. The band was tight, and Kiske simply blew the overflowing crowd away. Of course what heavy metal concert would be complete without the crowd sing alongs and the tid bits of humor in between songs. I guess it could also be said that this is a live greatest hits disc as all the songs contained herein are some of the best Helloween has ever done. Especially cool to hear live is the epic song "How Many Tears." I'm not sure if this one was ever released in the U.S. Recorded live in Edinburgh, Scotland. My copy is a German import.

Helloween-The Best, The Rest, The Rare (Noise)
1."I Want Out" (4:38)
2."Dr. Stein" (5:03)
3."Future World" (4:02)
4."Judas" (4:39)
5."Walls of Jericho"-instrumental (0:53)
6."Ride the Sky" (5:51)
7."Halloween" (13:18)
8."Livin' Ain't No Crime" (4:43)
9."Save Us" (5:12)
10."Victim of Fate" (6:58)
11."Savage" (3:26)
12."Don't Run for Cover" (4:48)
13."Keeper of the Seven Keys" (13:38)
Great "best of" collection with three unreleased tracks. Really a compilation of the first three albums with a few rarities thrown in.

Helloween-Pink Bubbles Go Ape (EMI) 1991
1."Pink Bubbles Go Ape" (0:36)
2."Kids of the Century" (3:51)
3."Back on the Streets" (3:23)
4."Number One" (5:13)
5."Heavy Metal Hampsters" (3:28)
6."Goin' Home" (3:51)
7."Someone's Crying" (4:18)
8."Mankind" (6:18)
9."I'm Doin' Fine, Crazy Man" (3:39)
10."The Chance" (3:47)
11."Your Turn" (5:38)
Strange album title. Strange song title- "Heavy Metal Hampsters." The music, however, is not that strange, being a slightly less focused Helloween. Hmm, not their best, but far from being a bad album. I kinda dig it.

Helloween-Chameleon (EMI) 1993
1. "First Time" (5:30)
2. "When the Sinner" (6:54)
3. "I Don't Wanna Cry No More" (5:11)
4. "Crazy Cat" (3:29)
5. "Giants" (6:40)
6. "Windmill" (5:06)
7. "Revelution Now" (8:04)
8. "In the Night" (5:38)
9. "Music" (7:00)
10. "Step Out of Hell" (4:25)
11. "I Believe" (9:12)
12. "Longing" (4:15)
Hmm, this is a strange one. Chameleon is an obvious attempt at commercialism complete with pop ballads, keyboards, acoustic guitars and horns. Yikes! Even the cover looks like a pop cover. This is so far removed from the German power metal that Helloween are that I would not have even recognized them if I had heard this without knowing who it was. Micheal Kiske and Co. were searching on this one, I'm glad it didn't last long.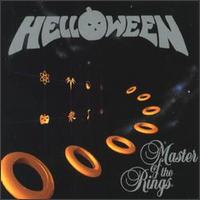 Helloween-Master of the Rings (Castle) 1994
1.   "Irritation" (1:140
2.   "Sole Survivor" (4:33)
3.   "Where the Rain Grows" (4:46)
4.   "Why?" (4:11)
5.   "Mr. Ego" (Take Me Down) (7:02)
6.   "Perfect Gentleman" (3:53)
7.   "Game Is On" (4:40)
8.   "Secret Alibi" (5:49)
9.   "Take Me Home" (4:25)
10.   "In the Middle of a Heartbeat" (4:30)
11.   "Still We Go" (5:09)
At first I wasn't sure I liked new singer Andi Deris as much as past singer Michael Kiske. After repeated listens I have changed my mind. This album is a lot more melodic than their earlier discs, but it is not overtly commercial save for "Perfect Gentleman." It took me a few listens, but this is now one of my frequent players. A 2-cd version of this disc was released with the second disc containing several covers songs.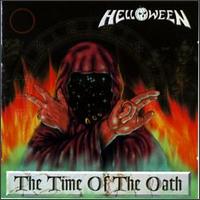 Helloween-The Time of the Oath (Castle) 1996
1.   "We Burn" (3:04)
2.   "Steel Tormentor" (5:40)
3.   "Wake up the Mountain" (5:01)
4.   "Power" (3:28)
5.   "Forever and One (Neverland)" (3:54)
6.   "Before the War" (4:33)
7.   "Million to One" (5:11)
8.   "Anything My Mama Don't Like" (3:46)
9.   "Kings Will Be Kings" (5:09)
10.   "Mission Motherland" (9:00)
11.   "If I Knew" (5:30)
12.   "Time of the Oath" (6:58)
Helloween go back to their roots even further on this one, even evoking thoughts of Keepers with both the music and the cover art. The music is not quite as aggressive, but still another quality German metal release.
Helloween covers Judas Priest's "The Hellion/Electric Eye," on Centruy Media's Judas Priest tribute.
Helloween-Better Than Raw (Castle) 1998
1. "Deliberately Limited Preliminary Prelude Period in Z"-instrumental (1:44)
2. "Push" (4:44)
3. "Falling Higher" (4:45)
4. "Hey Lord!" (4:05)
5. "Don't Spit on My Mind" (4:23)
6. "Revelation" (8:21)
7. "Time" (5:41)
8. "I Can" (4:38)
9. "A Handful of Pain" (4:48)
10. "LAVDATE DOMINVM" (5:09)
11. "Midnight Sun" (6:18)
12. "A Game We Shouldn't Play" (3:36)
And yet another fine heavy metal platter from everyone's favorite German band. This one even sporting some fast, speed metal songs along with the usual melodic power metal numbers. Great disc! Love the title to the album opener as well.
Helloween-Metal Jukebox (Sanctuary) 1999
1."He's a Woman - She's a Man" (3:14)
2."Locomotive Breath" (3:56)
3."Lay All Your Love on Me" (4:36)
4."Space Oddity" (4:52)
5."From Out of Nowhere" (3:19)
6."All my Loving" (1:44)
7."Hocus Pocus" (6:43)
8."Faith Healer" (7:08)
9."Juggernaut" (4:50)
10."White Room" (5:46)
11."Mexican" (5:49)
I really dig these cover albums. My favorite bands generally doing songs by some of my favorite artists. Gotta say though, Helloween's picks are a bit more obscure than some others. The bands being covered are: the Scorpions, Jethro Tull, ABBA, David Bowie, Faith No More, the Beatles, Focus, Alex Harvey, Frank Marino, Cream, and Babe Ruth (who??). The Japanese version also has a Deep Purple cover "Rat Bat Blue". These wouldn't exactly be my choices for covers, but to each his own. Helloween do a fairly good job of covering all these bands. Favorite tracks are the Scorpions' "He's A Woman-She's A Man," the speed metal version of the Beatles "All My Loving" complete with roaring double bass and Frank Marino's "Juggernaut." The Tull cover is a bit lame. "Space Oddity" (David Bowie) sounds very close to the original with Andi Deris transforming his voice into something that sounds very close to David Bowie himself. "Faith Healer" and "Lay All Your Love On Me" are just boring.  "White Room" has a nice extended bluesy jam at the end. I wonder why they didn't include Helloween's Judas Priest "The Hellion/Electric Eye," cover off the tribute cd. It would have been nice to have. Not a bad disc, but I wish more metal covers would have been chosen-Black Sabbath, AC/DC, or even Iron Maiden. I mean, weren't Maiden partially responsible for Helloween's sound? The 70's retro thing is OK but gets boring rather quick.
Helloween-The Dark Ride (Nuclear Blast) 2000
1. "Beyond the Portal" -intro (:45)
2. "Mr. Torture" (3:27)
3. "All over the Nations" (4:54)
4. "Escalation 666" (4:24)
5. "Mirror Mirror" (3:43)
6. "If I Could Fly" (4:09)
7. "Salvation" (5:42)
8. "The Departed" (4:36)
9. "I Live for Your Pain" (3:59)
10. "We Damn the Night" (4:06)
11. "Immortal" (4:04)
12. "The Dark Ride" (8:48)
I wasn't sure what to think of this disc at first after reading a terrible review and having a good friend tell me he didn't like it. Upon popping the disc in my car cd player, however, I was treated to some of the best and heaviest music I have heard out of this band since 'Keepers.' The band's guitar tones are fat and heavy. The songwriting and hooks are outstanding. The lyrics are a bit darker than in the past, but still retains the interest without becoming cheesy and cliche. "If I Could Fly" was apparently the single from the disc that did well in Germany. I can see why as it is an excellent melodic power ballad with a cool, yet monotonous piano part that starts the song off and runs throughout. This song is not really representative of the whole album though. "Mr Torture" and "Escalation 666" are both heavy and have hooky choruses that will stick in your head all day.. Overall, I'd say this is one of the best Helloween albums to come out in a long time.