Good 'ol German power metal fronted by Mat Sinner, who also performs with Ralp Sheepers in Primal Fear.
Sinner-Danger Zone (Noise) 1984
1. "Danger Zone" (3:38)
2. "No Place in Heaven" (3:37)
3. "Scene of a Crime" (3:40)
4. "Lupo Manaro" (3:51)
5. "Fast, Hard and Loud" (3:25)
6. "The Shiver" (4:02)
7. "Razor Blade" (3:15)
8. "Shadow in the Night" (3:00)
9. "Wild Winds" (2:59)
10. "Rattlesnake" (2:58)
11. "Danger Zone Reprise" -instrumental (:35)
Bandanas and torn shirts are cool! Well, that is what Sinner must have thought in 1984 when this album was released and the band photo was snapped. OK, you can stop laughing now. I must admit that in '84 I was wearing bandanas and leather too. It was a cool year when metal was something fresh and new and bands like Judas Priest, Dio, and Iron Maiden were only just beginning to be supergroups. Twisted Sister was climbing the charts that year as well. 1984 also saw the release of this German band's "Danger Zone" album. OK perhaps the look was silly and maybe the album cover art is a bit corny, but the music was there. The band was obviously inspired by the NWOBHM scene but despite this, their German roots still show even evoking Accept in a drunken state. "Danger Zone" rocks decisively hard. I'm impressed. This cd was a gift from a dear German friend.
Sinner-Comin' Out Fighting (Noise) 1986
1. "Hypnotized" (4:31)
2. "Faster Than Light" (4:58)
3. "Comin' Out Fighting" (3:06)
4. "Age of Rock" (3:41)
5. "Rebel Yell" (4:00)
6. "Lost in a Minute" (2:49)
7. "Don't Tell Me" (4:02)
8. "Germany Rocks" (4:04)
9. "Playing with Fire" (3:38)
10. "Madhouse" (3:44)
WOW! I am shocked. I don't know why as I was warned that this album did not sound like "Judgment Day," they album that made me a fan of this band. Well, "Comin' Out Fighting" is not the Judas Priest heavy power metal I was expecting, rather what this album is more akin to is early Dokken or even old Bon Jovi. Now this is not necessarily a not a bad thing, it just wasn't what I was expecting. If you recall, both Dokken and Bon Jovi were heavier in their early days. Actually I rather like this album, but as I said, it is very different from the band's 1990's outputs. "Rebel Yell" is a Billy Idol cover.
Sinner-In the Line of Fire Live (No Bull) 1994
"When Silence Falls" (4:22)
"Comin' Out Fighting" (3:09)
"All Men are Heroes" (4:30)
"Back in My Arms" (4:06)
"Respect" (5:11)
"The Biggest Lie" (3:50)
"Born to Rock" (4:44)
"Knife in My Heart" (5:26)
"Rebel Yell" (4:50)
"Rage of a Hurricane" (3:22)
"Everybody" (5:36)
"Modern World" (3:02)
"There's Only One Way to Rock" (4:12)

Smoking live set by one of Germany's finest metal bands. As I have said before, live albums are usually the end of an era for any band, and that certainly is true in Sinner's case as well. Everything on this live album logs the more melodic early years of the band. After this release the band went for a decidedly more metallic direction. Still this live album showcases some of the band's best material from those melodic years. Two covers; Billy Idol's "Rebel Yell" and Starship's "There's Only One Way to Rock."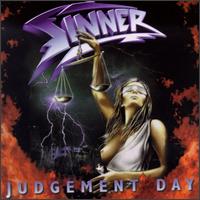 Sinner-Judgement Day (Saraya) 1995
1.   "Used To The Truth" (4:59)
2.   "Troublemaker" (3:53)
3.   "Jump the Gun" (4:06)
4.   "Judgement Day" (8:50)
5.   "Pray For Mercy" (4:35)
6.   "White Lightning" (3:59)
7.   "Blue Tatoo" (3:10)
8.   "School of Hard Knocks" (5:12)
9.   "Fugitive" (4:08)
10. "Deathwalker" (3:23)
11. "Streets of Sin" (7:20)
Didn't know they still made great "classic" heavy metal like this in the late 90's. Sinner are very retro, borrowing heavily from Judas Priest. This may sound like a bad thing to some, but to me, it's a Godsent, as I crave real metal like this. It only took me two listens to become addicted to this disc. Of course to find their cd's, as with most good power metal and thrash bands, you have to go to Germany or Japan, where the music is available and abundant. Sinner are now on Nuclear Blast, so their newer discs will be easier to find, although this album is still not available in the US.

Sinner-The Nature of Evil (Nuclear Blast) 1998
1. "Devil's River" (5:20)
2. "Question of Honour" (7:17)
3. "Justice from Hell" (4:52)
4. "Nature of Evil" (7:32)
5. "Some Truth (Has Better Left Unknown)" (3:58)
6. "Dark Soul" (7:21)
7. "Faith & Conviction" (3:38)
8. "Rising" -instrumental (2:25)
9. "Walk on the Darkside" (4:33)
10. "Trust No One" (3:10)
11. "Sun Goes Down" (6:11)
Mat Sinner and Co. continue to bring forth traditional, Judas Priest inspired German heavy metal. Lots of speedy downpicked guitar riffs and steady double bass. One reason I had to own this disc, however, was for the cover of Thin Lizzy's "The Sun Goes Down." Sinner's version stays close to the original with Mat even doing his best to sing like Phillip Lynott. Great job. The entire disc smokes. Not quite as catchy as "Judgement Day" but pretty darn close.
Sinner-The End of Sanctuary (Nuclear Blast) 2000
1. "Signed, Sealed and Delivered" (3:25)
2. "Blood Relations" (3:42)
3. "End of Sanctuary" (5:38)
4. "Pain in Your Neck" (5:47)
5. "Edge of the Blade" (4:32)
6. "Prophecy" (4:04)
7. "Destiny" (6:40)
8. "Bongress of Deceit" (4:07)
9. "Heavy Duty" (3:14)
10. "Night of the Wolf" (6:37)
11. "Broken World" (5:34)
12. "Hand of the Saint" (3:29)
More quality heavy metal from Matt Sinner. I don't think this one has the hooks that "Judgement Day" has but it's still a testosterone injected metal fest. Very similar in to "The Nature of Evil" that was released only a year before. Cool digi-pack cover art complete with spot varnishes and embossing. Very cool.