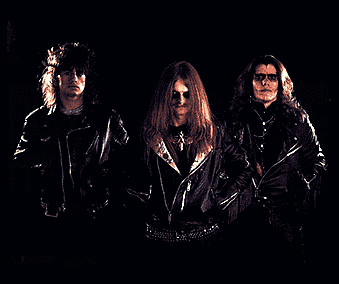 Celtic Frost was formed by Tom Warrior & Martin Ain from the ashes of Hellhammer. Celtic Frost were one of the first "black" or "gothic" metal bands along with Venom, although Celtic Frost were less bent on Satanism, especially as their music and songwriting progressed. Tom Warrior is now in a band called Apollyon Sun.
Celtic Frost-Morbid Tales/Emperor's Return (Noise) 1984/1985
1. "Human" (:30)
2. "Into the Crypts of Rays" (3:49)
3. "Visions of Mortality" (4:46)
4. "Dethroned Emperor" (4:35)
5. "Morbid Tales" (3:26)
6. "Procreation (of the Wicked)" (4:02)
7. "Return to the Eve" (4:05)
8. "Danse Macabre"-instrumental (3:51)
9. "Nocturnal Fear" (3:36)
10. "Circle of the Tyrants" (4:42)
11. "Visual Aggression" (4:08)
12. "Suicidal Winds" (4:33)
Several versions of this exist. The best one, however, is the 1999 Noise remaster. Not only does it return the original song order and mixes but unlike past versions, the band had a hand in the remastering and the new liner notes so there are no mistakes. According to the notes, the band asked to have these released on cd in the 1985 but their record company felt there wasn't a market. Once they figured out that Celtic Frost was gaining acceptance and that there was a buck to be made, they released "Morbid Tales" and a remixed version of the "Emporer's Return" ep. Apparently Thomas Warrior was not happy with this and insisted on another re-issue. Not until '99 did this happen. Tracks 10-12 on this version appear in the unreleased original mixes. Gotta say, this has nice packaging with tons of photos, lyrics, and excellent liner notes. Contrary to popular opinion, I think Frost improved with time, so this is NOT my favorite disc in their catalogue. In black metal circles I suppose I just committed blasphemy. For more blasphemy, read my reviews of "Cold Lake" and "Vanity/Nemesis." Yes, I am one of the few who LIKE these albums! (-:
"Procreation (of the Wicked)" has been covered by Sepultura. "Dethroned Emperor" was recorded by Anthrax.

Celtic Frost- To Megatherion (Noise) 1985
1."Innocence and Wrath"-instrumental (1:02)
2."The Usurper" (3:24)
3."Jewel Throne" (3:59)
4."Dawn of Megiddo" (5:42)
5."Eternal Summer" (4:29)
6."Circle of the Tyrants" (4:26)
7."(Beyond the) North Winds" (3:04)
8."Fainted Eyes" (5:00)
9."Tears in a Prophet's Dream"-instrumental (2:30)
10."Necromantical Screams" (6:06)
Great music on this one. Very experimental. I HATE the Gieger cover on this album as it mocks Christ, so I turned it inside out on my cd. Otherwise, a killer disc! Found it used for $5.92! Quite the bargain.

Celtic Frost-Into the Pandemonium (Noise) 1987
1."Mexican Radio" (3:28)
2."Mesmerized" (3:24)
3."Inner Sanctum" (5:14)
4."Tristesses de la Lune" (2:58)
5."Babylon Fell" (4:18)
6."Caress into Oblivion" (5:10)
7."One in their Pride (Porthole Mix)" (2:50)
8."I Won't Dance (Elder's Orient)" (4:31)
9."Sorrows of the Moon" (3:02)
10."Rex Irae (Requiem)" (5:57)
11."Oriental Masquerade"-instrumental (1:15)
12."One in their Pride (Extended Mix)" (5:52)
A killer experi-METAL album that my college roommate got me into. Frost's version of Wall of Voodoo's "Mexican Radio" is fabulous. "I Won't Dance" was my theme song for many years as I hate dancing!

Celtic Frost-Cold Lake (Noise) 1988
1."Human (Intro)" (1:06)
2."Seduce Me Tonight" (3:18)
3."Petty Obsession" (3:17)
4."(Once) They Were Eagles" (3:39)
5."Cherry Orchards" (4:19)
6."Juices Like Wine" (4:17)
7."Little Velvet" (3:40)
8."Blood on Kisses" (3:29)
9."Downtown Hanoi" (4:15)
10."Dance Sleazy" (3:32)
11."Roses Without Thorns" (3:26)
12."Tease Me" (2:47)
13."Mexican Radio"-remixed version (
OK, no Celtic Frost fan alive in 1988 would admit they liked this obvious attempt at glam, pop metal. I mean what was up with the puffy Poison hair cuts, the pink lighting, the "check out my hairless chest" outfits? Curtis Victor Bryant and Oliver Amber looked like modeling school rejects. Was this the death of one of the original gothic metal bands? This wasn't what the band had promised as their next studio effort. Well, to tell the truth, while everybody, including myself, was mocking this album, I was secretly rocking it in my car at maximum levels. Perhaps it was not the Celtic Frost that we all loved, nor was it what we were hoping for, but it was still a decent melodic metal disc. (Oh wait, did I admit that out loud?)

Celtic Frost-Vanity/Nemesis (Noise) 1990
1."The Heart Beneath" (3:50)
2."Wine in My Hand (Third from the Sun)" (3:26)
3."Wings of Solitude" (4:35)
4."The Name of My Bride" (4:30)
5."This Island Earth" (5:49)
6."The Restless Seas" (5:40)
7."Phallic Tantrum" (3:31)
8."A Kiss or a Whisper" (3:04)
9."Vanity" (4:24)
10."Nemesis" (7:46)
11."Heroes" (3:45)
A bit more of a speed metal album, although there are still hints of glam. I actually love this album, and despite popular opinion, it is my favorite Celtic Frost album. "Heroes" is a David Bowie cover. Originally had the crappy cassette but found this cd copy for $6 used.

Celtic Frost 1984-1992: Parched with Thirst and I Am Dying (Noise) 1992
1."Idols of Chagrin" (4:10)
2."A Descent to Babylon (Babylon Asleep)" (4:26)
3."Return to the Eve"-1985 studio jam (4:06)
4."Juices like Wine"-re-recorded 1991 (4:13)
5."The Inevitable Factor" (4:45)
6."The Heart Beneath" (3:50)
7."Cherry Orchards"-radio edit (4:03)
8."Tristesses de la Lune" (2:58)
9."Wings of Solitude" (4:35)
10."The Usurper"-Tragic Serenades version (3:26)
11."Journey into Fear" (3:53)
12."Downtown Hanoi"-re-recorded 1991 (4:12)
13."Circle of the Tyrants" -To Megatherion version (4:36)
14."In the Chapel in the Moonlight" (3:50)
15."I Won't Dance (Elder's Orient)"-radio edit (3:50)
16."The Name of My Bride" (4:30)
17."Mexican Radio"-1991 studio jam (3:20)
18."Under Apollyon's Sun" (5:34)
"Parched" is collection of remixed tracks and rare/unreleased songs. The remixed versions of the "Cold Lake" songs are better than the originals. Found this disc used for $7!
See Tribute section for:

"In Memory of Celtic Frost" tribute.
Tom Warrior is now in a band called Apollyon Sun. Apollyon Sun appeared on the Dwell Records tribute cd doing a cover of "Babylon Fell".