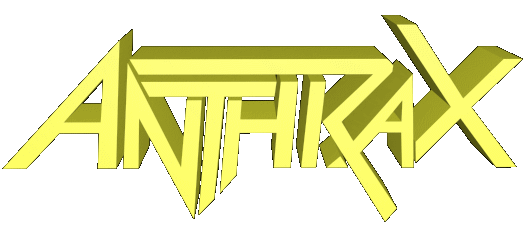 One of the original and best thrash bands to come out of New York. Their debut was actually a 2 song 45 rpm single ("Soldiers of Metal" b/w "Howling Furies") on Megaforce, which at the time was a small independent company. Of course being from NYC, there were a few things that inevitably began to show--a sense of humor, a love for colorful language, and an attitude.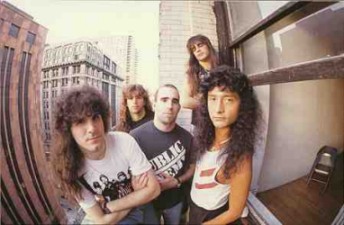 Anthrax-Fistful of Metal (Megaforce) 1984
1."Deathrider" (3:30)
2."Metal Thrashing Mad" (2:39)
3."I'm Eighteen" (4:02)
4."Panic" (3:58)
5."Subjugator" (4:38)
6."Soldiers of Metal" (2:55)
7."Death from Above" (5:06)
8."Anthrax" (3:24)
9."Across the River"-instrumental (1:26)
10."Howling Furies" (3:55)
The first Anthrax full length release with Neil Turbin on vocals and Danny Lilker on bass. Since this was 1984, we all thought that it was the greatest thing to be released. I listened to it over and over again. Anthrax along with Raven and Metallica were my favorite bands at the time. Of course this was when all these bands were considered "underground." Still like this cd today but don't listen to it as much as the Joey Belladonna era stuff. Neil Turbin was soon given the boot, as I guess the rest of the band didn't like his stupid lyrics, Danny Lilker went on to Nuclear Assault after the short stint with S.O.D. "I'm Eighteen" is an Alice Cooper song.

Anthrax-Armed & Dangerous (Megaforce) 1985
1."Armed and Dangerous" (6:07)
2."Raise Hell" (4:02)
3."God Save the Queen" (3:02)
4."Metal Thrashing Mad"-live (2:51)
5."Panic"-live (3:45)
6."Soldiers of Metal" (collector's rare track) (3:09)
7."Howling Furies" (collector's rare track) (4:05)
First recording to feature new singer Joey Belladonna & bassist Frank Bello. I am glad they added the two tracks off the original 45 single as I sold the record a long time ago. Anyhow, I bought the record as a new release. Remember talking with some friends at the mall about the new singer. We all thought he ruled! He did! The two "collector's" songs are from the original Anthrax debut single. "God Save the Queen" is a Sex Pistols song.

Anthrax-Spreading the Disease (Island) 1985
1. "A.I.R. (5:44)
2." Lone Justice" (4:37)
3. "Madhouse" (4:17)
4. "S.S.C./Stand or Fall" (4:09)
5. "The Enemy" (5:23)
6. "Aftershock" (4:29)
7. "Armed and Dangerous" (5:43)
8. "Medusa" (4:43)
9. "Gung-Ho" (4:35)
Having grown up in the East Coast, I was already a HUGE Anthrax fan by the time this cd had come out. I had lots of opportunity to see Anthrax on this tour, and see them I did. I checked them at the City Gardens, Trenton, NJ with Heathen's Rage opening and also at the L'Amour, in NYC. Anyhow, there are a lot of classics on this album. Actually I couldn't pick out a song that's not awesome. This disc is one of the best thrash albums ever released and was worth paying full price for to replace my crappy vinyl . Anthrax recorded a humorous video for "Madhouse."

Anthrax-Among the Living (Island) 1987
1."Among the Living" (5:16)
2."Caught in a Mosh" (4:59)
3."I Am the Law" (5:57)
4."Efilnikufesin (N.F.L.)" (4:54)
5."A Skeleton in the Closet" (5:32)
6."Indians" (5:40)
7."One World" (5:56)
8."A.D.I./The Horror of It All" (7:49)
9."Imitation of Life" (4:10)
"A.O.L" is one heck of a thrash platter. This disc put Anthrax far ahead of many of their contemporaries. The music was fresh and aggressive as Anthrax had begun to mix a bit of hardcore and groove into their thrash formula. Of course, the sense of humor was present, as was the politically correct statement of "Indians." Anthrax's fascination with horror novels (Stephen King- "Among the Living") and comics (Judge Dredd- "I Am the Law") began to show on this disc as well. Bought this on record the day it was released. Eventually replaced it with a used copy on cd for $3.99.

Anthrax-State of Euphoria (Island) 1988
1."Be All, End All" (6:22)
2."Out of Sight, Out of Mind" (5:13)
3."Make Me Laugh" (5:41)
4."Antisocial" (4:27)
5."Who Cares Win" (7:35)
6."Now It's Dark" (5:34)
7."Schism" (5:27)
8."Misery Loves Company" (5:40)
9."13" (0:49)
10."Finale'" (5:47)
Not my favorite, nor is it my least favorite. I played it continually when it first came out. I only pull it out every so often now. "Antisocial" is a Trust song, I think.

Anthrax-Penikufesin (EP) (Island) 1988
1."Now It's Dark" (5:34)
2."Antisocial"-French version (4:26)
3."Friggin' in the Riggin'" (5:18)
4."Parasite" (3:14)
5."Sects" (3:06)
6."Pipeline"-instrumental (2:00)
This rare import ep (German, I think) Contains the extremely rare French version of "Antisocial", although the chorus is sung in English. "Friggin' in the Riggin'", is a song off the Sex Pistols' "Great Rock & Roll Swindle" by Ten Pole Tudor, "Parasite" is a great Ace Frehley penned Kiss song, "Sects" is a Trust song, and "Pipeline" is a Ventures tune.
From this point on, doing covers, especially Kiss covers, would become a norm for Anthrax. Anthrax have covered several Kiss songs over the years including, "Love Her All I Can," "She," and Ace Frehley's "Rip It Out."

Anthrax-I'm The Man (Island) 1987
1."I'm the Man" (censored radio version) (3:02)
2."I'm the Man" (def uncensored version) (3:02)
3."Sabbath Bloody Sabbath" (5:45)
4."I'm the Man"-live (extremely def ill uncensored version) (4:39)
5."Caught in a Mosh"-live (5:06)
6."I Am the Law"-live (6:17)
I had actually already owned a cool version of "I'm the Man" on vinyl before this EP came out in the U.S. It was originally released as a 12" single with "I Am the Law" as the A side. The B side had "I'm the Man" and also included a hilarious lounge song called "Bud E. Lovebomb & Satan's Lounge Band." (Not sure if I spelled the song correctly or if that was the exact song title as I typed it from memory.) The song was freaking hilarious. The cover folded out into a huge poster of Judge Dredd. Unfortunately I no longer own my vinyl collection, so I had to purchase this cd . "I'm the Man" was an amusing rap/metal novelty song that is still humorous today. (It's funny how a song that was suppose to be a joke became a standard for music in the 90s.) I must admit, when I first got that 12" single in college, we played it to death, so the novelty wore off. In any case, the live songs on this EP are cool and the Black Sabbath cover is very cool. I searched for a long time for a cheap used copy of this cd since it only has 6 songs and sells for the same amount of money as the rest of Anthrax's full length albums. I never found one and ended up giving in and paying the $9.99. (Man I'm a cheap bastard!)

Anthrax-Persistence of Time (Island) 1990
1."Time" (6:54)
2."Blood" (7:06)
3."Keep It in the Family" (7:07)
4."In My World" (6:23)
5."Gridlock" (5:08)
6."Intro to Reality"-instrumental (3:24)
7."Belly of the Beast" (4:46)
8."Got the Time?" (2:44)
9."H8 Red" (5:02)
10."One Man Stands" (5:39)
11."Discharge" (4:11)
A great album! One of my all time favorites of any band. "Persistence of Time" just never lets up! The band was obviously at the top of their game, even though things were beginning to go sour between the band and Belladonna at this point. Cool rendition of Joe Jackson's "Got the Time?"

Anthrax-Attack of the Killer B's (Island) 1991
1."Milk (Ode to Billy)" (3:44)
2."Bring the Noise" (w/ Public Enemy) (3:28)
3."Keep It in the Family"-live (7:19)
4."Startin' up a Posse" (4:14)
5."Protest and Survive" (2:20)
6."Chromatic Death" (1:28)
7."I'm the Man '91" (5:00)
8."Parasite" (3:14)
9."Pipeline"-instrumental (2:00)
10."Sects" (3:06)
11."Belly of the Beast"-live (6:01)
12."N.F.B. (Dallabnikufesin)" (2:16)
Not sure I would call this an EP, as it is too long. However this collection of B-sides, unreleased tracks, live version and re-recorded S.O.D. tunes is awesome! "Bring the Noise" is an phenomenal rendition of Public Enemy's song w/ Chuck & Flav rapping the first two verses & Scott Ian handling the last two. "Milk" and "Chromatic Death" are re-recordings of S.O.D. songs. I could have done without ANOTHER version of "I'm The Man" however. "Sects" is the English version, not found on "Penikufesin." Pipeline," however, is the same version of the Ventures song found on that EP. "N.F.B." is hilarious! Great ending to an otherwise Bon Jovi sound alike song. "Startin' up a Posse" is just plain stupid! "Hey look ma, we can cuss, aren't we cool!" And finally, "Parasite" is a great KISS cover.

Anthrax-Sound of White Noise (Elektra) 1993
1."Potters Field" (5:00)
2."Only" (4:55)
3."Room for One More" (4:54)
4."Packaged Rebellion" (6:18)
5."Hy Pro Glo" (4:30)
6."Invisible" (6:09)
7."1000 Points of Hate" (5:00)
8."Black Lodge" (5:22)
9."C11 H17 N2 O2 S Na" (4:24)
10."Burst" (3:35)
11."This Is Not An Exit" (6:49)
A new vocalist, John Bush (ex-Armored Saint), and a new sound. I have mixed feelings about this one. Although I like it a lot, I tend to like the Belladonna-era stuff better. Of the John Bush-era stuff, however, I like this one the best. Loads of heavy, hook-laden songs on this one. "Sound of White Noise" will forever be a classic of heavy metal.
Anthrax recorded a very cool song called "Poison My Eyes" for the "Last Action Hero" soundtrack around this same time. They've appeared on several other soundtracks including: The Beavis and Butt-Head Experience ("Looking Down the Barrel of a Gun"), ECW: Extreme Music ("Phantom Lord" a Metallica cover), Airheads ("London" originally done by the Smiths) and Bordello of Blood ("Bordello of Blood" an excellent original). Scott and John also recorded a song on the Judas Priest, Ace Frehley and Queen tributes.

Anthrax-Black Lodge (Elektra/single) 1993
1. "Black Lodge" (black strings mix) (5:21)
2. "Black Lodge" (tremolo mix) (5:23)
3. "Black Lodge" (mellow to mad mix) (5:20)
4. "Love Her All I Can" (w/ Paul Stanley & Gene Simmons) (2:32)
5. "The Cowboy Song" (5:03)
A friend pointed this one out to me a number or years after it was released. Of course by that time this single was impossible to find. How I missed this one as a new release is a mystery, as I am a big Anthrax fan, as well as a fan of both Kiss and Thin Lizzy, the two bands who are covered on this single. Both covers are great and to make things better, Paul Stanley and Gene Simmons make guest appearances on the Kiss song as well. A little note on the bottom of the disc says that all proceeds from "Love Her All I Can" will be donated to the Pediatric AIDS Foundation. (Good cause.) The Thin Lizzy song is sort of humorous. Hearing John Bush sing "I am just a cowboy. . ." is pretty funny. Well, as luck would have it, I finally found a copy for myself at a used cd store for only $3.99 only a few months later. Sometimes I just get lucky. There is also a different version of the "Black Lodge" single that does not have "The Cowboy Song" but has "Pottersfield" (HypoLuxa/HermesPan Remix) instead.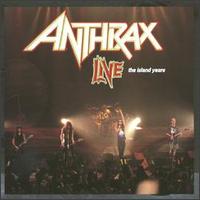 Anthrax-Live! The Island Years (Island) 1994
1.   "N.F.L. (Efilnikufesin)" 6:59
2.   "A.I.R." (4:35)
3.   "Parasite" (2:52)
4.   "Keep It in the Family" (7:05)
5.   "Caught in a Mosh" (5:26)
6.   "Indians" (6:59)
7.   "Antisocial (6:38)
8.   "Bring the Noise (7:38)
9.   "I Am the Law (6:04)
10. "Metal Thrashing Mad (2:46)
11.  "In My World (6:36)
12.  " Now It's Dark (5:48)


The two ousted members of Anthrax
70-minutes of live recordings, most of it from October '91 in Long Beach, CA. This compilation of live material was issued after Anthrax had switched record labels but provides a decent overview of the band's first seven years. Public Enemy joins them for "Bring the Noise," once again showing how Anthrax's ties with the rap world brought about a big change in music in the 90's with the popularity of bands like P.O.D., Limp Bizkit, etc. A funny story here that sort of trips me out. I was checking out some used cds when these kids walk up and start looking at the stuff in the bin next to me. One of the kids has a Limp Bizcrap shirt on. He picks up Anthrax's "Attack of the Killer B's" and asks his friend if he has heard them. His friend replys, "yeah, they suck, they're a pussy 80's band." WHATEVER!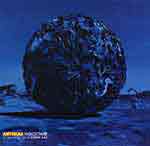 Anthrax-High Octane (promo pre-release) (Elektra) 1995
1. "Random Acts of Senseless Violence" (4:03)
2. "Fueled" (4:02)
3. "King Size" (3:58)
A nice little advance cd. Nothing really new on it, but it's a rare collector's disc. This advance promo had me excited for the new disc, but it ended up that these three songs were the best songs on the cd. Picked it up for $2.99. Had one offer for it for $25. Didn't sell!

Anthrax-Stomp 442 (Elektra) 1995 / Anthrax-Stomp 442 (Beyond) 2001
1."Random Acts of Senseless Violence" (4:02)
2."Fueled" (4:02)
3."King Size" (3:59)
4."Riding Shotgun" (4:26)
5."Perpetual Motion" (4:20)
6."In a Zone" (5:07)
7."Nothing" (4:33)
8."American Pompeii" (5:30)
9."Drop the Ball" (4:59)
10."Tester" (4:21)
11."Bare" (5:29)
2001 Reissue Bonus Tracks
12. "Grunt and Click" (5:28)
13. "Dethroned Emperor" (4:32)
14. "Celebrated Summer" (4:25)
15. "Watching You" (3:40)
Uh, well, what happened here? Another VITAL member given the boot. Anthrax try to become Pantera going so far as to having Dimebag Darrell record some of the album's solos. "Fueled" is ok, but the whole album is somehow not as exciting as past releases. I vote that they bring back Joey Belladonna and let John Bush go back to what he does best, Armored Saint.
2001 Expanded Edition
Well, somehow Anthrax managed to take control of their master tapes from the Elektra years, so in September 2001, they re-released both Elektra discs with bonus tracks and additional liner notes by Scott Ian. The bonus tracks were all previously released on the Japanese release: Celtic Frost's "Dethroned Emperor", Kiss's "Watching You", Husker Du's "Celebrated Summer" and an Anthrax original "Grunt and Click." Unfortunatley, two tracks from the Japanese disc were not included, apparently because of copyright issues, The Police's "No Time This Time" and Iron Maiden's "Remember Tomorrow." Must also admit that getting this re-issue gave me a chance to hear this disc again, for the first time, since I sort of never gave this disc another chance. I still stand by my original review, but there are some really good songs on this disc that I somehow overlooked years ago. "Random Act of Senseless Violence" is an excellent full fledged rocker and one of Anthrax's finest.

Anthrax-Volume 8-The Threat is Real (Ignite) 1999
1."Crush" (4:21)
2."Catharsis" (4:53)
3."Inside Out" (5:31)
4."P&V" (Piss & Vinegar) (3:21)
5."604" (0:35)
6."Toast to the Extras" (4:24)
7."Born Again Idiot" (4:17)
8."Killing Box" (3:37)
9."Harms Way" (5:13)
10."Hog Tied" (4:36)
11."Big Fat" (6:01)
12."Cupajoe" (0:46)
13."Alpha Male" (3:05)
14."Stealing from a Thief" (5:28)
15."Pieces"-unlisted, end of track #14 (5:02)
After the commercial failure of "Stomp 442" Anthrax disappeared for a while before returning with a new disc, new label and a new attitude on life. "Volume 8-The Threat is Real!" marks a return to the more humorous side of Anthrax. Short numbers like "604" and "Cupajoe" are attempts at the S.O.D. style of humor, which is ok since Scott & Charlie are S.O.D. There is also an attitude and energy to some of the songs that hasn't been present for a while. Songs like "Crush" and "Alpha Male" have crunchy tones, cool riffs, and memorable hooks. With the exception of the vocals, much of the music on this disc sounds like the Anthrax of old. Overall "Vol. 8" is much more listenable than "Stomp" but I STILL miss Joey! Of course, Belladonna's last disc SUCKED! Why can't these guys pull it together and get back together. Anthrax will never be the same without Joey and Dan Spitz.