Megadeth was formed by guitarist/vocalist Dave Mustaine and bassist Dave Ellefson, both of whom are the only remaining original members to this day. Of course everybody knows that Dave Mustaine was in Metallica for a short time before being booted out. Megadeth gave us some great speed metal in the 80's and they continued to write into the 90's. Like Metallica, in recent years, they have been writing more pop metal than the pure aggression of the past.

Megadeth-Killing is My Business...and Business is Good! (Combat) 1985
1."Last Rites/Loved to Death" (4:34)
2."Killing is My Business...and Business is Good!" (3:02)
3."Skull Beneath the Skin" (3:43)
4."These Boots" (3:41)
5."Rattlehead" (3:39)
6."Chosen Ones" (2:52)
7."Looking Down the Cross" (4:58)
8."Mechanix" (4:23)
Aggressive as anything Metallica ever did; as a matter of fact this first album by Dave Mustaine and Co. sounds very similar to Metallica's thrash opus "Kill 'Em All" which has Dave Mustaine credited with much of the songwriting. The production on "Killing is My Business" is awful and the mastering, well, it is just as bad, but we didn't care. It was metal-heavy, fast, aggressive and if you play it loud enough, it sounds good enough to crush a skull or two. "Mechanix" was actually written while Dave was in Metallica and is an early incarnation of "The Four Horesmen."

Megadeth-Peace Sells...But Who's Buying? (Capitol) 1986
1."Wake Up Dead" (3:39)
2."The Conjuring" (5:02)
3."Peace Sells" (4:02)
4."Devil's Island" (5:04)
5."Good Mourning/Black Friday" (6:39)
6."Bad Omen" (4:03)
7."I Ain't Superstitious" (2:44)
8."My Last Words" (4:48)
This disc will ever be relegated to classic status. "Wake Up Dead" and "Peace Sells" were Headbanger's Ball staples for the longest time, and why not, they are phenomenal songs. Both songs shred and are filled with monster riffs and guitar solos galore. The whole album, however, is excellent. The lyrics on this album were typical of the stupid "look how evil we are" mentality of metal at the time, but songs like "Peace Sells" were the beginnings of more intelligent, political and/or socially conscious lyrics that Megadeth would soon master. "I Ain't Superstitious" is a charged up version of Willie Dixon's blues classic that was made famous by Howlin' Wolf.
Megadeth-So Far, So Good...So What! (Capitol) 1988
1."Into the Lungs of Hell"-instrumental (3:29)
2."Set the World Afire" (5:47)
3."Anarchy in the U.K." (3:00)
4."Mary Jane" (4:24)
5."502" (3:27)
6."In My Darkest Hour" (6:16)
7."Liar" (3:20)
8."Hook in Mouth" (4:40)
At this point Dave was so strung out of drugs that it showed in his music. Dave's rages spewed forth into some powerful songs like "502" which is actually an anti-drinking and driving song. (?!?!) "Hook and Mouth" was actually a song written for "Killing is My Business" but was never recorded (except for some bootlegs) until this album. "Anarchy in the U.K." is a Sex Pistol's cover. A bit of trivia-Kerry King of Slayer fame played guitar with Megadeth during their early days before "Killing is My Business."
Megadeth-Rust in Peace (Capitol) 1990

1."Holy Wars...The Punishment Due" (6:34)
2."Hangar 18" (5:12)
3."Take No Prisoners" (3:27)
4."Five Magics" (5:41)
5."Poison Was the Cure" (2:57)
6."Lucretia" (3:57)
7."Tornado of Souls" (5:21)
8."Dawn Patrol" (1:49)
9."Rust in Peace...Polaris" (5:37)
This album is a masterpeice! Dave had sobered up and the music improved because of it. This is the first album with the now classic Megadeth line-up of: Dave Mustaine (vocals,guitars), David Ellefson (bass), Marty Friedman (ex-Cacaphony, guitars), and Nick Menza (drums). Friedman gave a new dimension to the already proficient team of Dave Mustaine and David Ellefson. In any case, the music is tight, fast, and the sonics are superior to anything up to this point. Every song is essential Megadeth. "Rust in Peace" has remained my favorite Megadeth album.

Megadeth-Countdown to Extinction (Capitol) 1992
1."Skin O' My Teeth" (3:13)
2."Symphony of Destruction" (4:02)
3."Architecture of Aggression" (3:33)
4."Foreclosure of a Dream" (4:16)
5."Sweating Bullets" (5:03)
6."This Was My Life" (3:41)
7."Countdown to Extinction" (4:16)
8."High Speed Dirt" (4:12)
9."Psychotron" (4:41)
10."Captive Honour" (4:14)
11."Ashes in Your Mouth" (6:10)
The Beatles had their "White Album," Metallica had their black album and Megadeth their superior "Countdown to Extinction." "Countdown" went double (or was it triple) platinum thanks in part to the incredible single "Symphony of Destruction." I've heard and read where people say that this album was a sellout, but I do not hear that. Producer Max Norman did an excellent job producing this speed metal masterwork. Songs like "Skin O' My Teeth," a song about botched suicide attempts, are just as fast and aggressive as anything Megadeth had done to this point. "High Speed Dirt," another fast and furious tune, is about sky diving. In any case, despite the cries of "sellout" this is a phenomenal speed metal album.

Megadeth-Foreclosure of a Dream (Capitol) 1992
1. "Foreclosure of a Dream" (4:17)
2. "Skin Oí My Teeth" -live (4:03)
3. "Foreclosure of a Dream" (edit) (4:00)
I never could fork over the money for all the singles that Megadeth were releasing at this time. The cool thing about them was that they had live tracks included. I found this one used for a couple of bucks so I snatched it up. "Foreclosure of a Dream" is a political song about the decay of America and it's government. The intro to the live version of "Skin Oí My Teeth" is STUPID! Dave claiming the song is "about how many times I tried to kill myself and just couldn't get the job done." Nice huh?!?!
Also have the "Symphony of Destruction" single on cassette with a remixed version of "Symphony of Destruction" by Trent Reznor. Whoopy!

Megadeth-Youthanasia (Capitol) 1994
1."Reckoning Day" (4:35)
2."Train of Consequences" (3:26)
3."Addicted to Chaos" (5:26)
4."A Tout le Monde" (4:27)
5."Elysian Fields" (4:03)
6."The Killing Road" (3:57)
7."Blood of Heroes" (3:57)
8."Family Tree" (4:07)
9."Youthanasia" (4:09)
10."I Thought I Knew it All" (3:44)
11."Black Curtains" (3:39)
12."Victory" (4:26)
Still heavy but lacking much of the speed and aggression of the past, "Youthanasia" was another commercial success for Megadeth. I actually really like this album. It's melodic metal with a slightly pop sheen. "Train of Consequences" is an excellent Megadeth composition. "Victory" is a cool song as the lyrics are made up of no less than 20 other Megadeth song titles. "Addicted to Choas" is a crushing, heavy song as is "Black Curtains." I think this album went platinum plus.

Megadeth-Hidden Treasures (Capitol) 1995
1."No More Mr. Nice Guy" (3:02)
2."Breakpoint" (3:29)
3."Go to Hell" (4:36)
4."Angry Again" (3:47)
5."99 Ways to Die" (3:58)
6."Paranoid" (2:32)
7."Diadems" (3:55)
8."Problems" (3:57)
Not unlike Anthrax's "KillerB's," Megadeth released this ep of material that had all been released on compilations, soundtracks or whatever. "No More Mr. Nice Guy," an Alice Cooper song, was originally recorded for the "Shocker" soundtrack. The video for this song was banned by MTV due to Dave's portrayal of a person being electrocuted. "Go to Hell" was on the Bill & Ted's Bogus Journey soundtrack, "Breakpoint," a phenomenal Megadeth tune, appeared on the Super Mario Bros. soundtrack. "Angry Again" was a huge radio hit for Megadeth and originally appeared on the excellent Last Action Hero. "99 Ways to Die," yet another suicide song, appeared on the Beavis & Butthead soundtrack. "Diadems" was from "Tales from the Crypt" soundtrack. "Paranoid" is an excellent Black Sabbath cover and "Problems" is the second Sex Pistols cover that Megadeth has done. I sort of wish they would have also included all those live b-side tracks on this disc, but other than that minor complaint, this is actually a decent Megadeth cd.

Megadeth-Cryptic Writings (Capitol) 1997
1."Trust" (5:11)
2."Almost Honest" (4:03)
3."Use the Man" (4:36)
4."Mastermind" (3:45)
5."The Disintegrators" (2:50)
6."I'll Get Even" (4:24)
7."Sin" (3:06)
8."A Secret Place" (5:25)
9."Have Cook Will Travel" (3:25)
10."She-Wolf" (3:36)
11."Vortex" (3:35)
12."FFF" (2:38)
OK, I was still loving Dave and Co. at this point so I rushed out to buy this one as a new release. BIG, BIG mistake! Holy cow, this doesn't even sound like Megadeth as they jump head long into pop metal, or better described as modern hard rock. "Disingtegrators" is a fast number that brings back memories of days gone by, and "She-Wolf" is a decent song but the majority of this album is a let down, especially to long time fans. I guess Megadeth will have to cope with having 6 year old kids as fans as that is who likes this kind of stuff. The disc came with a cool collector's card with a pic of Vic Rattlehead, who use to adorn Megadeth's covers. I saw Megadeth on this tour and these new songs sounded a bit better live mixed in with all the classics.
The "Duke Nuke-Music to Score By" Soundtrack contains two stellar Megadeth cuts, "Duke Nukem Theme" and "New World Order." Both songs are excllent speed metal symphonies.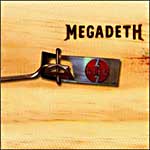 Megadeth-Risk (Capitol) 1999
1. Insomnia (4:34)
2. Prince of Darkness (6:25)
3. Enter the Arena (:52)
4. Crush 'Em (4:57)
5. Breadline (4:24
6. Doctor Is Calling (5:40)
7. I'll Be There (4:20)
8. Wanderlust (5:22)
9. Ecstasy (4:28)
10. Seven (5:00)
11. Time: The Beginning (3:04)
12. Time: The End (2:26)
I should have given up on Megadeth at "Cryptic Writings" but I guess I hoped they would redeem themselves. Well, now I give up! This is pure commercial crap. "Crush 'Em" is an obvious attempt to overtake Queen's "We Will Rock You" in the sports stadiums of the world. Ah, I'm not even gonna waste my time reviewing this one. I'm bummed.
Megadeth-The World Needs a Hero (Sanctuary) 2001
1. "Disconnect" (5:20)
2. "The World Needs a Hero" (3:52)
3. "Moto Psycho" (3:06)
4. "1000 Times Goodbye" (6:25)
5. "Burning Bridges" (5:20)
6. "Promises" (4:28)
7. "Recipe for Hate.... Warhorse" (5:18)
8. "Losing My Senses" (4:40)
9. "Dread and the Fugitive Mind" (4:25)
10. "Silent Scorn" -instrumental (1:42)
11. "Return to Hanger" (3:59)
12. "When" (9:14)
Well this is more like it. Megadeth come screaming back with a release that fits somewhere between "Countdown to Extinction" and "Youthanasia." I seriously am enjoying this disc. Gone now is shredder Marty Friedman, but in his place Dave wisely added Al Pitrelli, yet another shredder who has previously performed in Asia, Widowmaker, and more recently Savatage. Back, however, is Dave's snake-like snarl and his mean guitar riffs. Kudos! Welcome back Dave, we missed ya! Also welcome back to Mr. Vic Rattlehead. Got this disc in a trade on the PM Board. Thanks for the trade Ralf.