Compilations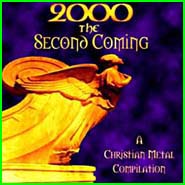 2000 A Second Coming-A Christian Metal Compilation (Dwell) 2000
1. "Spiritual Matrix" -Sculpture (5:58)
2. "When No One Cares" -Oil (3:29)
3. "Never (Remix)" -Ultimatum (4:02)
4. "No Where to Run" -Tyrant (3:34)
5. "She Kissed Jesus" -Solace (5:51)
6. "Cain" -Midnight Orchestra (3:38)
7. "Healing to My Soul" -Sons of Thunder (4:57)
8. "House of Cards" -3rd Day Rising (3:37)
9. "Gateway to Heaven" -Lost Angel (5:11)
10. "Today Is A Good Day to Die" -Modus Operendi (3:11)
11. "Rise Above" -Faithbomb (3:09)
12. "Martyrdom" -Devout (5:26)
Actually one of the better Christian metal compilations that I have bought. This one was released by a non-Christian company, however. Dwell is the company that is know for all those "tribute" discs. I have seen a few Christian bands on those, Possession and New Eden were on one of the Iron Maiden tributes and Ultimatum was on the Testament tribute. All three of these bands have ties outside of the little Christian circle though. Both New Eden and Ultimatum have been signed to secular (non-religious) German metal labels. In any case, I'm not even sure that all the bands on this compilation are Christian. I think, the band Tyrant is the same band I remember from the 80's, but I never knew they were Christians.( The also have a track on Metal Massacre 3.) My favorite tracks on this disc are the first three; all three thrash bands. The Ultimatum track is from "Puppet of Destruction" but is a superior remix with newly recorded bass lines. The Oil track features ex-Dark Angel vocalist Ron Rinehart and is taken from their independant EP. Midnight Orchestra is the new band of ex-Tempest guitarist Mick Rowe. "Martyrdom" by New Zealand's Devout is also a cool and creative song of the death metal variety. I have their indie tape, wish they would release a cd. Worst song is Sons of Thunder's "Healing to My Soul."
Argh!!! (R.E.X.)
1. "The Calling (Remix)" -Haven (5:40)
2. "Do Not Be Deceived (Remix)" -Minier (4:31)
3. "You Hold Your Heart" -Nina Llopis (3:34)
4. "Elisabeth" -The Throes (4:19)
5. "The Empty Sepulchre (Remix)" -The Lead (5:56)
6. "Too Tired To Tremble" -Primitive Dance Tribe (4:38)
7. "Slave to Sin" -Sacrament (3:30)
8. "Progressive Change" -Living Sacrifice (3:21)
9. "Vile Hypocrisy (Remix)" -Believer (5:56)
10. "Frustration" -No Laughing Matter (2:41)
11. "Dead End Street" -The Throes (3:58)
If but for a few crappy alternative tracks, this would have been the perfect R.E.X. sampler, but alas the inclusion of two Throes songs and Primitive Dance Tribe make the skip button a necessity. Otherwise, a phenomenal metal compilation with remixed versions of some killer songs. Also includes a demo version of "Progressive Change" by Living Sacrifice, a song that has not seen the light of day on any other cd. If I'm not mistaken, this was Living Sacrifice's debut for R.E.X. Favorite track, however, is the smokin' Haven remix.
Australia Metal Compilation I-Godspeed (Rowe)
1. "Shut Up and Listen" -Cry Mercy (3:32)
2. "Time Crusaders" -Mortification (4:42)
3. "Shattered" -NuHumans (4:31)
4. "William Melenchaly" -Discarnated (3:46)
5. "Fight" -Doxology (4:36)
6. "Fourth Dimension" -Deracination (3:26)
7. "The End is Near" -Harbinger (6:17)
8. "Black" -Krioni (3:32)
9. "Eyes of Destruction" -Screams of Chaos (6:05)
10. "Mine Heart Doth Beseech The (O Master)" -Beheadoth (2:56)
11. "Be Alert" -Rockin Rabbis (2:25)
12. "Dishallowent Grounds" -Embodiment (4:26)
13. "Proven Infallible" -Justice (4:49)
14. "Ripped in Two" -Metanoia (5:32)
15. "Sanctuary" -Ignite (4:08)
16. "Fastest Song in the World" -Thrash Puppies (2:59)
17. "Mr. Magic" -Rosanna's Raiders (6:02)

This disc is essential to my cd collection as it is the only disc I know of that contains the studio version of Mortification's "Time Crusader." With the many re-issues and compilations of Mortification material, I don't know why this song never made it onto any other disc as it is phenomenal, although a live version appears on their "Live Planetarium." Besides this tune, the rest of the disc is a nice sampling of Australia's hard scene with bands ranging in style from black metal to punk to hard rock. I believe this was the first release from Steve Rowe's label, Rowe Productions.
Australia Metal Compilation II-the Raise the Dead (Rowe)
Ethereal Scourge
1. "Death of Hades" (4:57)
2. "Content to Rot" (4:12)
3. "Sudden Death" (4:34)
4. "Tombthroat" (4:56)
Screams of Chaos
"The Plague" (in three parts)
5. "Part 1: Fighting for Breathe" (3:07)
6. "Part 2: The New World" (2:58)
7. "Part 3: Destroy the Plague/Epilogue" (7:26)
Embodiment
8. "Loophole" (3:25)
9. "Reinstate" (3:24)
10. "Incorporate Body" (3:11)
Metanoia
11. "Akeldama" (5:34)
12. "Death of the Innocent" (5:01)
13. "Valley of Dry Bones" (4:42)
14. "Eternal Destruction" (4:30)
Vomoth
15. "Beyond the Gates" (4:43)
Excellent compilation, and probably my favorite of the four Australian Metal compilations. Ethereal Scourge's four demo tracks give a hint of the greatness of their coming album. Metanoia are full of true metal passion, yet play down tuned death metal. Nice grooves. Vomoth are pure black metal. Overall a good collection of underground tracks from Rowe Productions.
Australia Metal Compilation IV-Falling on Deaf Ears (Rowe)
Virgin Black
1. "Veil of Tears" (6:34)
2. "Mother of Cripples" (7:47)
3. "Anthem" (6:30)
Embodiment
4. "If God Exists" (3:59)
5. "Meantime Saviours" (2:17)
Teramaze
6. "Generation X" (4:43)
7. "Ever Enhancing" (4:28)
8. "Emancipator" (4:15)
Disparity
9. "The Truth" (3:50)
10. "Manipulator" (4:03)
11. "Refine the Fire" (6:03)
Rageflower
12. "Prepaid" (4:12)
13. "Do Not Destroy" (7:27)
14. "Set Apart" (2:28)
Best thing about this disc is that it introduced me to the awesome metal sounds of Teramaze. The three songs featured on this disc are all taken from their first indie disc "Doxology." All three are excellent power/speed metal. Great band. If you are into true metal and don't own their two discs, then you are missing out! Virgin Black are slow, doomy and gothic with loads of dynamics. Each song on this disc is an epic. Sort of reminds me of St. Vitas. Embodiment, who have been featured on several Rowe compilations are the most extreme band on this disc, playing brutal death metal with low, gutteral vocals. As I said, however, the winner on this disc is Teramaze, and the main reason to own this disc, if you can't find their hard to find first indie cd.

The following three compilations play an important part in the evolution of Christian Metal, not unlike the "Metal Massacre" series did in the history of early 80's metal. Many bands including Recon, Deliverance, Believer, and Guardian got their start from these compilations.
California Metal (Regency)
1. "Deadlock" -Barren Cross (4:33)
2. "Marching On" -Guardian (3:38)
3. "I Need Your Love" -Neon Cross ((3:06)
4. "I Surrender" -Hero (3:47)
5. "A Space Called You" -Deliverance (3:51)
6. "Wasn't It Love" -Mastedon (4:42)
7. "Spiritual Warfare" -Guardian (4:13)
8. "Attack" -Deliverance (3:44)
9. "Sing It Out" -Hero (3:02)
10. "Son Of God" -Neon Cross (4:16)
In the 80's compilations were the way most bands started out. Some of the biggest and best started off on some compilation. The Metal Blade compilations 'Metal Massacre' gave bands like Overkill, Fates Warning, Metallica, Armored Saint and many others a start. In the Christian metal scene, there were also several of these types of compilations that gave bands a start. California Metal was one of the first and one of the best, selling over 100,000 units. Pretty good for an indie compilation with limited distribution. The best tracks, in my opinion, are the two Deliverance tracks. Of course that could be because they are one of my favorite bands. It could also be because while all the other bands were of the more traditional metal or glam variety, Deliverance were breaking some new ground with their speed metal sounds. I do know that it was on the strength of this compilation that Deliverance's career began to take off. Deliverance re-recorded "Attack" on their third album "What A Joke." There really isn't a bad track on this disc. All but one of the bands (Hero) eventually signed to a label, and some (Guardian, Deliverance) even went on to sell quite a few albums. Barren Cross' contribution is from their first album for Enigma Records.
California Metal Volume II (Regency)
1. "Runaway" -Vision (4:56)
2. "Traitor" -Emerald (2:39)
3. "Light the Fire" -Recon (3:25)
4. "Borderline" -Soldier (3:33)
5. "Heart of Stone" -Judea (4:32)
6. "Get Up" -Mastedon (3:58)
7. "Sin Killer" -Ransom (4:34)
8. "Born to Die" -Emerald (4:17)
9. "Knock" -Judea (4:24)
10. "Tears" -Soldier (3:57)
11. "Dreams" -Recon (4:59)
Not quite as good as it's companion disc, but still a decent compilation. Most of the bands on this disc, never really did much else with the exception of Ransom and Recon. Of all the tracks on this disc, my two favorites are the excellent power metal tracks by Recon.  These same two tracks were released as bonus tracks on their Japanese version of "Behind Enemy Lines." "Light the Fire" has some of the coolest vocals ever reminding me slightly of Warrell Dane during his Sanctuary days. Mastedon, also appeared on the first compilation, but not unlike that discs track, this track is taken from their debut cd. Soldier's tracks are quite good as well. For some reason these guys never could catch a break, despite sounding quite professional. They did release a self financed full length tape but that's about it. Emerald also released a self financed record (yes VINYL) which I also own.
East Coast Metal (Regency)
1. "The Sword" -Apostle (3:36)
2. "Reason to Rock" -Rage of Angels (4:04)
3. "Message of Love" -Arsenal (3:56)
4. "Tunnel Vision" -The Lead (4:45)
5. "Yesterday, Today & Forever" -Taker (4:32)
6. "(Liberation from) the Blazing Wasteland" -Second Chance (3:45)
7. "Stand Strong" -Arsenal (3:45)
8. "The Chosen" -Believer (4:05)
9. "Living By Faith" -Taker (3:55)
After the success of "California Metal" in 1987 Regency decided to release another metal compilation, only this time from the opposite shores of the U.S.. "East Coast Metal" is an excellent metal compilation, however, it is essential because this is the disc that Believer made their debut on. This song alone was worth the price of the disc, however there are other standout cuts as well from Apostle, Rage of Angels and Second Chance. Second Chance later changed their name to Armageddon and released a disc called "Money Mask" that I own on tape. The Lead are a strange inclusion only because they are punk, not metal. This disc and the two California Metal discs are all out of print and sell for about $20 each on eBay.

Chords of the Grave (Cross Rhythms)
Obliteration
1. "Torn in Two" (3:46)
2. "Inflicted" (4:07)
3. "By His Blood" (3:57)
4. "Dying Age" (3:45)
Evisceration
5. "Eye to Eye" (3:27)
6. "Coming of Age" (4:42)
7. "Second Death" (3:09)
Disencumberance
8. "Dimensions of Reality" (7:03)
9. "Unholy Manifestations" (5:35)
10. "Suicide" (6:03)
Oblation
11. "Demonic Permeation" (4:19)
12. "Obliteration Conceived" (4:05)
13. "Reeking Impurities" (3:41)
14. "Dead Unborn" (4:24)
Flesh Walker
15. "Live at the Terminus" (4:14)
This is one of the finest underground death metal albums I have ever heard. All these bands are top caliber; some are even better than some of the crap I have heard on labels. Obliteration and Disencumberance are both freaking heavy and technical as anything Carcass or Obituary has done. Why these bands couldn't score a label shall always be a mystery. The tracks by the four featured bands are all from their independent demo tapes. Obliteration is the only band that ever went on to record a full length disc, but they changed their name to Death List.
Death ...is Just the Beginning II (Nuclear Blast)
1. "Daddy Cruel" -Pungent Stench (3:32)
2. "Ceremonial Void" -Monstrosity (3:56)
3. "Cut Through the Filth" -Master (3:49)
4. "Putrefying Remains" -Sinister (3:20)
5. "Dark is the Season" -Benediction (5:34)
6. "Cryptorium" -Brutality (3:56)
7. "Tidings from the Blue Sphere" -Afflicted (5:19)
8. "Immortal Cessation" -Incantation (3:26)
9. "Just a Thought" -Disharmonic Orchestra (6:02)
10. "Exhumer" -Macabre (1:24)
11. "Rage Within" -Resurrection (4:11)
12. "Torn Apart" -Dismember (4:42)
13. "Scrolls of the Megilloth" -Mortification (4:25)
14. "Side Effects" -Defecation (2:13)
15. "Stomach Tuner" -Fetish 69 (2:47)
16. "Life of Filth" -Hypocrisy (3:54)
17. "The Glorious Dead" -Gorefest (4:22)
18. "The Thirteen Frightened Souls" -Deceased (3:10)
19. "Open Wound" -Righteous Pigs (3:06)
20. "Exiled of the Sons of Uisliu" -Amorphis (3:43)
21. "Oppression Freedom" -Winter (2:34)
Twenty one songs of down tuned, death metal madness. Many of these songs are demo cuts, others are pre-release songs, etc. I picked up this one for a few bucks used. Only a few bands stood out. The rest sounded like clones of one another.
Demolition (R.E.X.)
1. "My Reality" -Thresher (6:57)
2. "Exodus" -Mortal Enemy (8:14)
3. "Attitude" -Dodavvahu (3:05)
4. "Free From Death" -Consecrator (3:34)
5. "Graphic Nature" -The Unknown (3:27)
6. "Zone Zong" -Abhore Evil (2:35)
7. "Glide" -Hot Pink Turtle (10:09)
8. "Puppet of Beauty" -Sardonyx (7:29)
9. "Sensless Abandon" -Immortal (6:26)
Supposedly an underground compilation of up and coming bands. Truth be know, several of these songs were just demos and such by R.E.X. artists. Rumor has it that "The Unknown" is just Living Sacrifice. Immortal was Scott Albert's pre Circle of Dust band. The song "Sensless Abandon" is taken from their "Dead and Buried" tape and sounds an awful lot like early Metallica. Favorite track is "My Reality" by Thresher, a great speed metal band that never could find a label. I still own their indie full length tape. Also like the demo version of Sardonyx's "Puppet of Beauty," although it has a bad drop out and is not a very good mix.

Duke Nukem Music To Score By (RED)
1. "Duke Nukem Theme" -instrumental -Megadeth (3:54)
2. "Cinnamon Girl (Extended Depression Mix)" -Type O Negative (3:52)
3. "What You See Is What You Get" -Xzibit (5:08)
4. "Blisters" -Coal Chamber (4:51)
5. "Bitch" -Sevendust (3:41)
6. "Song 10" -Zebrahead (2:11)
7. "The Thing I Hate" -Stabbing Westward (3:36)
8. "It's Yourz" -Wu-Tang Clan (4:20)
9. "Screaming From the Sky" -Slayer (3:12)
10. "New World Order" -Megadeth (3:47)
11. "Stone Crazy" -The Beatnuts (3:16)
12. "Land of the Free Disease" -Corrosion of Conformity (4:19)
There is a total of four good songs on this disc; the two excellent unreleased Megadeth cuts, the aggressive Slayer song, and the one Black Sabbath inspired Corrosion of Conformity song, "Land of the Free Disease." Other than that, the skip button is a necessity.
Guitars that Rule the World, Vol. 2-Smell the Fuzz (Metal Blade)
1. Hellecasters-"Disintonation" (2:59)
2. Billy Corgan (Smashing Pumpkins)-"Ascendo" (4:06)
3. Victor (Alex Lifeson)-"Strip and Go Naked" (3:58)
4. J. Yuenger (White Zombie)-"Blues for 2-XL" (3:54)
5. Ace Frehley-"Cherokee Boogie" (4:00)
6. Dark Load (Kim Thayil/Soundgarden)-"Brewide" (5:49)
7. Unheard of (Death Metal Summit)-"Explosion" (4:20)
8. Billy Sheehan (Mr. Big)-"Niacin" (3:52)
9. John Christ (Danzig)-"One Song" (2:57)
10. Robert Fripp (King Crimson) -"Sunset Collage 1" (4:27)
I bought this for one reason, Ace's "Cherokee Boogie." I'm not a fan of many of the bands represented on this disc (ie. Smashing Pumpkins, Soundgarden, & White Zombie), however, I was surprised to hear that most of the songs are a departure from the modern crap that these bands produce, making the disc an enjoyable listen from start to finish. Of course, the top of the crop in my opinion is Ace's contribution. Ace may not be the most technical guitarist, but he definetely has his own style and a certain charisma than many guitarists just don't have. Of course Rush's Alex Lifeson pulls off an excellent instrumental as well. Winning my vote for the most abstract, bizarre song is Robert Fripp's "Sunset Collage 1."  The song is actually very interesting as it creates a very mellow atmosphere. The "Death Metal Summit" is made up of members of Cannibal Corpse, Six Feet Under, Obituary, Cynic, and Ralph Santolla (ex-Death). Surprisingly, these guys show they have as much musical muscle as the legends, like Ace, Fripp and Alex Lifeson. Of course, their song is much more aggressive than anything else on the disc, sounding much like an instrumental version of Testament. Lots of dynamics in this song with some fast thrash parts leading into some mellower guitar and bass solos going right back into the ultra-crunch. Biggest surprise to me was the Hellecasters whose southern rock/boogie was outstanding, sounding like a mix of early Molly Hatchet and the Ventures. Excellent song! Biggest annoyance was Billy Corgan's feedback incrusted song "Ascendo." I have to have the skip button handy for this one 'cause about halfway through the song, the noise starts grating on my nerves.
Hard & Heavy From Down Under (Rowe/Rugged)
1."Peace in the Galaxy" -Mortification (4:49)
2. "Time to Die" -Cry Mercy (2:56)
3. "D.A.M." -Cry Mercy (5:01)
4. "Accute Obliteration" -Metanoia (4:27)
5. "Dimensions of Life" -Metanoia (5:03)
6. "Fighting for Breath" -Screams of Chaos (3:06)
7. "The New World" -Screams of Chaos (2:58)
8. "Destroy the Plague" -Screams of Chaos (2:20)
9. "Loophole" -Embodiment (3:23)
10. "Incorporate Body" -Embodiment (3:06)
11. "Hate" -Callous (3:23)
12. "The Mind that Rots" -Callous 3:35)
13. "Death of Hades" -Ethereal Scourge (4:52)
14. "TombThreat" -Ethereal Scourge (4:49)
When this disc was released, Rowe Productions was only an Australian label without any distribution in the U.S., so Rowe got together with American label Rugged Records and released a compilation of their Australian Metal Compiliations. Of course in 1996, heavy metal was a dirty word, so they called the disc "Hard and Heavy." Regadless, this disc features some of the best tracks from the many Australian Metal discs plus a pre-release version of Mortification's "Peace in the Galaxy." Several of these bands went on to record full length discs for Rowe.
Massive Frequency Overload-the U.S. Hard Compilation (Rowe)
1. "Innocent Blood" -Covenant (3:46)
2. "Five" -Noiszgate (6:30)
3. "Alone" -Erase (3:24)
4. "Torturer" -Frank's Enemy (2:13)
5. "Scars of Brutality" -Amnos (4:13)
6. "Nothing" -Slamcat (4:29)
7. "Nevertheless" -S.O.G. (4:23)
8. "World of Sin" -Ultimatum (5:00)
9. "Coronation" -Vindication (5:37)
10. "Ripped" -Dead Pharisees (6:30)
11. Dead to the World" -Corpse (5:08)
12. "Sacrifice" -Antithesis (5:52)
13. "Image" -Sovereign (4:25)
14. "The Down Road" -Faithbomb (6:45)
15. "Dissection" -Crimson Thorn (3:49)
With the success of Rowe's Australian Metal Compilations and securing a deal with an American distributor, they decided to give an American underground metal compilation a try. Several of these bands have opened for Mortification on their US tours, which is basically how Steve Rowe picked the bands. Unfortunately this means that most of the bands picked are of the death or grind variety. Only a couple are of the thrash or power metal persuasion (Antithesis, Noiszgate, Slamcat and Ultimatum). The only band to ever go on to do anything else for Rowe Productions was Ultimatum. Their contribution to this disc is a demo version of "World of Sin," but the album version is much better. One band whose inclusion on an American compilation is a bit strange is Erase, who are based out of Canada.
The following "Metal Massacre" compilations played a large part in the early history of heavy metal. Back in 1981 Brian Slagel decided to put together a compilation of various unsigned, underground metal bands. The resulting Metal Massacre series became the cornerstone of Metal Blade Records, one of the few American metal indie labels that still exists today. This is where many bands, including Slayer, Overkill, Sacred Reich, Armored Saint, and even Metallica anong many others got their start. Although I use to own several of these on tape, I now am just beginning to replace these with cds. so as this list grows I may end up putting them on thier own page as there are so many of them.
Metal Massacre 2 (Metal Blade) 1982
1. "Lesson Well Learned" -Armored Saint (2:51)
2. "Mind Invader" -3rd Stage Alert (3:51)
3. "Rivit Head" -Surgical Steel (3:03)
4. "Shadows of Steel" -Obsession (4:31)
5. "Scepters of Deceit" -Savage Grace (3:45)
6. "No Holds Barred" -Overkill (4:12)
7. "Lucifer's Hammer" -Warlord (3:18)
8. "Such a Shame" -Trauma (2:53)
9. "It's Alright" -Dietrich (3:26)
10. "Inversion" -Molten Leather (4:04)
11. "Kings" -Hyksos (6:11)
12. "Heavy Metal Virgin" -Aloha (3:01)
Well, it's got Armored Saint's first recording and only Trauma song that Burton recorded before getting picked up by Metallica. "Massacre 2" also has a alternate version of Warlord's "Lucifer's Hammer," a band many consider to be a classic. I never really cared for them. The only things I know about them is that they are the former band of Fates Warning's Mark Zonder and that every song I have ever heard by them has the drums WAY TOO LOUD in the mix. Obsession and Savage Grace are two other bands that I am familiar with. The rest of the bands are pretty much unknown to me but overall this is a good listen all the way through. The Overkill on this compilation is NOT the same Overkill that we all know and love today.
Metal Massacre III (Metal Blade) 1983
1. "Aggressive Perfector" -Slayer (3:29)
2. "Riding in Thunder" -Bitch (3:57)
3. "The Battle of Armageddon" -Tyrant (5:14)
4. "Piranahs" -Medusa (2:11)
5. "Bite the Knife" -Test Pattern (5:25)
6. "Blitzkrieg"-instrumental -Black Widow (2:56)
7. "Mrs. Victoria" -Warlord (5:55)
8. "Let's Go All the Way" -Virgin Steele (3:12)
9. "Fire and Wind" -Sexist (3:00)
10. "Hell Bent" -Snowhite (1:49)
11. "The Kid" -Marauder (3:01)
12. "Fist and Chain" -La Mort (2:37)
This has got to be one of the worst "Metal Massacre" discs. The majority of this stuff sounds like garage band fodder. Even the Slayer song, which is rare as can be, is generic compared to much of their album material. OK, the Bitch and Warlord songs are good and the Virgin Steele and Tyrant songs are ok, but the rest just don't stand the test of time. Oh, and this has got to be the most generic cover of all the Metal Massacre discs as well. Well, I guess for $2.99 (new and still sealed) I can't complain to much.
Metal Masacre 8 & 9 (Metal Blade) 1987/1988
1. "Ignorance" -Sacred Reich (3:50)
2. "Hellbound" -Viking (2:58)
3. "Keeper of the Flame" -Overlorde (4:07)
4. "Violence Is Golden" -Fatal Violence (4:58)
5. "Spare No Lives" -Tactics (2:43)
6. "Nothing Left" -Sanctum (4:26)
7. "Into the Darkness" -Gargoyle (3:44)
8. "Death Awaits You" -Ripper (5:43)
9. "Take 'Em Alive" -E.S.P. (3:53)
10. "Intimate With Evil" -Wargod (4:46)
11. "Deadly Kiss" -L.S.N. (2:58)
12. "Bullets" -Cobalt Blue (3:34)
13. "We Want You" -Banshee (3:11)
14. "Old World Nights" -Oliver Magnum (5:37)
15. "Wasteland" -Toxik (5:09)
16. "Blood Under Heaven" -Dissenter (5:16)
17. "Needle Damage" -Chaos Horde (3:28)
18. "Dehumanize" -Faith or Fear (4:17)
Not a bad compilation, but not my favorite either. Sacred Reich is the best thing on here, and obviously the only band that did anything outside of this compilation. There are a few other above average songs, like "Hellbound" Viking, but overall this is only an average Metal Massacre compilation. Man, I've gotta get Metal Massacre 5 one of these days. I always remember that one being supreme.


Metamorphosis (R.E.X.)

Brainchild/Circle of Dust
1. "Deviate (Sawed Off Shotgun Edit)" (5:05)
2. "Descend (Pit of Hell Mix)" (5:58)
3. "Heldweller" (5:36)
4. "Nihilistic Void" (6:00)
Living Sacrifice
5. "Void Expression (Blank Stare Mix)" (4:47)
6. "Back Veil" (4:23)
7. "Distorted (Alternate Reality Mix)" (5:33)
8. "Desolate" (6:00)
9. "Sacrificed" (1:43)
Circle of Dust
10. "Dissolved (Disintegration Mix)" (6:42)
11. "Consequence (Temporary Mix)" (6:13)
12. "Conseqeunce (Eternal Mix)" (5:49)
13. "Self Inflict" (5:29)
14 "Daraq" (3:05)

This is a compilation, but it's strange in that it really only contains material by two bands and all the material is industrial remixes by Scott Albert (or whatever he is calling himself these days.) Brainchild's "Mindwarp" was released in the Christian market but in reality it is really Circle of Dust under a different name. In the secular market Circle of Dust released the same album with the title of the album being "Brainchild." The music on this disc is of the heavy industrial metal variety. It's sort of weird hearing Living Sacrifice's death metal tunes mixed like this, but fun none-the-less. This disc is out of print as R.E.X. went under a long time ago but still retain the rights to Circle of Dust's material.
New Mexico Rock Coalition Sampler
1. "99 & Double Time" -Stone Soul (4:18)
2. "De-sad'-e-me" 23 Hour (4:20)
3. "I'll See You There" -Rumbleseat (3:44)
4. "Overdose" -Intrinsic (3:09)
5. "You & I" -All Eyes (4:19)
6. "3 AM" -Void Cathedral (4:09)
7. "Ghost Town" -Paris Blue (3:26)
8. "Freedom" -Cybicus (4:02)
9. "Knowledge" -Mua Dib (4:18)
10. "Babylon" -Masque (3:51)
11. "Tears" -First Strike (3:52)
12. "Remains" -Mad Havok (4:26)
13. "Chin Ups" -M:13 (3:45)
14. "Darkest Void" -Ultimatum (3:57)
15. "Red Sea" -Seventhsign (4:19)
16. "Lost in the Rain" -Future X (3:13)
17. "Possession of My Depression" -Zyxter Scat (2:48)
18. "A Way Out" -Phantom Fury (4:01)
19. "Why" -Dark Truth (3:32)
19 tracks from local bands from New Mexico. I think this disc was released in 1995. Most of these bands are no longer in existence. The only bands to do much outside of New Mexico are Paris Blue, Dark Truth, Ultimatum and Seventhsign. The rest are pretty much unknown. Too bad really as some of these bands are pretty good. Styles range from dark gothic to commercial hard rock to thrash metal. As with the styles, however, the production values change from song to song as well. Even the mastering is a bit rough with volumes not even being even from song to song. Biggest disappointment is "Red Sea" by Seventhsign. This is an excellent song but for some reason the people who put this together felt it necessary to edit the song, so only about 2/3 of the song is here. Probably due to time constraints as this disc is close to 75 minutes long. Cover art by yours truly. (-:

Northern Lights-Norwegian Metal Compilation (Rowe)
Schaliach
1. "The Last Creed" (6:44)
2. "You Maintain" (7:50)
3. "Coming of the Dawn" (3:09)
GROMS
4. "Assention" (5:32)
5. "True Wisdom" (6:12)
6. "No One" (4:05)
Antestor
7. "Mercy Lord" (6:41)
8. "Thoughts" (7:10)
9. "Inmost Fear" (5:37)
Extol
10. "Vicious Intent" (5:05)
11. "Misunderstood" (5:06)
12. "Seek the Rights" (5:38)
Perhaps the best metal compilation that Rowe Productions ever released. All the bands are of the more extreme death or black metal style, but each are masters of melody as well. What makes this disc essential is the three demo cuts from the mighty Extol. The Schaliach and GROMS songs are taken from their full length cds.
Premium Cuts (Patriot)
Barren Cross
1. "Here I Am" (3:34)
2. "Time For Love" (3:11)
3. "Midnight Son" (5:20)
Red Sea
4. "Soulshaker" (4:32)
5. "Dust to Dust" (5:36)
6. "Walk On Fire" (3:39)
Neon Cross
7. "Buy My Record" (3:30)
8. "Mystery of Love" (4:58)
9. "In Your Mind" (4:03)
P.K. Mitchell
10. "Nothing But the Blood" (4:20)
11. "Amazing Grace" (3:58)
12. "Do You Believe" (5:27)
When this disc came out, none of these tracks had been released. Soon after, however, all four bands put out full length discs and only four of the twelve songs are now unique to this compilation. The three excellent Neon Cross tracks never made it onto their album because everybody ridiculed them for retaining their 80's sound. In 1994, heavy metal was a bad word and to be labeled 80's was a bad thing, so Neon Cross attempted to "update" their sound and put out a peice of crap. (For more on that, see my Neon Cross page) The other unique track is P.K. Mitchell's "Do You Believe," an decent, grungy song. Soon after this disc came out Patriot Records changed names to Rugged Records. The label released new albums by all four bands on this disc.
This is Solid State Vol. 1 (Tooth & Nail/Solid State)
1. "Enthroned 98" -Living Sacrifice (3:34)
2. "Outside Looking In" -Stretch Arm Strong (1:34)
3. "To Think Of You Is To Treasure An Absent Memory" -Zao (4:26)
4. "Progress" -Selfmindead (3:48)
5. "Halo of Winter" -Embodyment (4:04)
6. "A Knife in the Dark" -Warlord (3:04)
7. "Human Shield" -Training for Utopia (2:57)
8. "Celestial Completion" -Extol (6:14)
9. "Invert" -Blindside (3:08)
10. "Quintessence" -Spitfire (3:29)
11. "Threatened" -Living Sacrifice (5:08)
12. "Absence" -Focused (5:43)
13. "Meet Us Here" -Unashamed (3:01)
14. "These Time That Try Men's Souls" -Strongarm (2:49)
15. "When Beauty Dies" -Overcome (3:26)
16. "Broken Bonds" -Focal Point (4:47)
This disc was given to me for free. Had it not I would not have spent my hard earned money on it as the only thing of value on this disc is the newly recorded version of "Enthroned" by Living Sacrifice. The other Living Sacrifice tune is excellent also but is from their "Reborn" album. The Extol song is great as well, but is from their "Burial" disc. Other than that, the rest of this disc just reminds my how much this labels roster sucks! A bunch of musical clones of one another with the short-haired, pip-squeek, geek look as their common ground.
Ultimate Revenge 2: Soundtrack (Combat) 1989
1. Forbidden "As Good As Dead" (4:09)
2. Forbidden "Chalice of Blood" (4:49)
3. Faith or Fear "Lack of Motivation" (3:26)
4. Faith or Fear "Time Bomb" (5:11)
5. Faith or Fear "Punishment Area" (5:06)
6. Death "Open Casket" (4:49)
7. Death "Choke on It" (5:57)
8. Dark Angel "Merciless Death" (3:44)
9. Dark Angel "Perish in Flames/Darkness Descends" (8:31)
10. Raven "Into the Jaws of Death" (5:35)
11. Raven "Gimme a Break" (3:29)
Great live compilation of some of Combat's best thrash bands. All these bands are favorites of mine but what makes this disc essential to me are the two Raven songs and the two Dark Angel cuts. If I am not mistaken, this compliation was Ron Rinehart's debut with Dark Angel. Both these tracks have recently resurfaced as bonus tracks on Century Media's re-issue of "Darkness Descends." Raven only ever released one album with Combat called "Nothing Exceeds Like Excess." Both these OTT live tracks are taken from that album. I was surprised that these two tracks didn't make it onto the re-issue of that cd. The two Forbidden tracks were also released as bonus tracks on the recent Century Media re-issue of "Twisted into Form", but since I already own the original Combat issue it saves me from having to upgrade to the re-issues. Besides, together this is a killer collection of songs.
White Metal Warriors-The Last Ship Home (Pure Metal)
1. "Heed the Warning" -Seventh Angel (5:34)
2. "Anybody There" -Stairway (3:19)
3. "Do Or Die" -Lazarus (5:07)
4. "Subliminal Division" -Detritus (4:24)
5. "Sweet Release" -Maverick (4:17)
6. "Seven Angels" -Seventh Angel (6:29)
7. "Walk Away" -Stairway (4:39)
8. "Overpower" -Lazarus (4:43)
9. "Taste the Blood" -Detritus (3:26)
10. "You'll Shine" -Maverick (4:55)
This British white metal compilation is essential for the two unreleased Seventh Angel songs alone. I believe these two songs were off their first demo. The two Detritus cuts are excellent as well, but they are both off their first album "Perpetual Defiance." The rest of the songs are average to downright bad. Cool cover art by Rodney Matthews, who has also done cover paintings for Asia Detritus and Seventh Angel, among others.