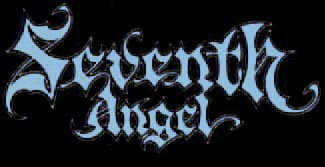 Seventh Angel was a progressive thrash band from England. They released two full-length albums and a few songs on some compilations before breaking up. Guitarist/vocalist Ian Arkley went on to form Ashen Mortality before joining Australian doom band Paramaecium.

Seventh Angel-The Torment (Edge)
1. "Tormented Forever" (4:21)
2. "The Charmer" (7:16)
3. "Forbidden Desires" (3:43)
4. "I of the Needle" (5:38)
5. "Expletive Deleted" (3:24)
6. "Dr. Hatchet" (6:04)
7. "Locked Up in Chains" (5:09)
8. "Acoustic Interlude" -instrumental (:39)
9. "Katie" (9:41)
10. "Epilogue" (1:48)
Seventh Angel are one of the best progressive thrash bands you've never heard. These English thrashers came along during the height of the thrash scene but never had the right distribution to get their name out to the masses. Too bad as Seventh Angel is one phenomenal band. Favorites from this album are "Expletive Deleted,"a fast and furious song, and "Dr. Hatchet" a controversial anti-abortion song with a killer hook and a monster riff. The cover art is by Rodney Matthews who has also done covers for Detritus, Veni Domine, and Asia.

Seventh Angel-Lament for the Weary (Edge/Pure Metal)
1. "Recollections of a Life Once Lived" (2:53)
2. "Life on All It"s Emptiness" (5:13)
3. "No Longer A Child" (5:55)
4. "Full of Blackness" (6:02)
5. "Lament for the Weary" -instrumental (2:19)
6. "Woken by Silence" (6:18)
7. "Falling Away from Reality" (4:54)
8. "Dark Shadows" (5:33)
9. "Passing of Years" -instrumental (4:14)
10. "Secure In Eternity" (6:06)
11. "Farewell to Human Cries" (6:10)
S.A. took it to the next level on this one. This is a thrash masterpiece! One thing that really helped excel this album was that they slowed down a bit from their debut and allowed the riffs to be heard. Of course that doesn't mean its all slow. There are peaks and valleys throughout, creating one of the finest thrash albums of the early 90's. Of course most people wouldn't know that as this band was plagued with poor distribution and promotion. Both these albums are extremely hard to find now and are selling for large sums of cash. I bought both as new releases. Once again, the awesome cover painting is by Rodney Matthews.
Seventh Angel also has two excellent demo/unreleased songs on the White Metal Warriors compilation.