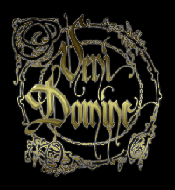 Swedish progressive heavy metal!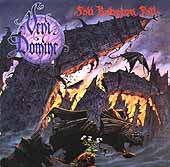 Veni Domine-Fall Babylon Fall (Massacre)
1. "Face the Prosecutor" (8:14)
2. "King of the Jews" (8:12)
3. "In the Day of the Sentinel" (7:14)
4. "Wisdom Calls" (6:44)
5. "Armageddon" (7:34)
6. "O Great City" (8:05)
7. "The Chronicle of Seven Seals" (21:21)
BONUS TRACK
8. "Visions" (4:04)
I bought this disc as a new release when R.E.X. released it. It was re-released a couple years later in Germany with a bonus track ("Visions") and a revised booklet, so I had to get that one instead. Fall Babylon Fall is a fantastic epic, progressive metal album. When I think of progressive metal, bands like Fates Warning and Dream Theatre come to mind, but Veni Domine are much heavier and darker sounding than either of those two bands. The music is almost symphonic with Fredrickís unique vocals wailing over top. Every song is an epic masterpiece, especially the 21+ minute "Chronicles of the Seven Seals." "Fall Babylon Fall" is one of my all time favorite progressive metal discs. The cover was painted by Rodney Matthews, who has also painted covers for Asia, Seventh Angel, Detritus, among others.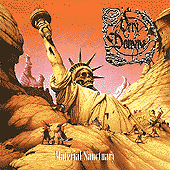 Veni Domine-Material Sanctuary (Massacre)
1. "TheMeeting" (8:41)
2. "Ecclesiastes" (9:30)
3. "Material Sanctuary" (7:20)
4. "Ritual of the Sinner" (7:27)
5. "The Mass" (5:29)
6. "Behold the Signs" (8:14)
7. "Wrath of the Lion" (6:49)
8. "Beyond the Doom" (10:00)
9. "Baroque Moderns" (2:12)
WOW! Wasn't sure Veni Domine could improve upon "Fall Babylon Fall," but they succeeded. This album is phenomenal! A progressive metal masterpiece! The title cut has one of those choruses that echoes through my mind long after I have listened to it. The whole album is excellent. Wonder why great bands like this can't seem to get a label in America. Germans have all the good metal!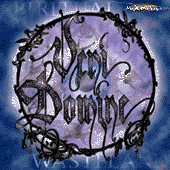 Veni Domine-Spiritual Wasteland (Massacre)
1. "Dawn of Time" (5:29)
2. "Last Letter from Earth" (8:51)
3. "If I Fall Asleep" (6:18)
4. "Hysterical History" (5:44)
5. "Riddle of Eternity" (5:43)
6. "The Temple" (7:54)
7. "Someone's Knocking" (5:09)
8. "Silent Lamb" (5:01)
9. "1st of Ten" (7:52)
10. "The Letter" (3:13)
Wow, bought this concept album around the same time as I was reading the "Left Behind" series of books, which is a fictional account of survivors of the "last days" as predicted by the Book of Revelation in the Bible. I don't know for sure, but it sure seems like this disc was inspired by those popular books. Paid a whopping $18.99 for this German import. Long live prog-metal!