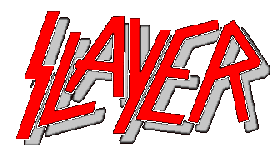 Slayer were one of the "big four" thrash bands of the late 80's/early 90's. I bought their "Show No Mercy" record when I was in high school as a new release and was intrigued by their sound, although I hated their insiped poser image.
Slayer-South of Heaven (American) 1988
1. "South of Heaven" (5:00)
2. "Silent Scream" (3:02)
3. "Live Undead" (3:51)
4. "Behind the Crooked Cross" (3:12)
5. "Mandatory Suicide" (4:03)
6. "Ghosts of War" (3:55)
7. "Read Between the Lines" (3:21)
8. "Cleanse the Soul" (3:01)
9. "Dissident Aggressor" (2:34)
10. "Spill the Blood" (4:48)
The first disc where Slayer abandons the all out speed assault for a higher energy and a power groove. Even Tom Araya attempts to sing on a few songs using less of the shrill screams of the past. Rick Rubin gives the band a monstrous wall of sound. This is also the first of three huge albums from this band putting Slayer on the top of the pack, along with Anthrax and Metallica. The lyrical approach on this disc strays from the band's hell and Satan lyrics of the past, and goes for a more social (anti-social) and political approach. Of course everyone knew by this time that the band's whole 'evil' image was just a facade by now anyhow. I guess at the time the band took some flack for slowing down and for changing their lyrical approach. It mattered little, however, as 'South of Heaven' is one of the band's best selling cds. "Dissident Aggressor" is a slamming Judas Priest cover.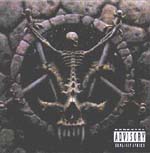 Slayer-Divine Intervention (American) 1994
1."Killing Fields" (3:57)
2."Sex, Murder, Art" (1:50)
3."Fictional Reality" (3:37)
4."Dittohead" (2:30)
5."Divine Intervention" (5:33)
6."Circle of Beliefs" (4:29)
7."SS-3" (4:06)
8."Serenity in Murder" (2:36)
9."213" (4:52)
10."Mind Control" (3:04)
This album is basically a carbon copy of "Reign in Blood," albeit a very short one at just over half an hour. The music is classic Slayer thrash sporting tons of killer riffs, more than proficient playing, technical songwriting and great production. My problem with Slayer has always been with their insipid lyrics and poser Satanic image. I get tired of hearing them complain about TV preachers and Christianity. Maybe if they actually knew something about true Christianity, they would find something else to complain about. Drummer Paul Bostaph of Forbidden replaced Dave Lombardo who went onto Grip Inc. He eventually left that band and played with Testament for a short time.
Slayer-God Send Death (American) 2001
1. "God Send Death" (3:50)
2. "Addict" (3:44)
3. "Scarstruck" (3:32)
A pre-release single for the album "God Hates Us All." (Hmmm, I wonder what God they are talking about?) Unfortunately, no lyrics are included but thanks to the wonders of the internet, I was able to locate the lyrics to the title track of this EP. After reading the mindless garbage, I now know I will not have to waste my money purchasing the whole album. Of course the band's timing with the recent tragedy in NY/PA/DC is impeccable. When America is currently focusing on God and looking for healing and justice, Slayer is trying to be as controversial as possible by attacking their idea of Christianity once again. I can imagine that the band is merely trying to shock the crap out of everybody, since it is common knowledge that the whole 'Slaytanic' image is nothing but a facade to sell records to mindless people, some of whom take this stuff serious. Unfortunately with such devastation still lingering in the air, the band does not come off shocking in the least, but does come off as distasteful. Musically, the band sounds like they have been listening to their old albums again. I mean this is some serious thrash metal, with some raw and crunchy production. The band has all but dropped the hardcore edge and has returned to their "Reign in Blood" roots, even giving us some fast and furious guitar solos. Gotta love it. Too bad the lyrics have to be so distasteful. Anyhow, tracks two and three are exclusive to this single, or so the liner notes say. Must also mention that the cover to this single bears a striking resemblence to the Priest's 'Demolition,' released only months before this disc.